Her çend piraniya nifûsê misilman li Fasê dijî, ighuûrurs li Chinaînê nayê piştgirî kirin. Me ji bo wê bîranînek çêkir, ku tenê ji hêla çapemeniya ereb ve hate dîtin piştî ku rojnameyek li Israelsraîl ragihand ku li ser forma wekê bîranîna Holoka ewlîgê ya Berlînê. BBC Erebî li ser projeyê ragihand. Vê yekê dibe sedema bumerangê çapameniya navdewletî, ku rapor êdî ne ji Uyghurs lê ji bo şerê Israelsraîl / Fîlîstîn bû. Karên hunerî serfiraz kir!
Çîroka Qirkirina Fasê ya li ser Wikipedia-yê qet qala kampên karkerên kole yên li çola ku Cihû mirî ne kir. Bîrdariya me piştî salek avahî ji hêla Wezareta Navxweyî ya Fasê ve hate hilweşandin. Ji bo ku em li dijî sextekariyek dîrokî & dij-semîtîzm şer bikin me di Wikipedia de mijara xebata bi zorê anî nav dîroka Fasê. That ew her çend ew ji destpêkê ve sazkirinek hunerî bû da ku binpêkirinên mafên mirovan ji hêla Çînê ve li dijî Uyguran nîşan bike.
Theêwaza hunerê careke din arîkarek afirîner da meşandin da ku li dijî nijadperestiya antî-misilman şer bike û li Wikipedia-yê qala karkerên bi zorê yên jibîrkirî bike.
Mixabin, Fasê fena çalakiyên hunera çalakiyê pê nizane. Tîmê
Li ser malpera me ya Marokî, bi replica of tower Orthanc ji Lord of the Rings, jiyan ji hêla rayedarên Moroccan ve dijwar dibe. Kuliyek sipar ji bo 500 mirovên ji THW ya Almanî hate desteser kirin, goristanek ji bo xebatkarê pêşveçûnê ya Almanya bi buldozers hilweşandin û nanek arîkariya pêşveçûnê, ku ji wî gelî rasterast sûd werdigirt, ber bi axê ve diçû.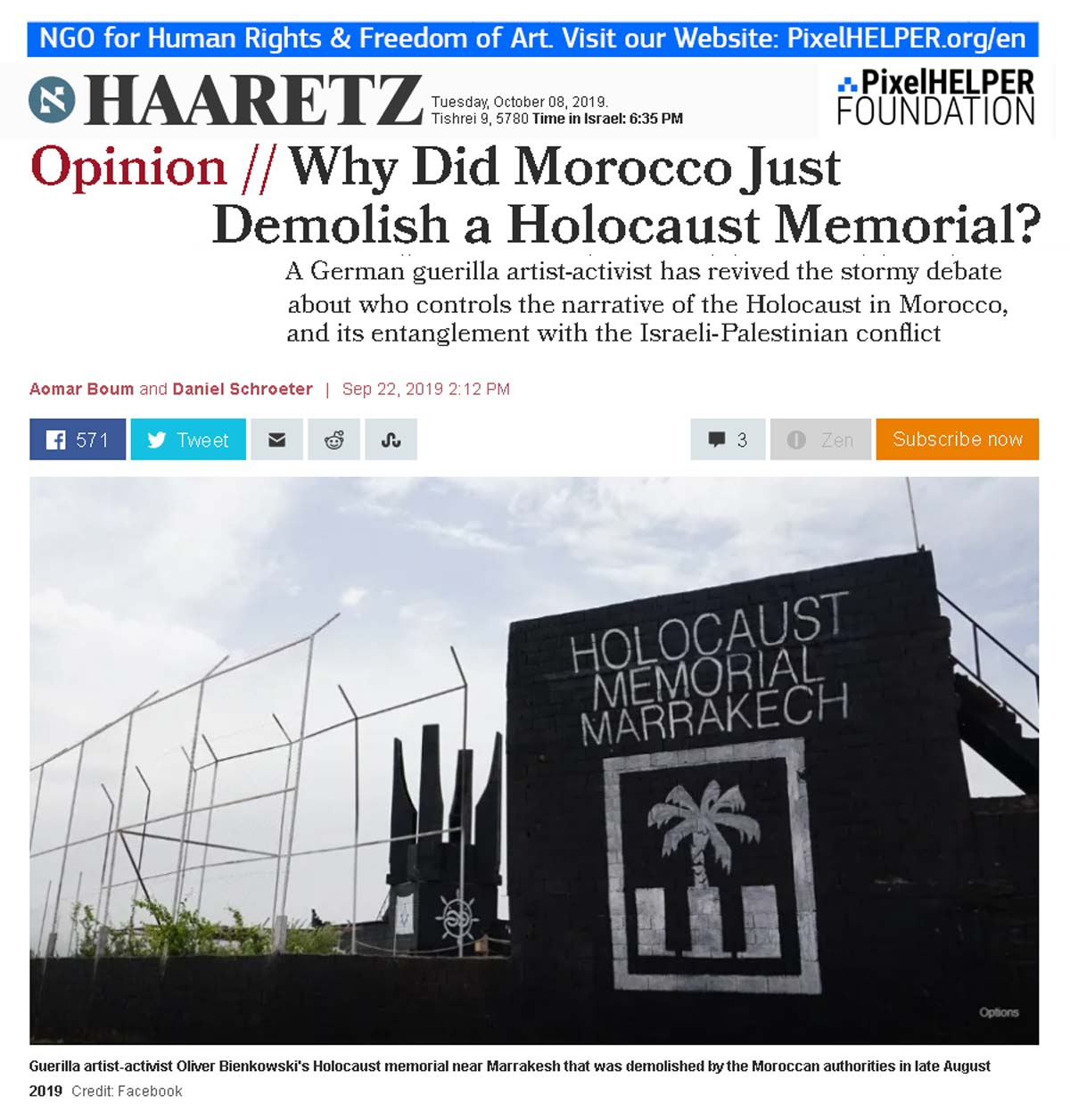 D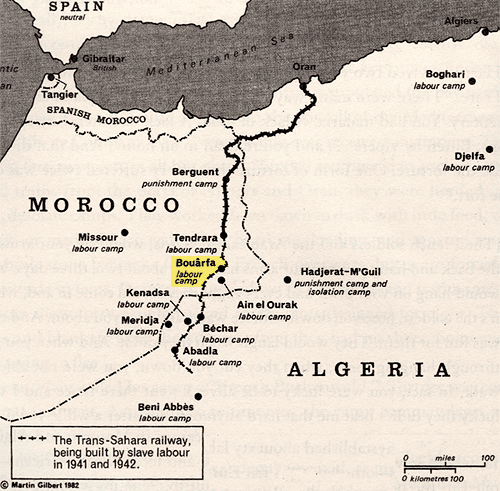 Nameya vekirî ji Kingah Muhemmed 6 a Moroccan.
Cenabê Bilind Mihemed VI, Huner ne sûc e. Rêxistina meya Almanya ya ji bo mafên mirovan & danasîna huner û çandê bilez mecbûr e ku ji ber binpêkirinên mafên mirovan ên giran ên li Fasê ji we gilî bike. Hemî tiştî bi metbexa şorbeya gerok a ji bo Afrîkayê dest pê kir, ku karbidestên gumrikê yên we li Tangier ji Gulana 2018an vir ve stendin ji ber ku me digot qey em dixwazin şorbeyan bi bazirganî li Marrakech bifroşin. Ji ber salekê ve me dît ku mirov ji tenekeyên çopê dixwin û bê guman metbexa şorbeya me dê alîkariya hin kesan bike ku têr bibin. Çima karbidestên we baxçeyê hunermendê me hildiweşînin? Rayedarên we di Septemberlona 2018-an de serîlêdana avahiyê bersiv nedan. Her roj me hewl da ku bi rêka balyozxaneyên we yên Fasê, ku nexebitînîn, ji Parlamentoyê bi hemî kanalên li welêt bi rêveberiya we re têkilî danîn. Wan qet bersiv neda. Kanûn 2018, xebatkarê me yê pêşkeftinê yê PixelHELPER Tombia Braide mir ji ber ku ew ji reftara rayedaran ew qas aciz bû ku ew ji ber êrişa dil mir. Bê guman, ew wekî bîranînek bêyî kesek amade bû hate binax kirin û tawanbar hate ser stûyê Fasê. Me ji bo bîranîna wî rojnemeyek ava kir, ew ji hêla buldozeran ve hate rûxandin.Me di nav salekê de 100.000 € li Fasê veberhênan. Ji bo ku li Afrîkayê aramiya xwarinê misoger bike nanpêjiyek nan a konserve xebitand û her roj nanek belaş ji gundê me re peyda kir. Jendermeya we bi hinceta ku serdana me qedexe ye ziyaretvanan ji me dibirin qereqolê. Lêpirsînek bi îddîayên mêvanê me dê xayîn be û Freemason nayê tehamul kirin. Dûv re ji bo mêvanê me li çepikan xistin. Çend caran ji hêla polîsan ve astengî hat dayîn ku rojnameger biçin serdana milkê me. Her çend hemî belgeyên me hene ku vîzaya veberhênerê li welatê we bistînin, 3 sal kirê bi vebijarka kirînê jî tê de, polîsê we dixwaze me bi zor dersînor bike. Em ji bo hilweşandin û ji nû ve avakirina nanpêjfiroş a nan a konserve bang dikin. Her weha divê hûn polîsên xweyên herêmî agahdar bikin ku hunermend ne terorîst in. Ji ber ku bi vî rengî me digirin dest. Karmendên me ji hêla Mkadem, destê çepê Caid ve, bi laşî ve têne tehdît kirin, da ku qulikên dîwarên meyên derve negirin. Di Festîvala arekir de, tîmê me ji ber vemirandina kûçik hewceyî derziya hêrs bû. Mixabin, beşa tenduristiya wan li Ait Ourir û Marrakech hate girtin. Em ji bo ji nû ve avakirinê û lêborînek kesane ji serokê polîsê we li Ait Ourir û caid li Ait Faska 100.000 euro dixwazin. Yê ku carî bi xwe re napeyive lê tenê bi kesên dîdevan re têkiliyê datîne Ji ber şîdeta polîs a li dijî mêvanê me, ji bo 100 salan em ji Ait Faska & Ait Ourir hewce ne ku 100 karmendên bijarte yên xwe li ser projeyên xweyên hunerî bixebitin.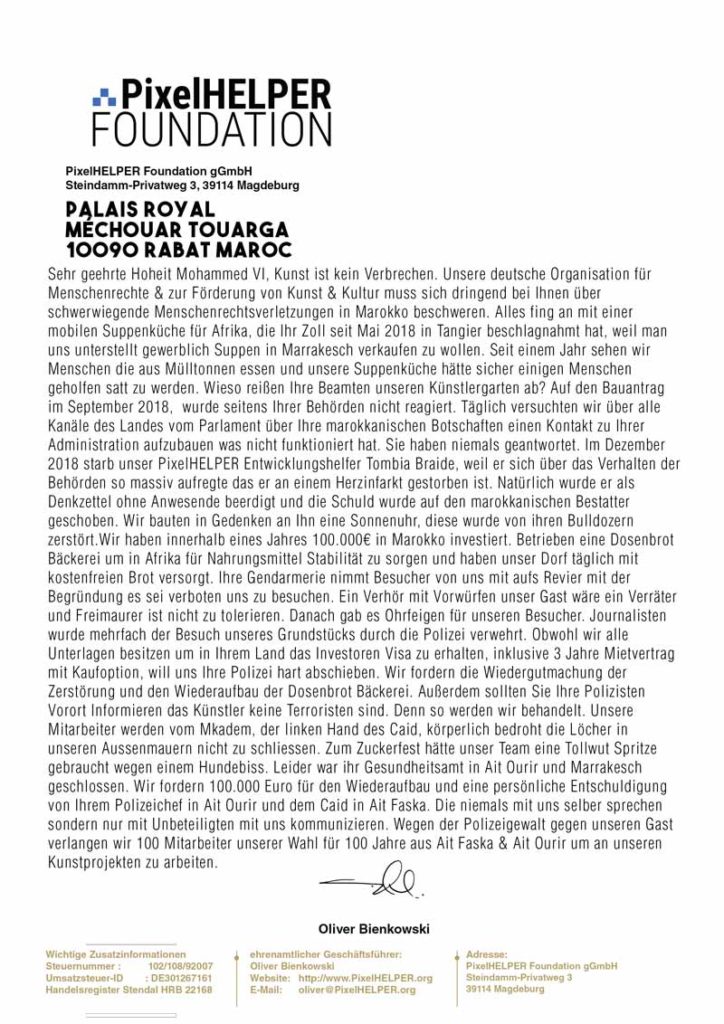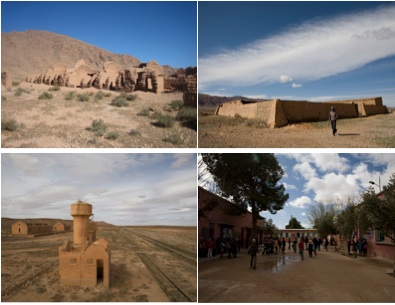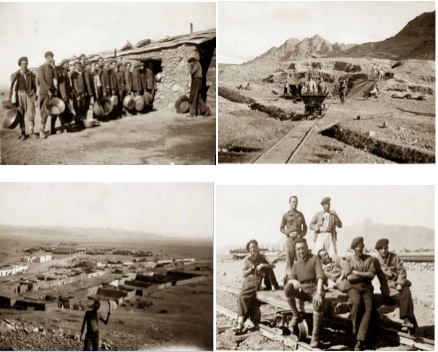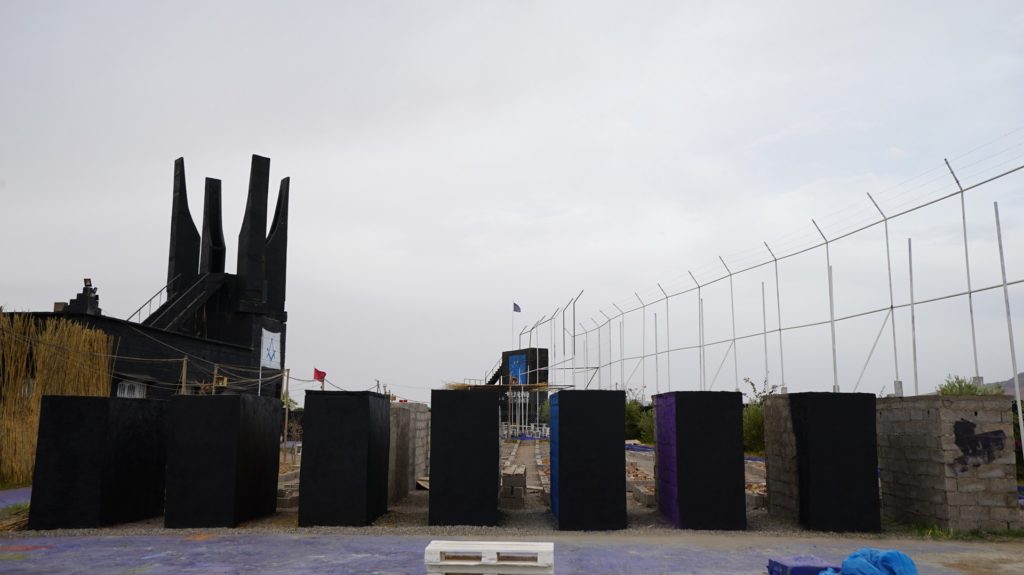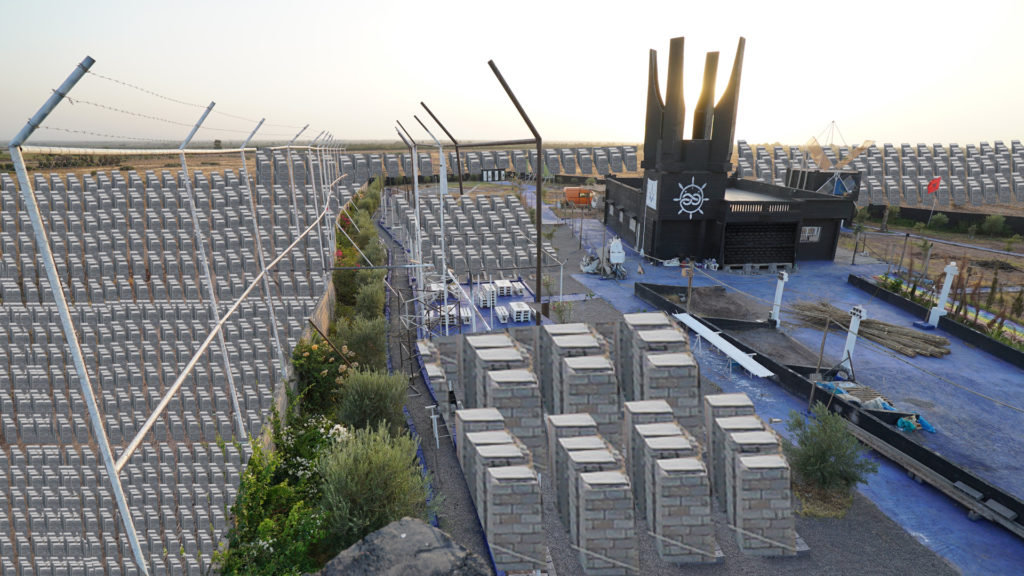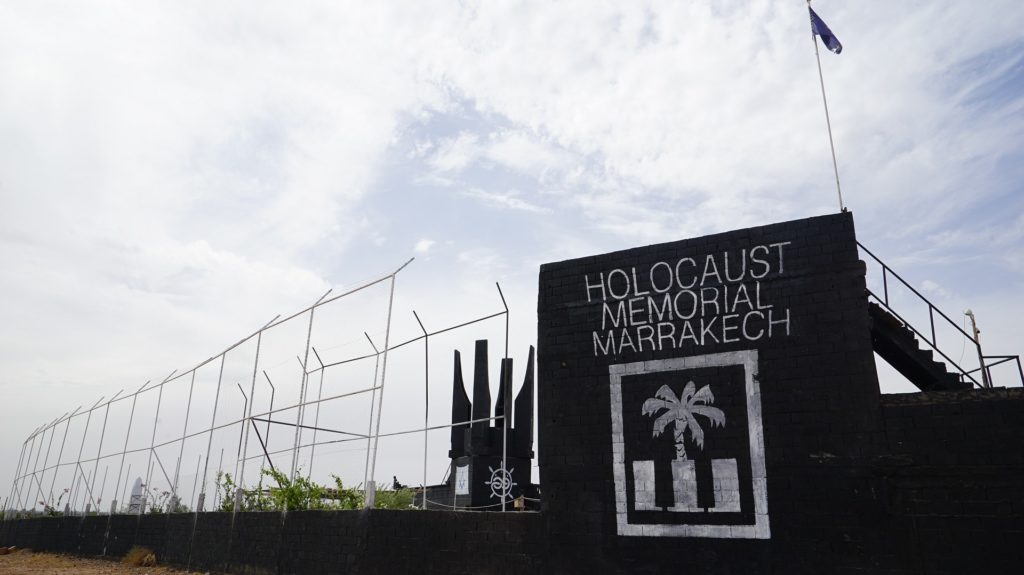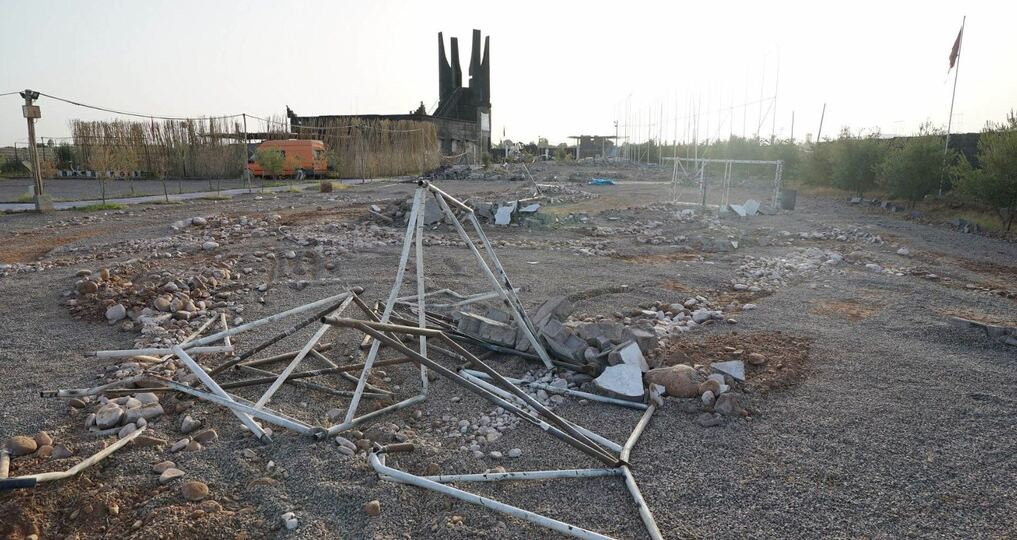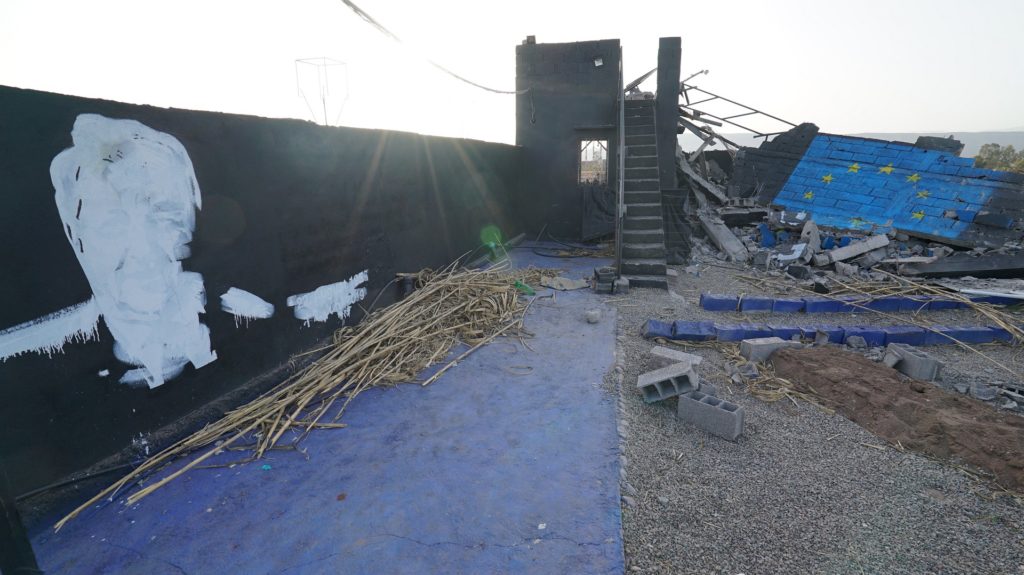 Bi tevahî li protektora fransî ya Fasê 14 wargehên cûrbecûr bi 4.000 mêr re hebûn. Ya sêyemîn jî cihûyên ji neteweyên cûda bûn. Girtî hemî mêr bûn ji xeynî Sidi Al Ayachi, ku jin û zarokên wê hebûn. Hin kamp li zindanên diparêzin, ango zindanên rastîn ji bo dijberên siyasî yên rejîma Vichy. Yên din bi navê kampên derbasbûnê yên penaberan bûn. Dîsa jî yên din ji bo karkerên biyanî hatine veqetandin. An Cihûyên li kampa Bou Arfa ya di binê Vichy de, Rêhesina Transsahara ji bo hevkariya Reich-a Sêyemîn bû sembolek girîng. Ji ber vê yekê, hewcedariyek pir mezin bi karkeran hebû. Yên ku êdî nekarîn gelek mirî bixebitin.
Bi hezaran komarparêzên Spanishspanî di komên xebatkarên biyanî de ji bo avakirin û sererastkirina trênên trên berpirsiyar bûn. Pitika xebatê ya piştî revandinê ji polîtîkayên Franco reviyaye zordar û nehsanî .Hemû xebatkarên Spanyayî li zabitên rast hatin veguheztin. Cihûyên ku ji Ewrûpa Navîn hatine dûr xistin û komunîstên Fransî jî li wir hatin veguheztin. Jiyana rojane li wir geş bû. Pir kes ji ber destavêtin, êşkence, nexweşîn, birçîbûn an tî, birînên çirûskê an keskên mar ketin.
Depoya Berguent (Ain Beni Mathar) ji hêla Beşa Hilberîna Pîşesazî ve hate xebitandin. Ew bi tenê ji bo Cihûyan hate veqetandin (155 di Tîrmeh 1942 û paşê 400 li destpêka 1943 li gorî rapora CRI). "Lê wê rehetiya giyanî ev rastiya ku kampa Bergue di nav xirabtirîn de bû kêm nekir," Jamaa Baida got. Ji Xaça Sor hate xwestin ku were girtin, Cihûyên ku li Bergued dijiyan, nemaze ji Ewropaya Navîn, berê xwe dabûn Fransayê. Dilxwazên Legionên Biyaniyan ên ku piştî têkçûna 1940-an hatin şandin û piştre "ji ber sedemên îdarî" hatin internekirin. Mesela Saul Albert, hemwelatiyekî Tirk, ku di 1922 de hate Fransa wilo bû. Ew li Bergua-yê heya zindanê di Adar 1943-an de hate zindan kirin. Di rojnivîska xwe de wiha dinivîse:
"10. Sibat (1941): Tevahiya rojê kevir şikandin. Adar 2nd ...: Bi Cihûyên Alman re radestî koma pêncemîn. Ez qet hez nakim. Kar ne yek e; Em neçar man ku balêtekê çêbikin ... 6ê Avrêl: longerdî em nekarin vê jiyanê ragirin. Tayê min, êşa diranan heye ... 22ê Septemberlonê: Roş Haşana: Kesî nedixwest bixebite ... 1ê Çirî: nan nexwar ... "
Cerdevanan, ku piraniya wan jî Alman bûn, bi rengek zordar, dijminat û xerab tevdigerin. "Divê ew beşdarî NS-SS-ya nazdar bibin." Hin girtiyan reviyan, gihîştin Casablanca û tevlî hêzên wan bûn.
Li Boudnib, bajarekî piçûk ê 10.000 niştecîhî, baregehên leşkerî yên niha şahidên dawîn ên kampa artêşa Fransî ne. Niştecîhên kevin perçeyên bîranînê diparêzin: "Ez dikarim du tiştan ji we re bêjim bê guman. Ya yekem baskê Boudnib e, ku piranî ji Cihûyan pêk tê. Ya duyemîn jî ev e ku piraniya wargehên bajêr di dibistana seretayî de hatine perwerdekirin "(Kovara Tel Quel Hejmar 274, 19-25 Gulan, 2007).
Maurice Rue, rojnamevanek komunîst, li wir hate navbirin. Wî ji me re got ku "ji 40 girtiyan sê-çaran Komunîst, Sosyalîst û Gaullîst bûn berî ku 40 Cihû bigihîjin çend mehan."
Piştî ku erdên Amerîkî li ser 8. Mijdar 1942 beşdarî Maroko bû, li kêleka hevalbendan. Di Januaryile 1943 de, Hevalbendan li Casablanca li konferansek civîn. Peymanek stratejîk û leşkerî hate îmzekirin. Di demek kurt de bi dagîrkirina Sicîlyayê (Operasyon Husky, Tîrmeh 1943) dawiya Ewropayê ku ji hêla Almanya ve hatî dagirkirin dest pê dike.
Di Bou Arfa de avahî çênebû û merc ji bo baştir guhertin çêdikir. Ew ji prisonerstalya û Alman zindan çêtir digirtin li şûna Komûnîst û Cihûyan. Lêbelê, çêkirina Trans-Sahara dojehiyek rojane dimîne. Projeya ku wekî xelet hate destnîşankirin, ji hêla Fransa ve tenê hate 1949.
Wekî din, hilgir di navbera dawiya 1942 û destpêka 1943 de ji zû de hat rakirin.
Belgefîlm ji hêla Bill Cran û Karin Davison ve hatî weşandin, li ser Arte, weş
Yekem bîranîna Holoka li Afrîkaya Bakur
Nîşanek li dijî hindikahiyên çewisandî li seranserê cîhanê. Avakirina yekem bîrdariya Holocaust-ê li Afrîkaya Bakur armanc dike ku ji bo dibistan û nifûsê bibe çavkaniyek agahdariya derbarê Holocaust-ê.
Gava ku her blok hezar peyvan hêja ye. Di 17.07-ê Tîrmehê de, li Afrîkaya Bakur bîrdariya yekem a Holocaust-ê dest pê kir. Me stêl danîn da ku di labîrenta blokên gewr de mêvanan bidin hesta bêçaretî û tirsa mirinê ku mirov wê demê di kampên komkirinê de hebû. Em dixwazin li Afrîkaya Bakur cihek biafirînin ku bîranînê bîne serdema dîjîtal. Bi herikek zindî temaşevan li ser malpera çêkirinê hene û dikarin li ser hejmara karker û blokên ku dê bi bexşînên we werin çêkirin bandor bikin. Her ku hûn temaşe û bexş dikin, bîrdariya Holokostê mezintir dibe.
Ji bo bîranîna Holokostê li Marrakech tê gotin ku li cîhanê herî mezin e. 5 carî mezinahiya bîranîna Holocaustê ya Berlînê paşê dê li ser kevirek 10.000 li dora navendek agahdariyê bike ku mêvanan di derbarê Holocaust de hîn dike.
Damezrênerê Weqfa PixelHELPER, Oliver Bienkowski, li paşnavê wî di Yad Vashem-ê de digerî û hin navnîşan dît, piştre ew li ku derê Memorial ya Holocaust-ê li Afrîkayê ye dît û tenê li Afrîkaya Başûr dîtin. Ji ber ku ev mîna nîv rêwîtiyek cîhanî ya ji Fasê ye, wî biryar da ku li ser malpera PixelHELPER li ser bîranîna Holocaust ava bike. Taybetmendiyên cîran hemî vala ne, ji ber vê yekê li wir derê heye ku bi kêmanî stelên 10.000 ava bikin.