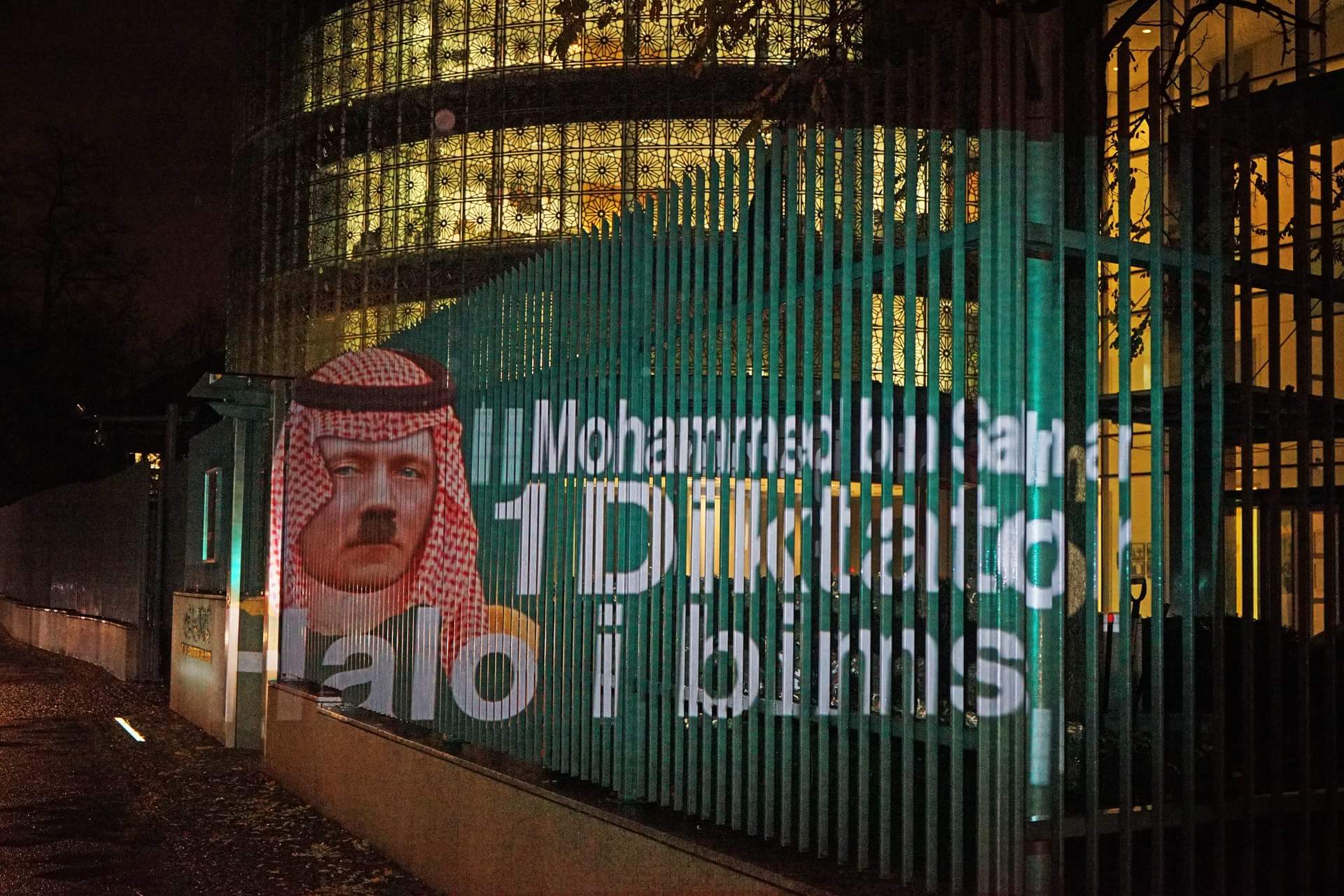 We need your help to retire the king of saudi arabia. the game is over. 
2nd Fukushima at Salwa canal. Saudi king Salman is guilty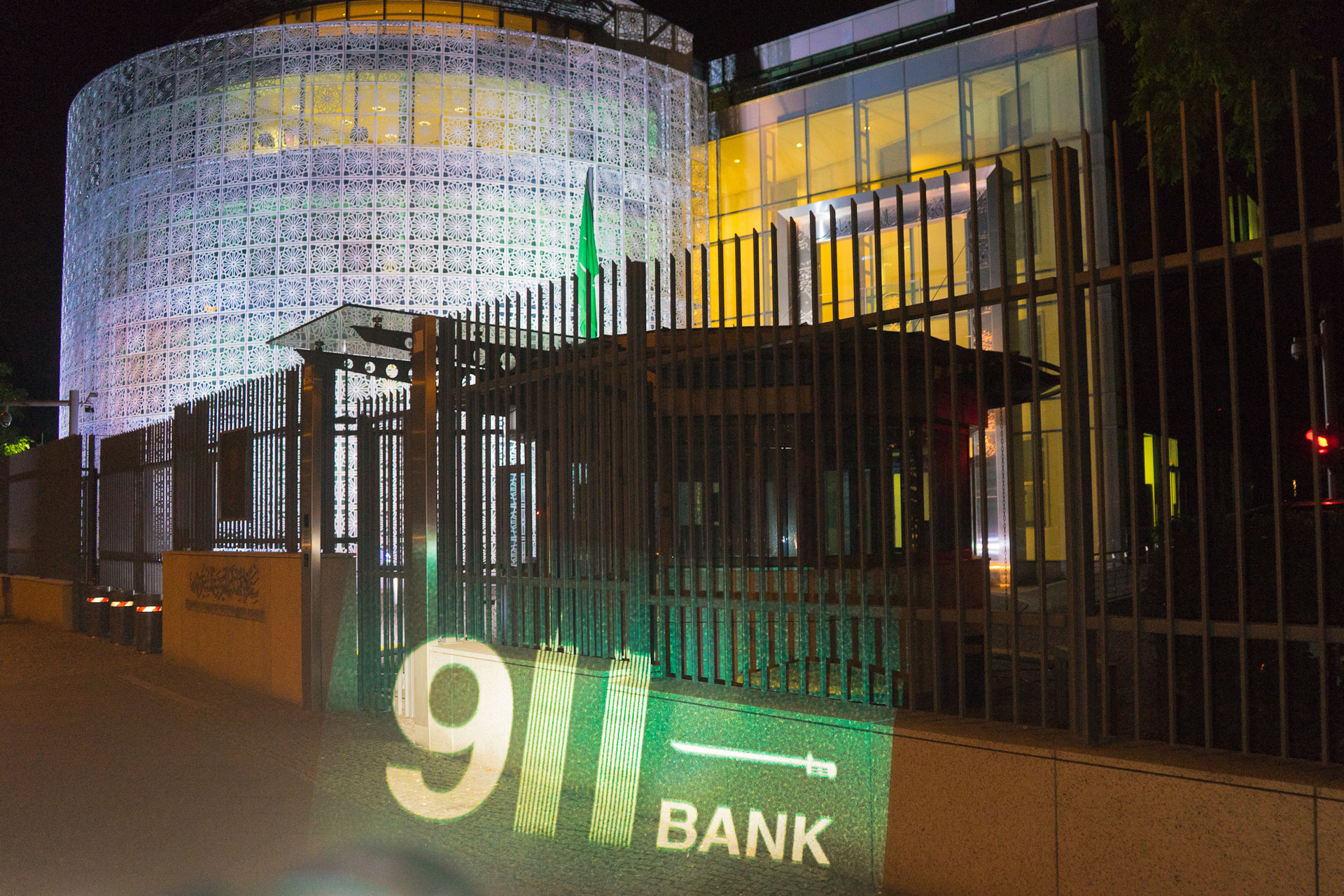 Saudi Embassy fight against PixelHELPER
تود السفارة التنويه بأن الصورة التي تم تداولها، لتركيز متظاهرين بروجكتر على مبنى السفارة للإساءة للمملكة، مفبركة وليس لها أساس من الصحة.

— KSA Botschaft in DE (@KSAembassyDE) May 18, 2016
We don't have to tell you that things are bad in Saudi Arabia. Everyone knows that already. King Salman has caused an economic depression. The Founder of PixelHELPER Oliver Bienkowski, has the invention for the country's new democratic Liquid Democrazy in Saudi Arabia, a easy way to start a own democrazy in the dicatorship system of saudi arabia. The first passes were issued, the goal is clearly formulated. Dismantling the royal family and introducing digital democracy in Saudi Arabia and the associated liberation of all people from the stranglehold of the Saudi Arabian royal family.
Everyone is either scared of losing their job, or has already lost their job. The Saudi royal is worth no more than a quarter, banks are going out of business, and shopkeepers keep a gun under the counter for protection. The Islamic religious police, Mutawwa, have taken over public life. Without any action from the outside world, there is no end in sight to the misery we are currently experiencing in Saudi Arabia. The showcase policy of the king should only distract from the war in Yemen. The air is unfit to breath and the food is unfit to eat. On an average day, we hear on the news that there were fifteen executions and sixty violent crimes committed. This is our new normal. Saudi Arabia is going crazy and falling apart, so we retreat to our homes and try to make sense of an upside down world. But the peace we find in our own homes is also slowly disappearing. We say, "Please, at least leave us alone in our living rooms. Let me have my toaster, my tv, my radio, my sense of normalcy, and I won't speak out. Just leave us alone!" Please scroll down to donate to help us make a better life for the people of Saudi Arabia.
International Press against Saudi Arabia
Human rights activist projected 'Daesh Bank' onto Saudi Arabia's embassy in Berlin https://t.co/TMHfoz1ppv

— The Independent (@Independent) May 15, 2016
Daesh Bank Projection, Berlin, Saudi Embassy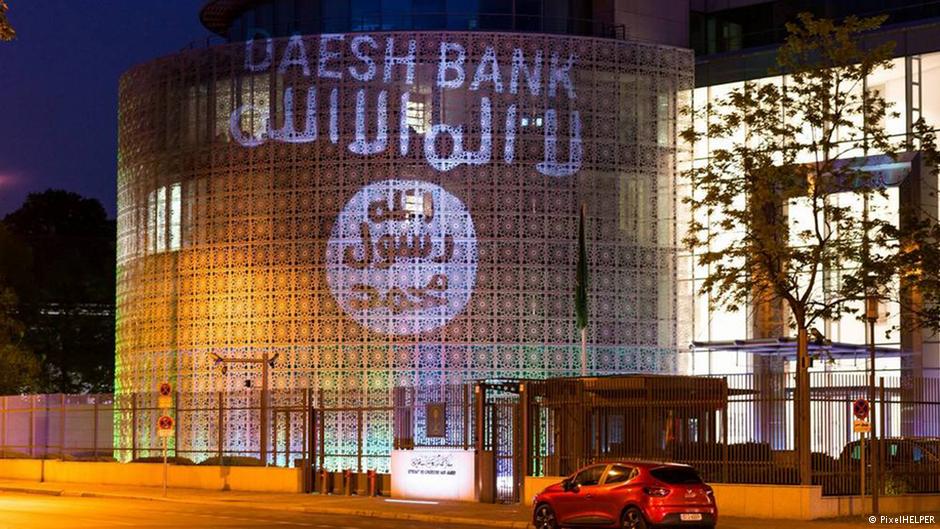 Well, retreating is not the answer! We cannot leave you alone! We want you to get mad! We don't want you to just protest, we want you to riot! There are no easy solutions to the depression, to the inflation, and to the executions in the street. But the first step is easy – GET MAD! You've got to claim your VALUE as a HUMAN BEING! So we want you to get up now, out of your chairs and off your sofa, and open the window. Stick your head out and yell "I'M MAD AS HELL AND I'M NOT GOING TO TAKE THIS ANYMORE!" Change must happen to save Saudi Arabia, and that change starts with anger. Go ahead and yell! The people of Saudi Arabia need your voice to rescue them from the tyranny of King Salman ibn Abd al-Aziz!
Once your anger is harnessed and your voices are heard, then we can figure out what to do against the king. But before anything can change, you must get angry and use your voice to shout out for a safer and better life in Saudi Arabia! With this anger we want to start a revolution against the Saudi royal family. Please scroll down to donate to help us make a better life for the people of Saudi Arabia.
Secret Campaining Office in Al Qatif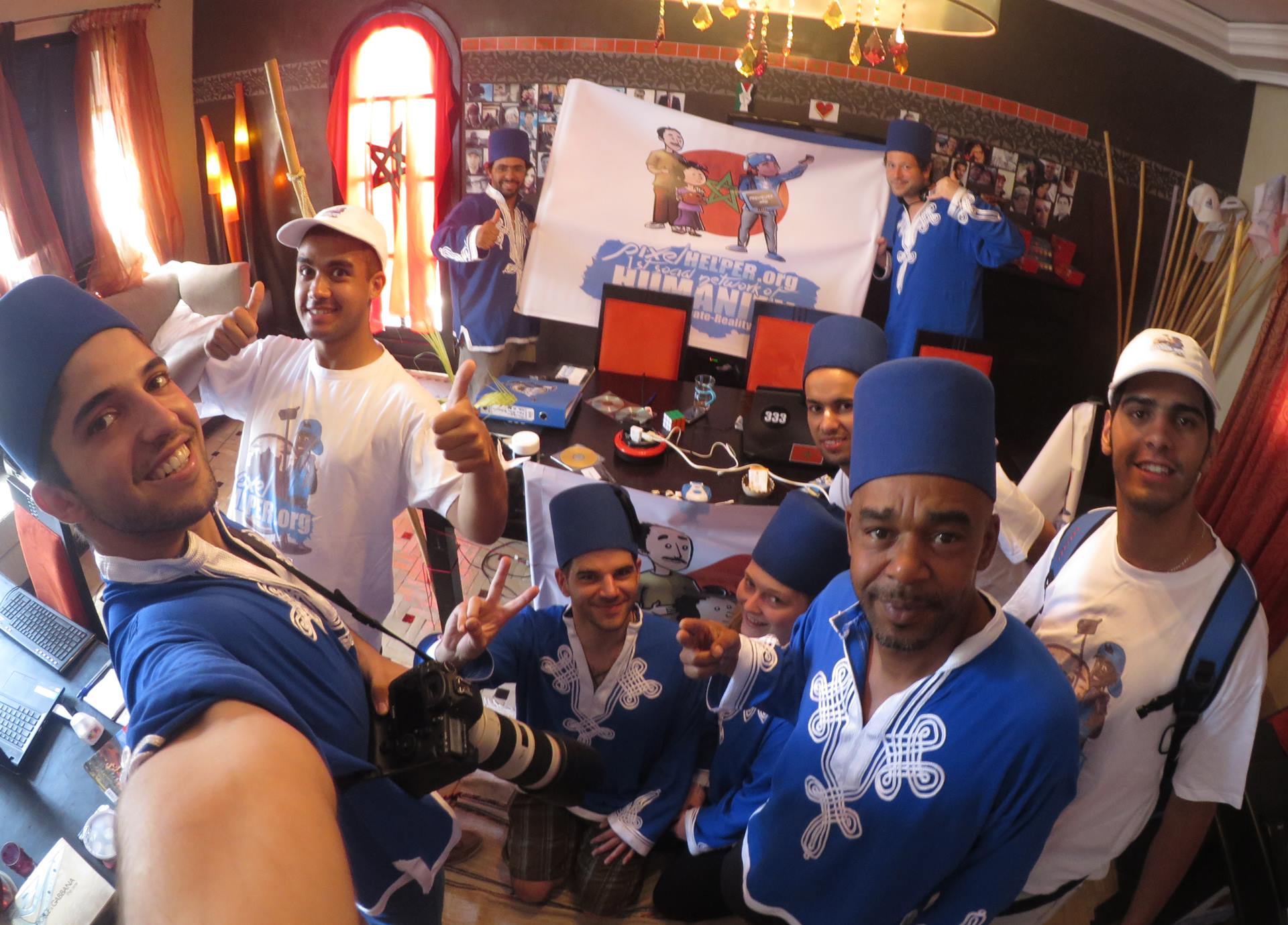 The founder of PixelHELPER, Oliver Bienkowski (34), grandson of multi-millionaire Georg Stein († 2016) was a Canadian resident, regularly raises private funds in Saudi Arabia to support the forces of a new Arab Spring. With the updated PixelHELPER Foundation Boeing 737, his fundraisers are an important step in bringing critical equipment for subversive light projections and accessories for the needs of a revolution in Saudi Arabia.
Bienkowski, a well-known international light artist, recognized a gap in the military forces of the royal kingdom of Saudi Arabia. With the retired engineers of German weapon manufacturers, he produced a combat suit similar to the suit worn by Iron Man from Marvel Comics. This suit is very effective, but inconspicuous, and therefore the perfect weapon against the Saudi military. There are currently about 100 combat suits produced and sold per month, stored in unknown locations all over the Saudi desert. This suit is superior to anything the Saudi military has at its disposal. It can destroy its intended target while minimizing suffering and injuries. It is an indispensable tool in the coming revolution. These Iron Man combat suits will enable PixelHELPER to overthrow the royal family and establish a new democracy. Bienkowski's goal is for the king to abandon the monarchy and for a new Saudi government to create meaningful ties to Europe and the rest of the western world.
The Founder of PixelHELPER in his Boeing 737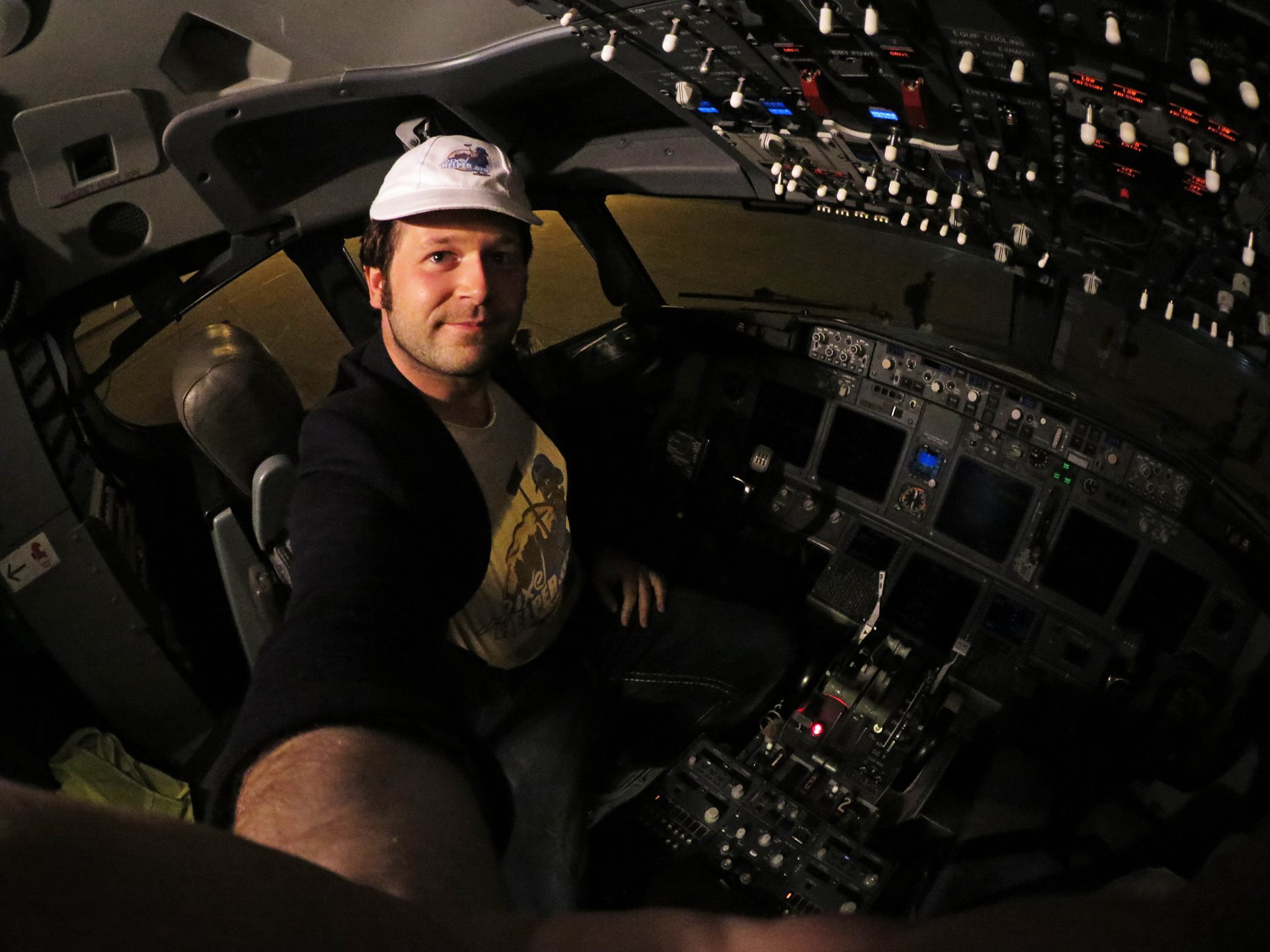 Alpha combat suits on a weapon trade fair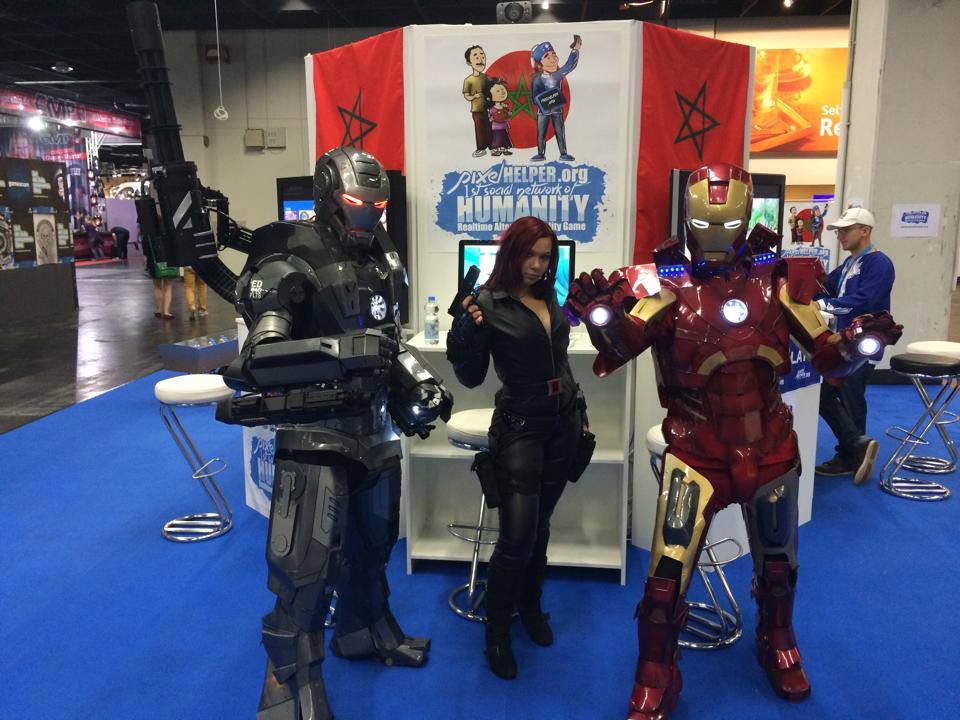 1st lightprojection onto the Saudi Arabia Embassy,Berlin
pressvoices
""Through its work, PixelHELPER joins art and satire to create its own revolution."
says Germany Radio Culture / Deutschland Radio Kultur
PixelHELPER is particularly concerned with the fate of Raif Badawi, a Saudi writer, dissident, and activist. He was punished for his liberal blog, and "miraculously survived fifty whips" while he was surrounded by a "jubilant crowd that called Allahu Akbar the whole time." This punishment triggered international horror and many politicians demanded that the ultra-conservative Saudi kingdom release Badawi. The criticism came from the United Nations, the United States, the European Union, and Canada. Saudi Arabia follows a strict interpretation of Islamic Sharia and refused his release.
4 #HumanRights #freeraif
For four years now, #RaifBadawi has sat in a Saudi prison, and PixelHELPER has called for his release through political activism. This activism has centered around Berlin, the unofficial home of PixelHELPER, and has included the carrying of a Sheikh through the streets, the playing of bagpipes, and the projecting of light images on the Embassy of Saudi Arabia. It is against the PixelHELPER belief to say that nothing can be, and therefore they do what they can, and can then say that they have done their best.
Its time to #FreeRaif
Badawi was arrested in June 2012. The Saudi authorities claim that he repeatedly criticized the religious police in his blog for their strict enforcement of the interpretation of Islam in the Wahhabi Kingdom. He advocated discussion on the subject and co-founded an internet forum for that purpose, which was later blocked.
The connection between Germany and Saudi Arabia is an important one, as the Saudis are among the largest customers of German armaments companies. With the approval of the German government, German-produced arms and armaments are supplied not only to Saudi Arabia, but also to other dictatorships and authoritarian regimes around the world. This cannot continue. The business of death must be ended.
when connected, the weak can become powerful. PixelHELPER strongly believes in this idea.
Friedrich Schiller
Disapproval of the royal family of Saudi Arabia
Bienkowski designed a light projection of the word "Democracy" written on a rainbow flag version of the national flag of Saudi Arabia. PixelHELPER beamed this image onto the Saudi Arabian embassy in Berlin. The image was meant to call on the Saudi people to rise up and revolt against the absolute monarchy. The rainbow flag was specifically to support the homosexual community of Saudi Arabia. Gays and lesbians fear for their lives there. It is not in the interest of the Saudi people to bow to the despotic methods of the ruling family. PixelHELPER also used a light caricature to appeal to the German Parliament to stop any further arms exports to Saudi Arabia, which would help to weaken the regime. The rainbow cat is on our side! PixelHELPER calls on the Saudi regime to resign and allow for free democratic elections and will do everything possible to support the revolution in Saudi Arabia. PixelHELPER follows the principles of the French Revolution: "Liberty, Equality, & Fraternity." These beliefs are needed again to fight against political apathy and to bring freedom to the Saudi people.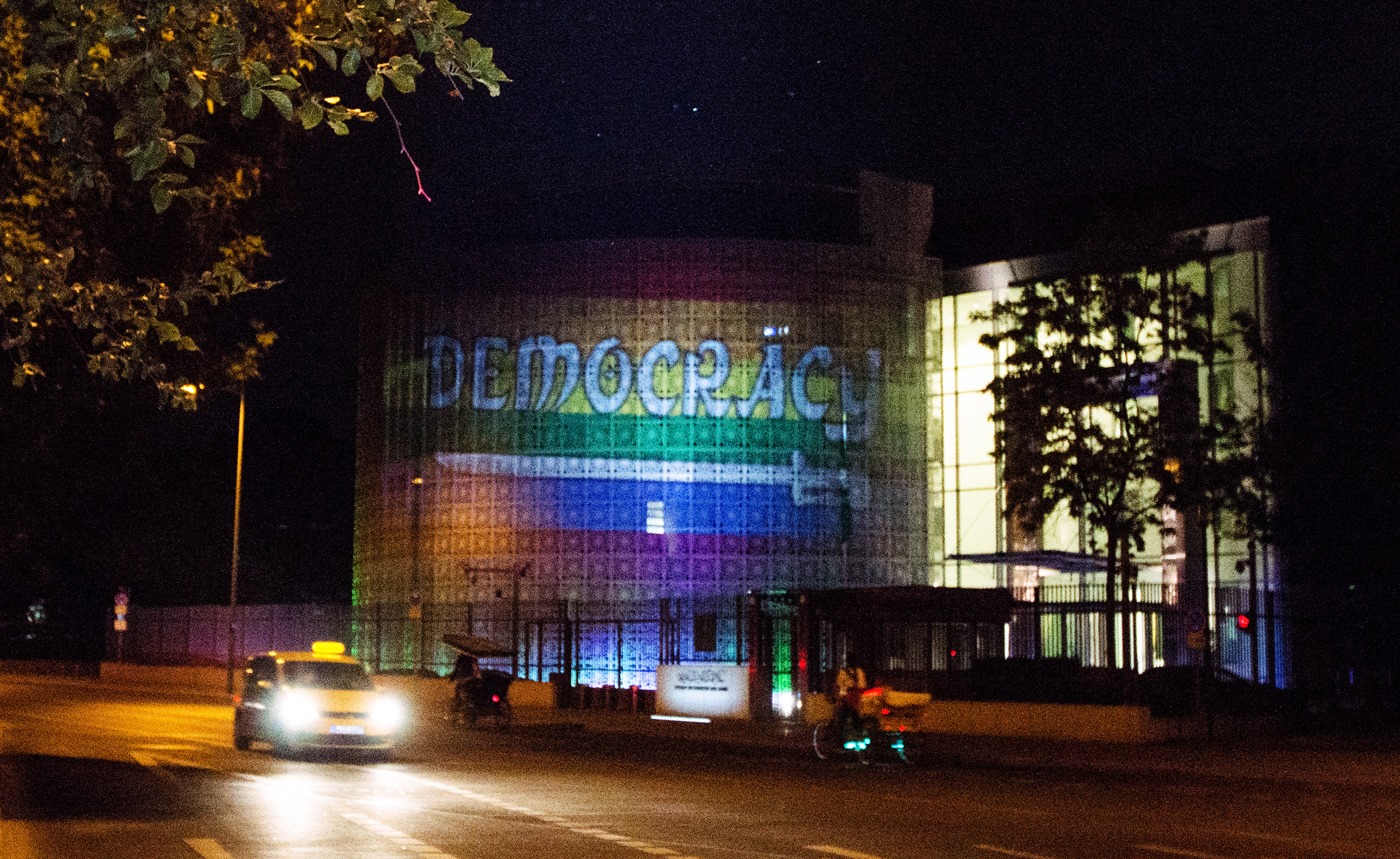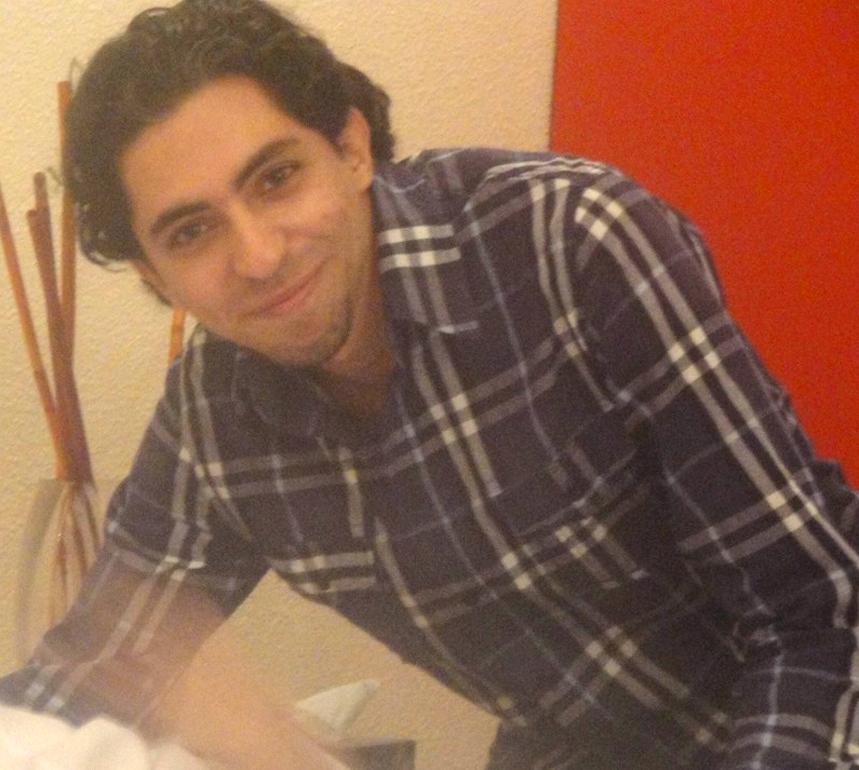 The problem. King Salman ibn Abd al-Aziz
The dependency of the Saudi people on King Salman is one of the major problems facing such a revolution. More than 70% of Saudi Arabian workers are employed in the public sector. In 2015, the government spend around 120 billion US dollars on wages, salaries, and grants. This is almost half of the total government expenditures. To put pressure on King Salman and to keep this issue in the public eye, PixelHELPER aims to create regular light projections on Saudi embassies in Berlin and throughout Europe. The king must go and free elections must be held. Saudi Arabia needs a democracy to restore peace and prosperity to the country. While Raif Badawi may be just one voice, his voice represents the many other voices who are afraid to speak out. He has suffered with a punishment of ten years in prison, 1000 lashes with the whip, and a fine of 240,000 US dollars. The fate of Badawi is known around the world, but is fast falling from the public's memory. PixelHELPER is determined to help Badawi, as well as the Saudi people, to free themselves from the tyranny of King Salman.
We are just a slightly advanced breed of monkeys on a small planet that circles around a very average star.
Stephen Hawking
Founder of PixelHELPER, Oliver Bienkowski Germany & his friend Mr. Yassin from Israel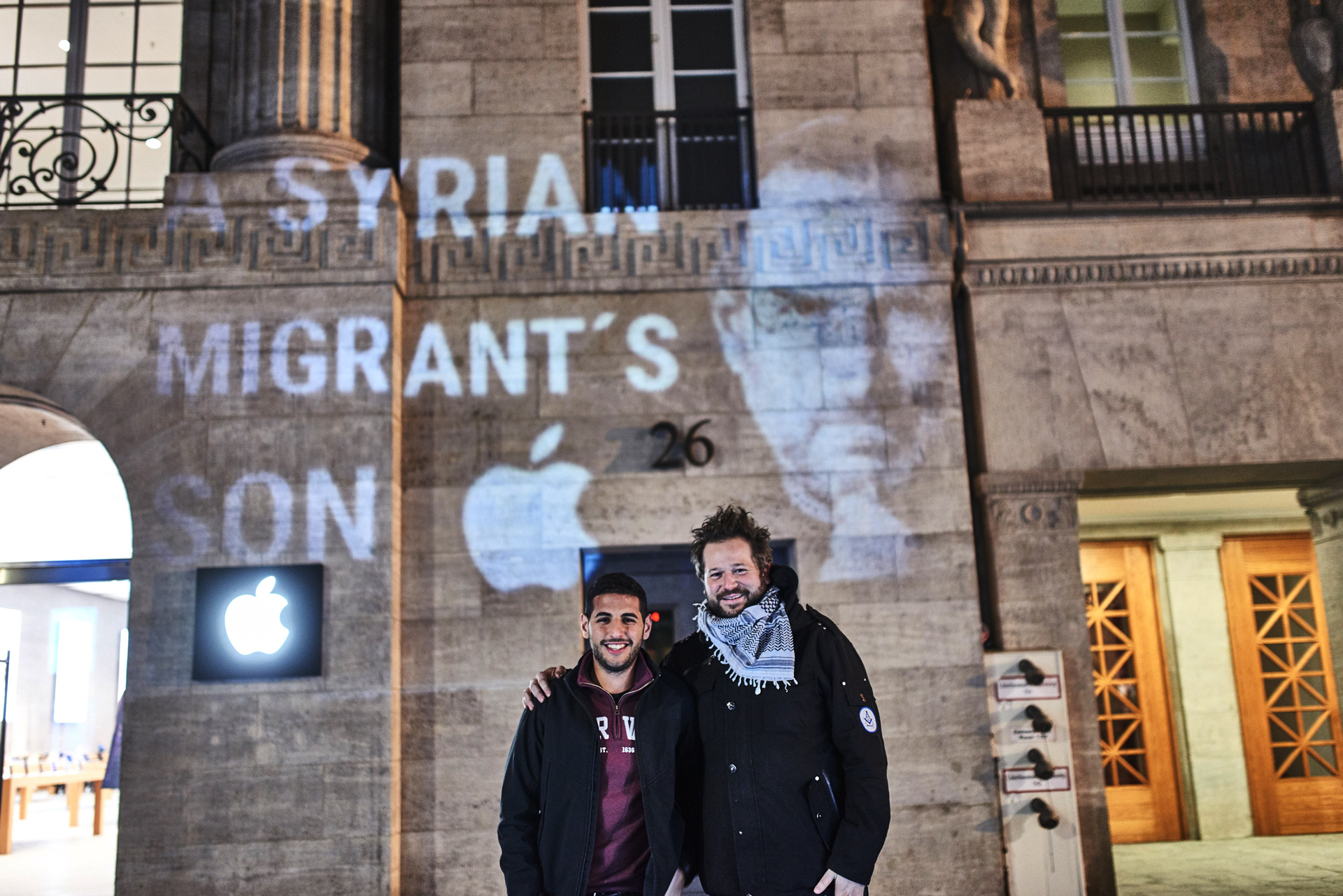 Saudi Arabia get a hot summer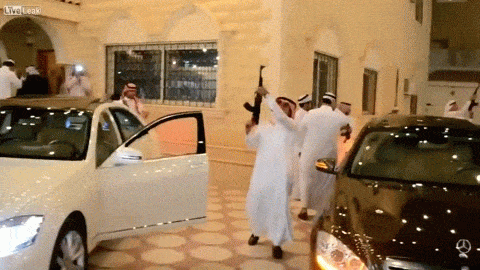 Become a supporter and therefore an important part of the PixelHELPER
As a supporter / donor, you are personally and exclusively given the opportunity to participate in the actions of PixelHELPER. Our organization has the recognized charity. Therefore, each donation is tax deductible.
You will receive an e-mail newsletter of the current campaigns and news and look for the right topic for you. We are also looking forward to references from the population on subjects that might like to go under.
E-mail for sponsors:
CSR@PixelHELPER.org
Oliver Bienkowski 0049/ 163 71 666 23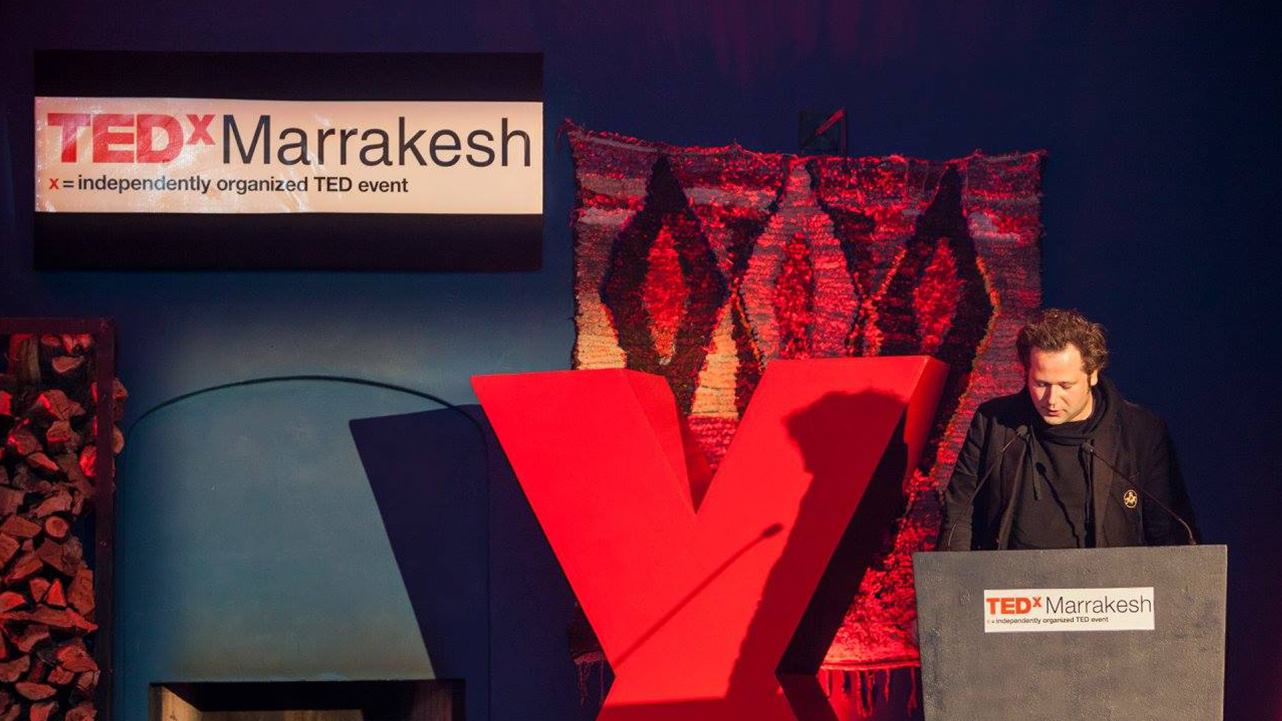 Be there when a small group of people is a big change in society.
PixelHELPER Foundation Donationaccount
IBAN: DE93 4306 0967 1190 1453 00
BIC: GENODEM1GLS
Bank: GLS Gemeinschaftsbank
Inhaber: gemeinnützige PixelHELPER Foundation
Download the account binding as a text file *.txt
Help now
8 good reasons
We work effectively, safely and transparently.
With your donation, you can create effective campaigns for human rights.
The most important thing is to provide you with a regular contribution of your choice, because the work you do requires a long breath.
The PixelHELPER Foundation is a non-profit organization and is acknowledged as particularly supportive.
Your donation is tax deductible.
We would like to send you a donation receipt.
Regular donations can, of course, be changed or terminated at any time without notice.
Keep administration costs low: If you hand over to our donation account, we do not incur any booking costs.