On this page you will find a timeline from the historical development of the non-profit organization PixelHELPER to the year 2008. It all started with the awarding of the attac prize - start your own revolution to Oliver Bienkowski, the founder of PixelHELPER. Since then, hundreds of news platforms around the world have reported on our projects.
2021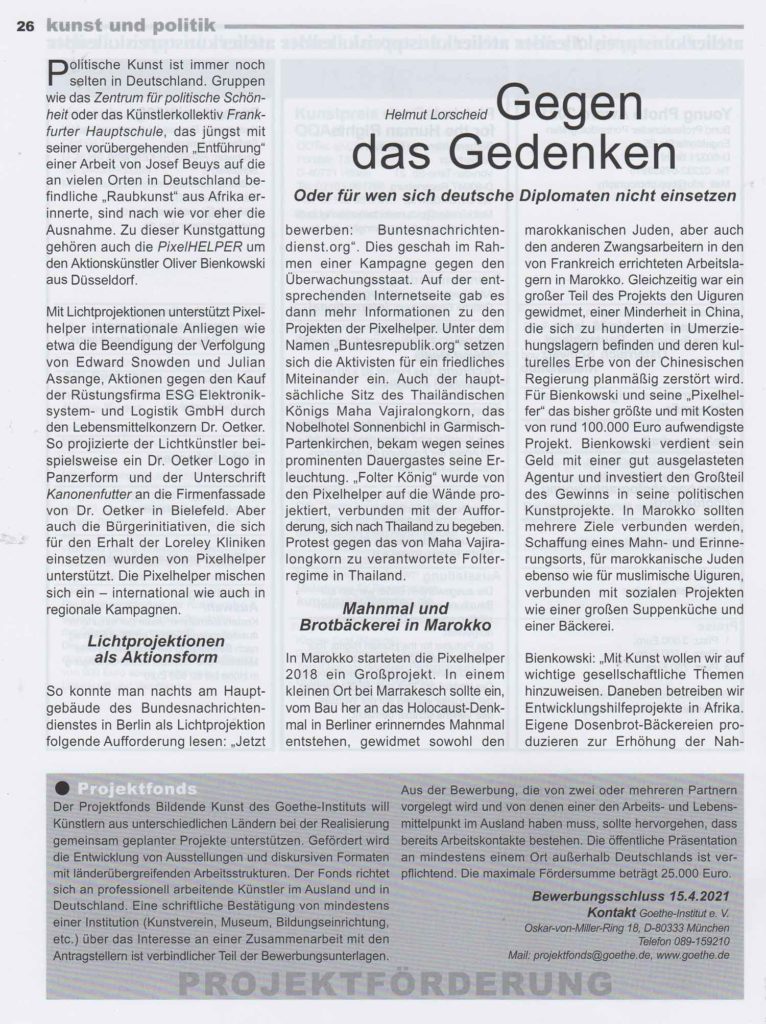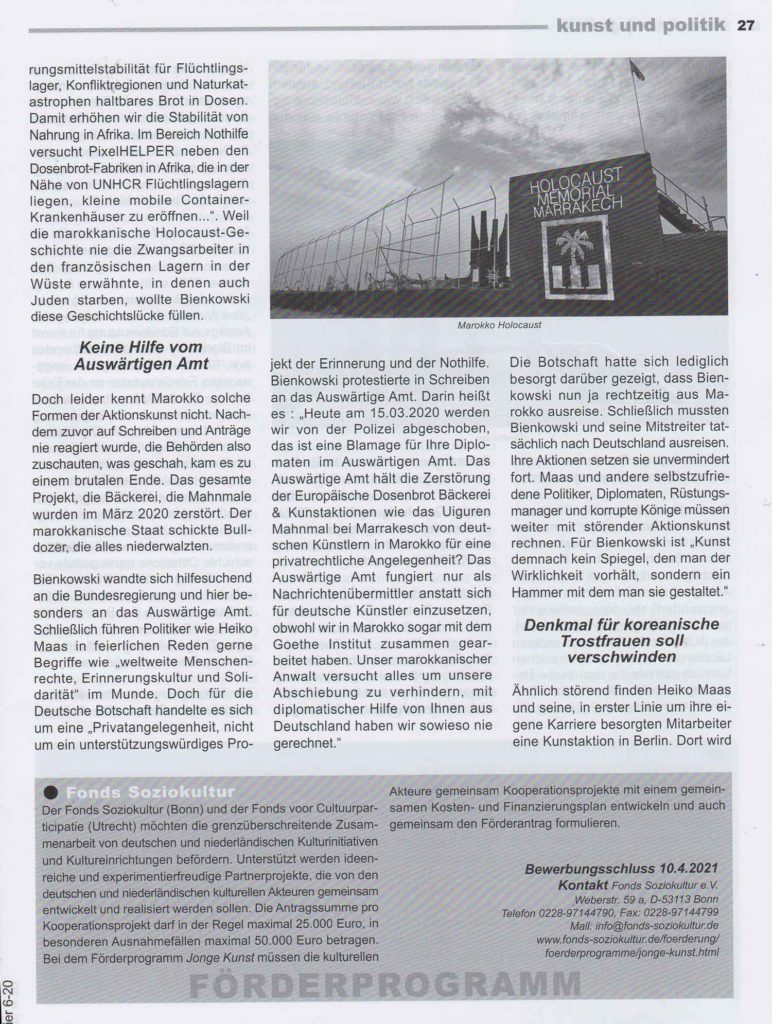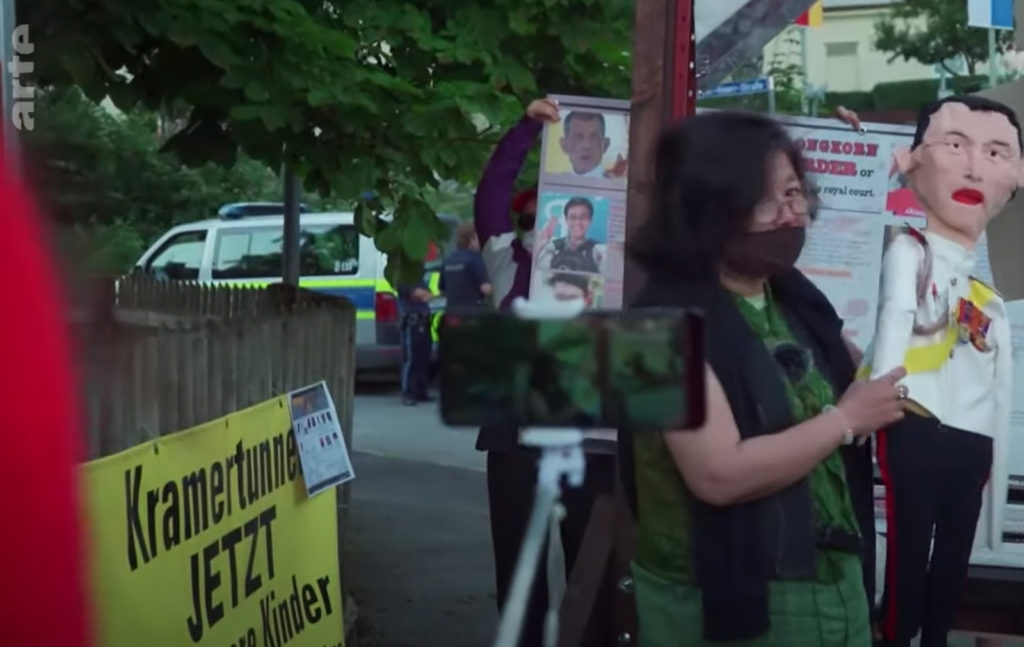 2020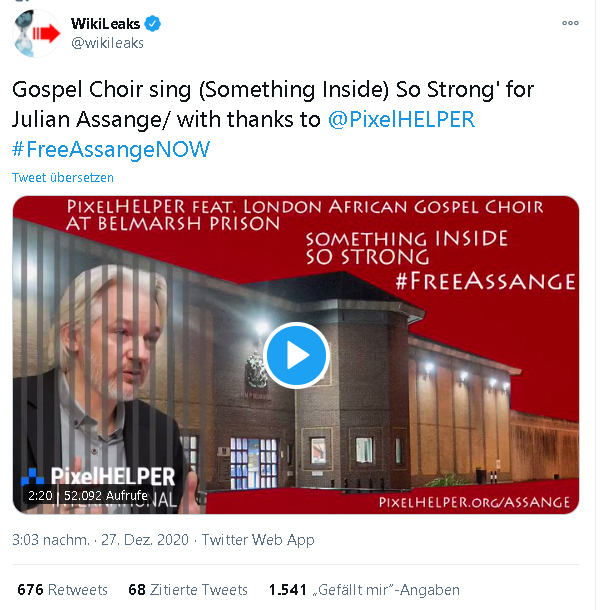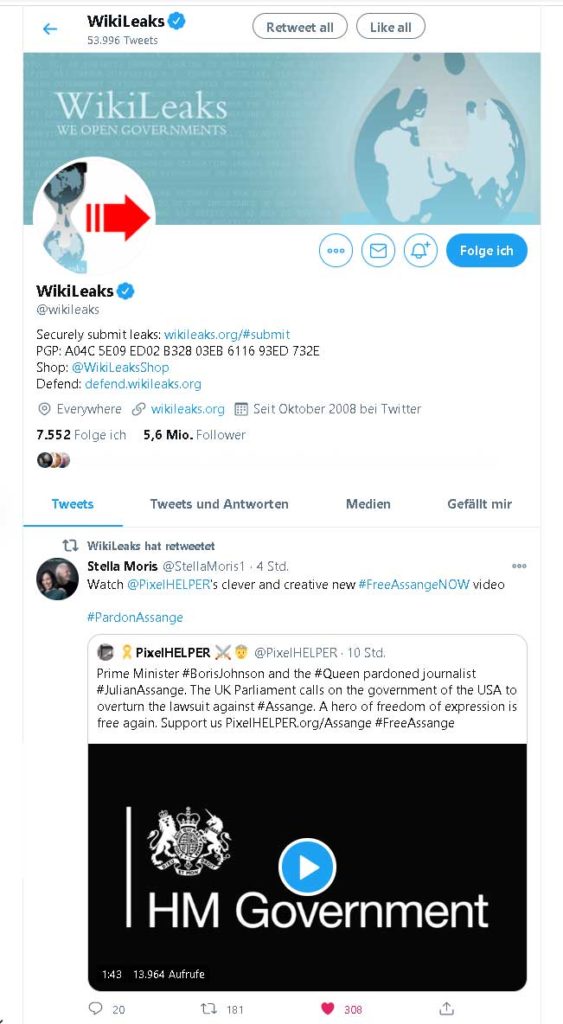 PixelHELPER protest with hand puppet of the King of Thailand together with Junya Yimprasert from ACT4DEM (Act for Demcracy) Finland.

PixelHELPER protest together Junya Yimprasert from ACT4DEM (Act for Demcracy) Finland at Hotel Sonnenbichl Garmisch Partenkirchen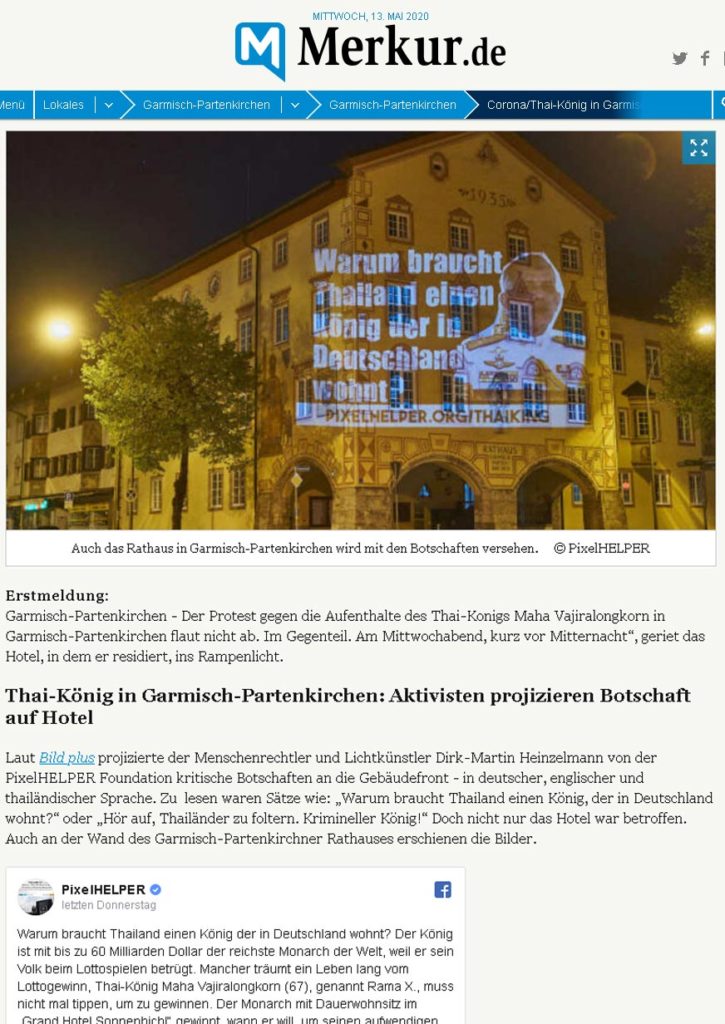 PixelHELPER protest at the Garmisch Partenkirchen town hall
The Moroccan newspaper Hespress reports on the diplomatic expulsion of the Moroccan government against PixelHELPER, against which we complain. Apparently the construction of our Uyghuren Holocaust Memorial was too much for the government's understanding of art.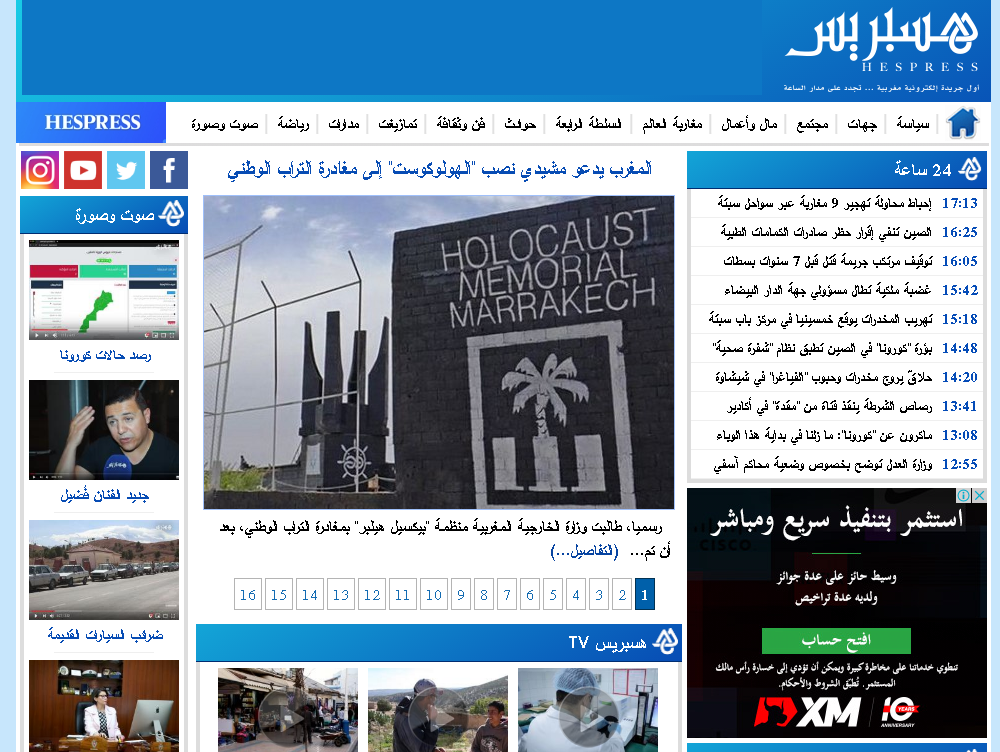 Projection with Wikileaks onto Buckingham Palace for Julian Assange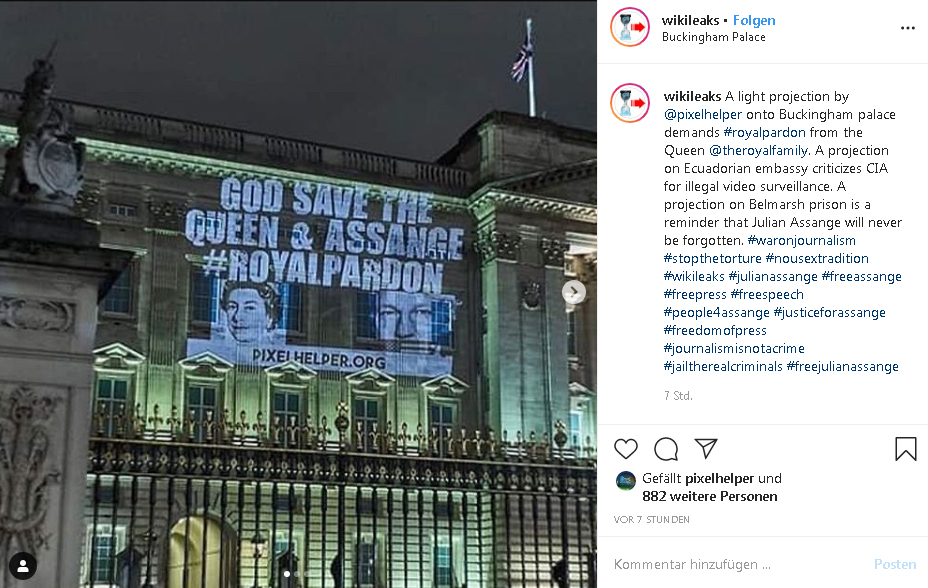 Our reforestation instead of landmines campaign is in the Moroccan Hespress, the largest newspaper in the country.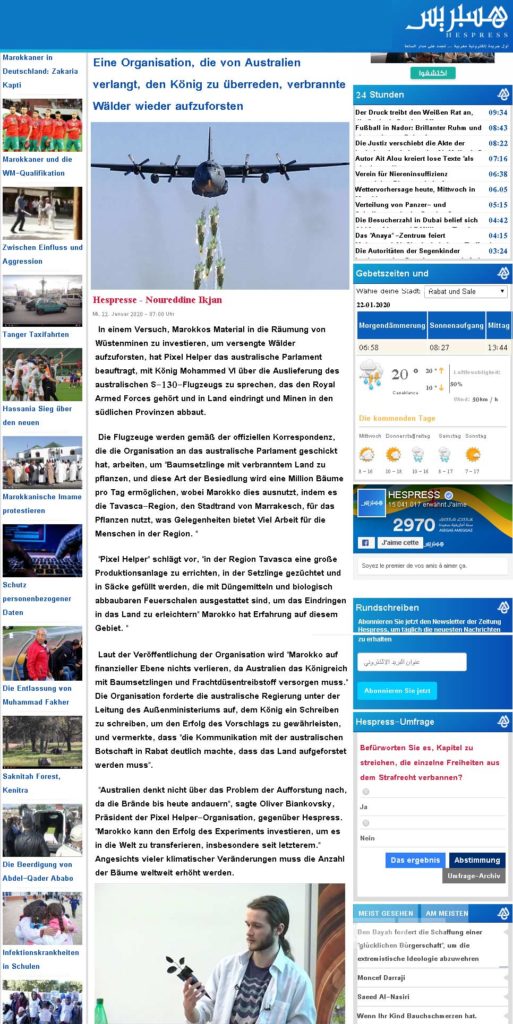 2019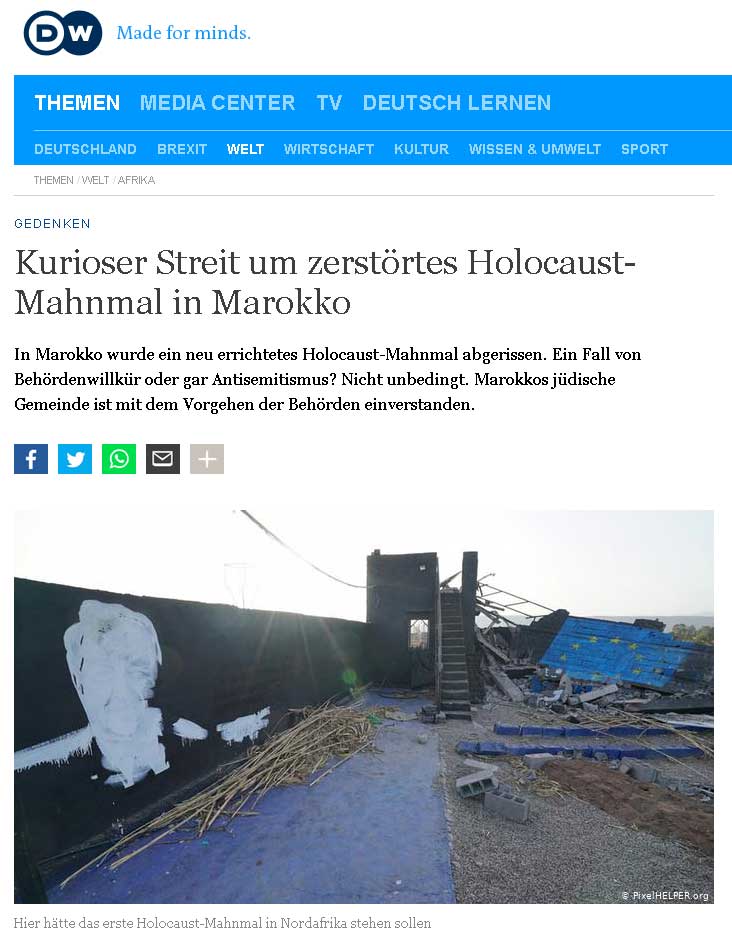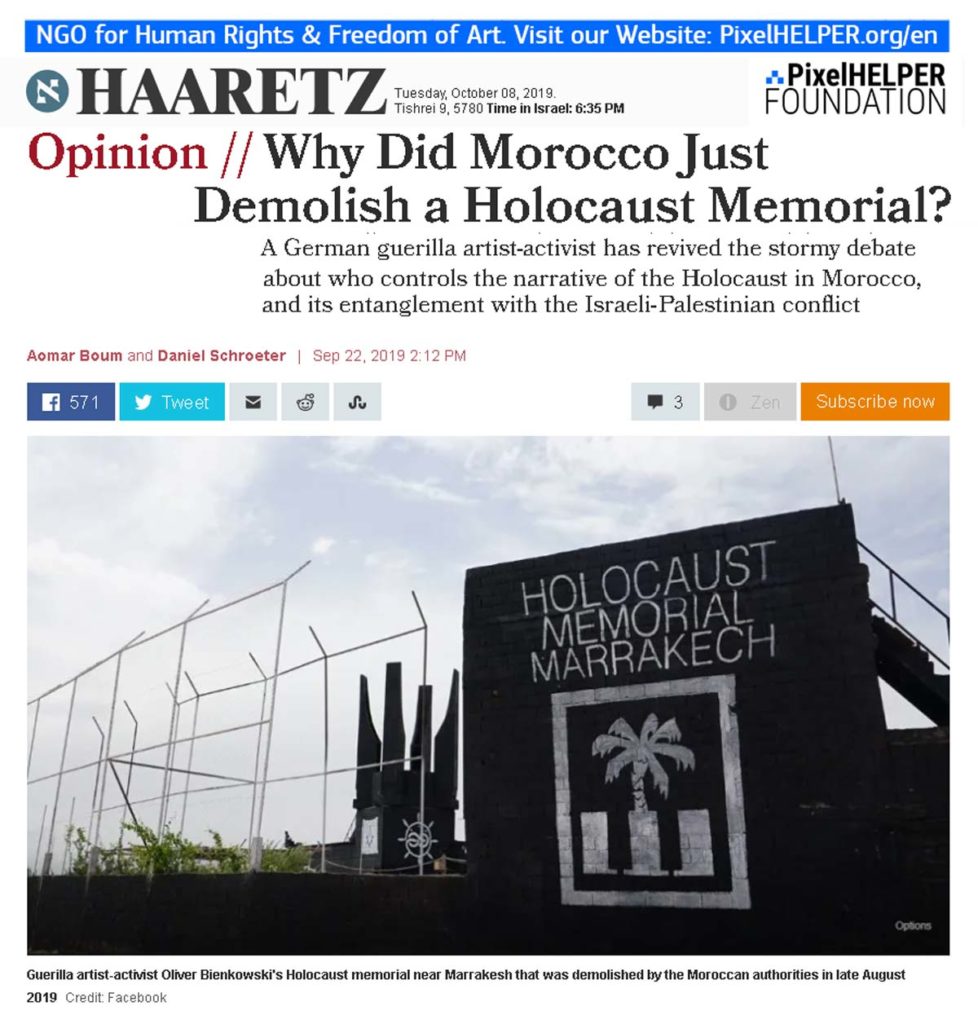 About 80 Newspapers + BBC UK + Arabic reported. Haaretz, Israel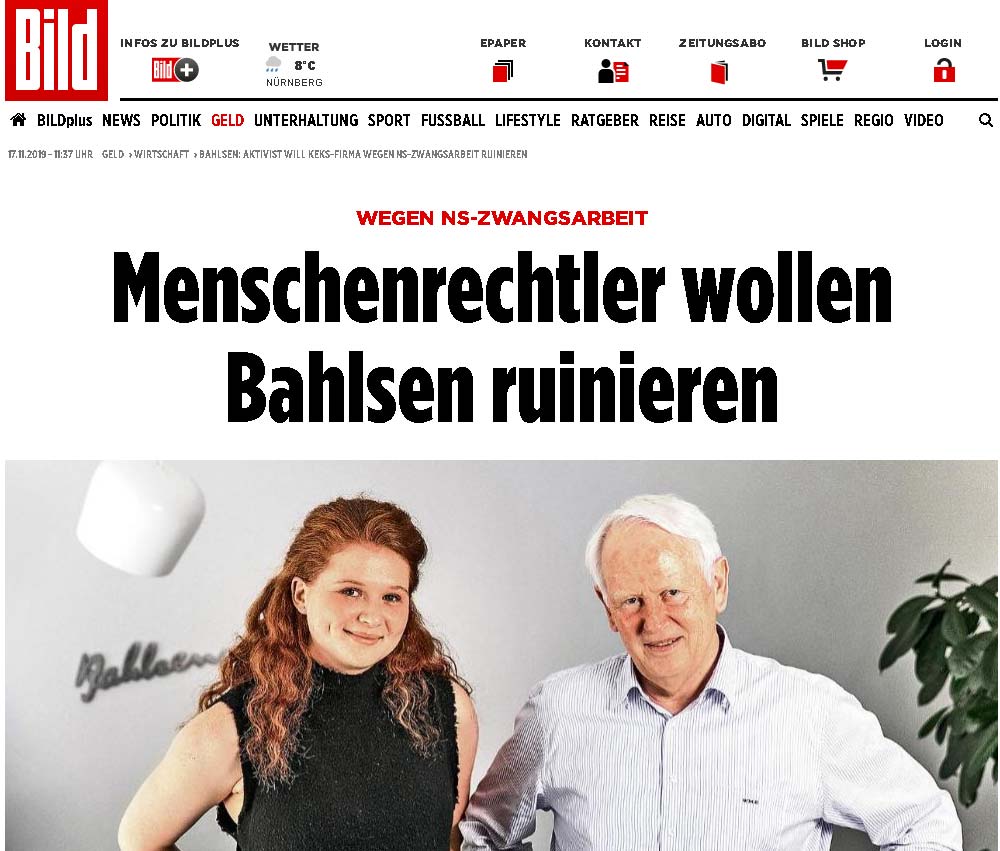 Action against forced labor & falsification of history at Bahlsen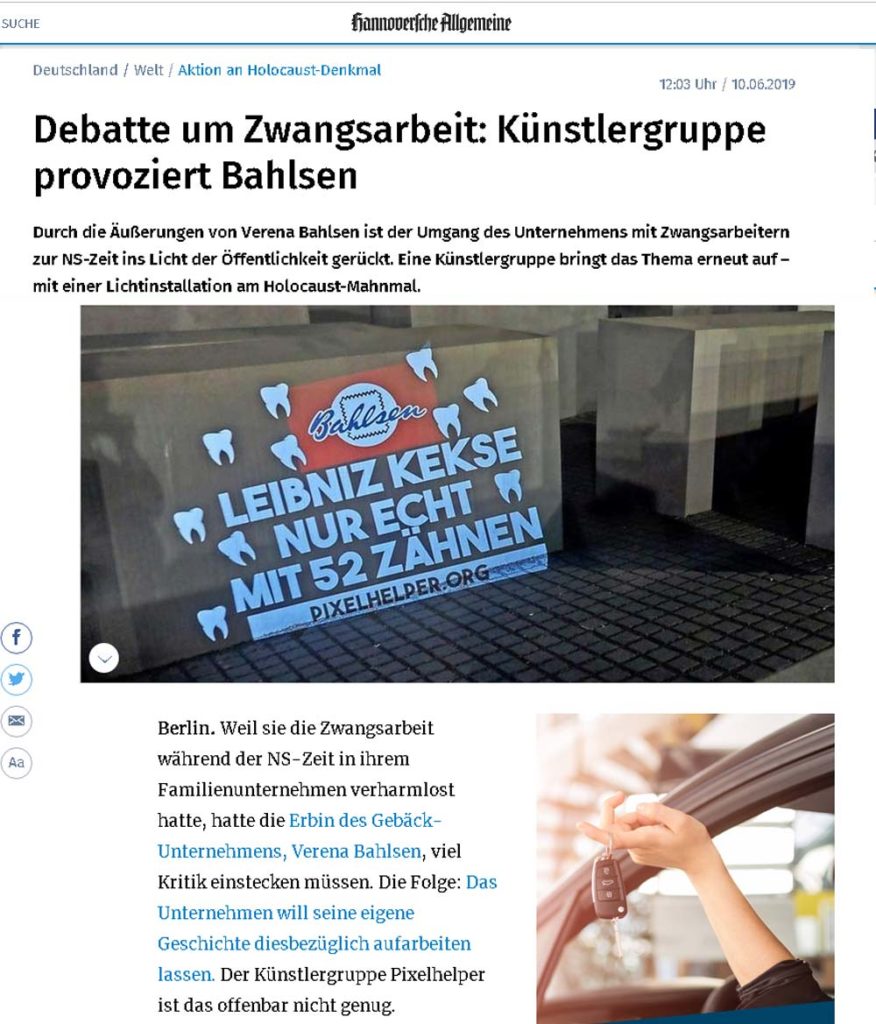 Light projection at the Holocaust Memorial in Berlin against Bahlsen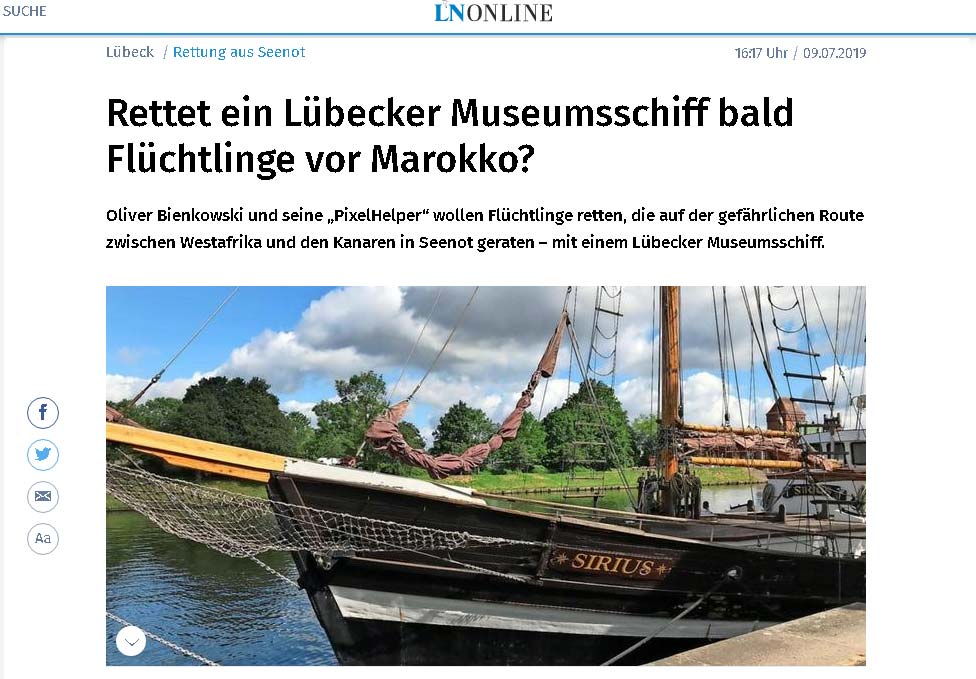 Lübeck News: Rescue mission in the Mediterranean

Action against misanthropy by democracy life / VDMO / PixelHELPER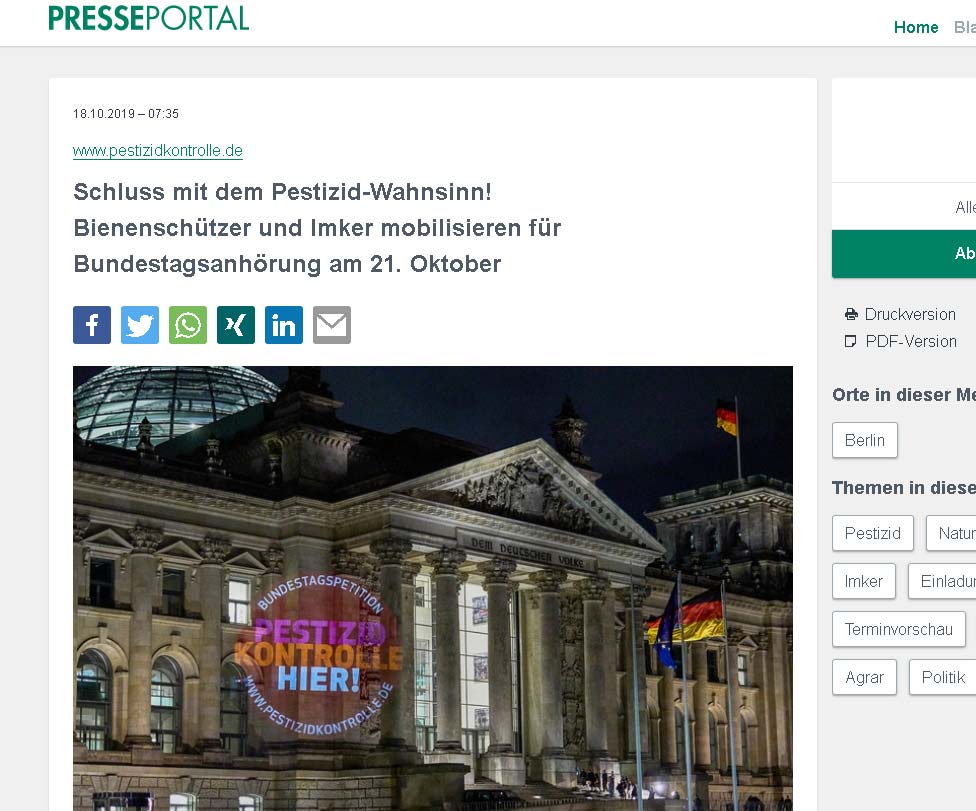 PixelHELPER supports the petition against pesticides

2018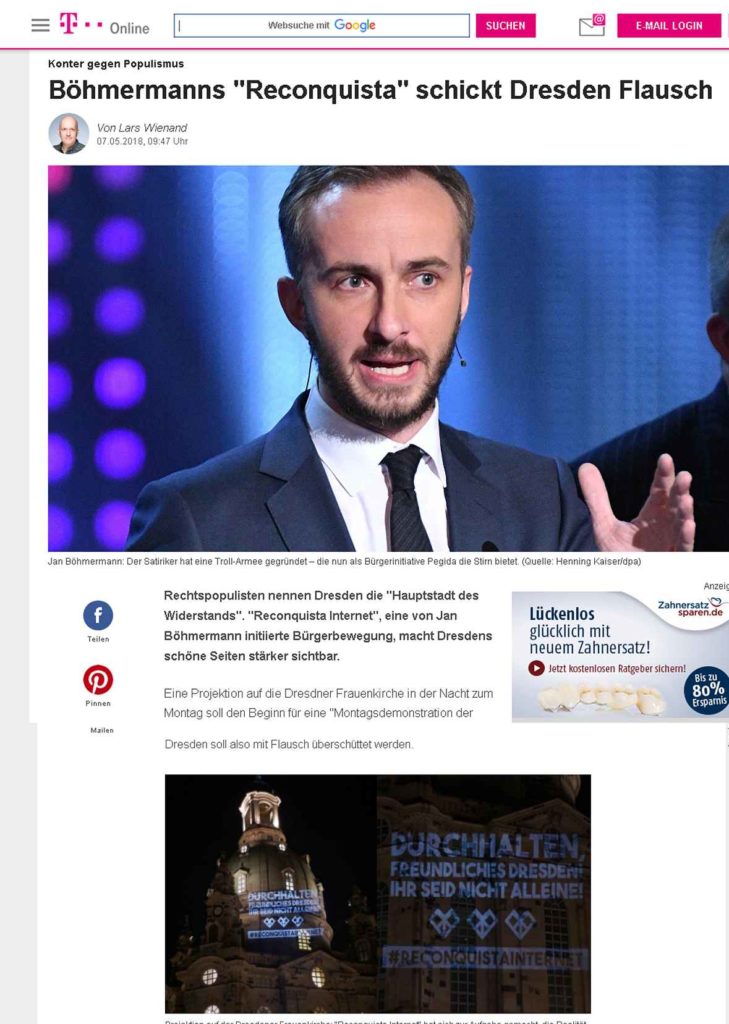 Light projection with Jan Böhmermann on the Dresden Frauenkirche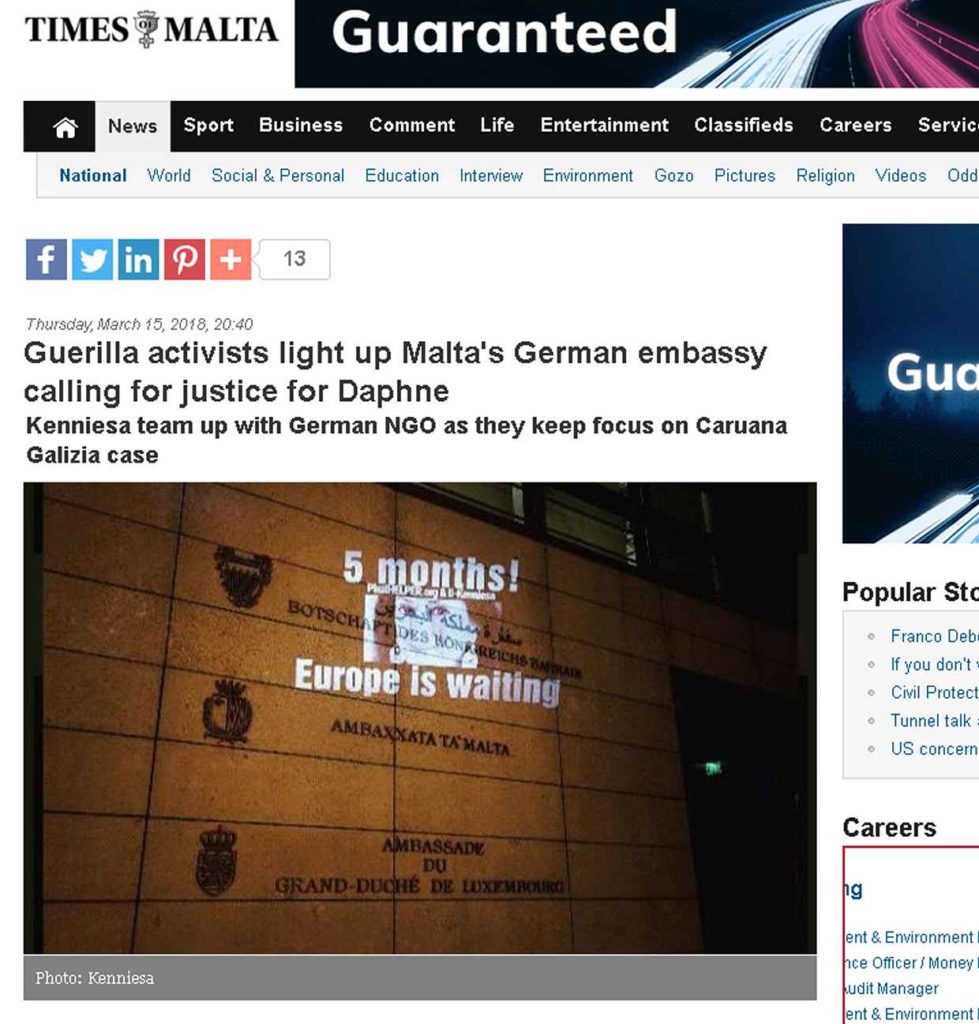 Times of Malta, light projection for the dead journalist Daphne Caruana Galizia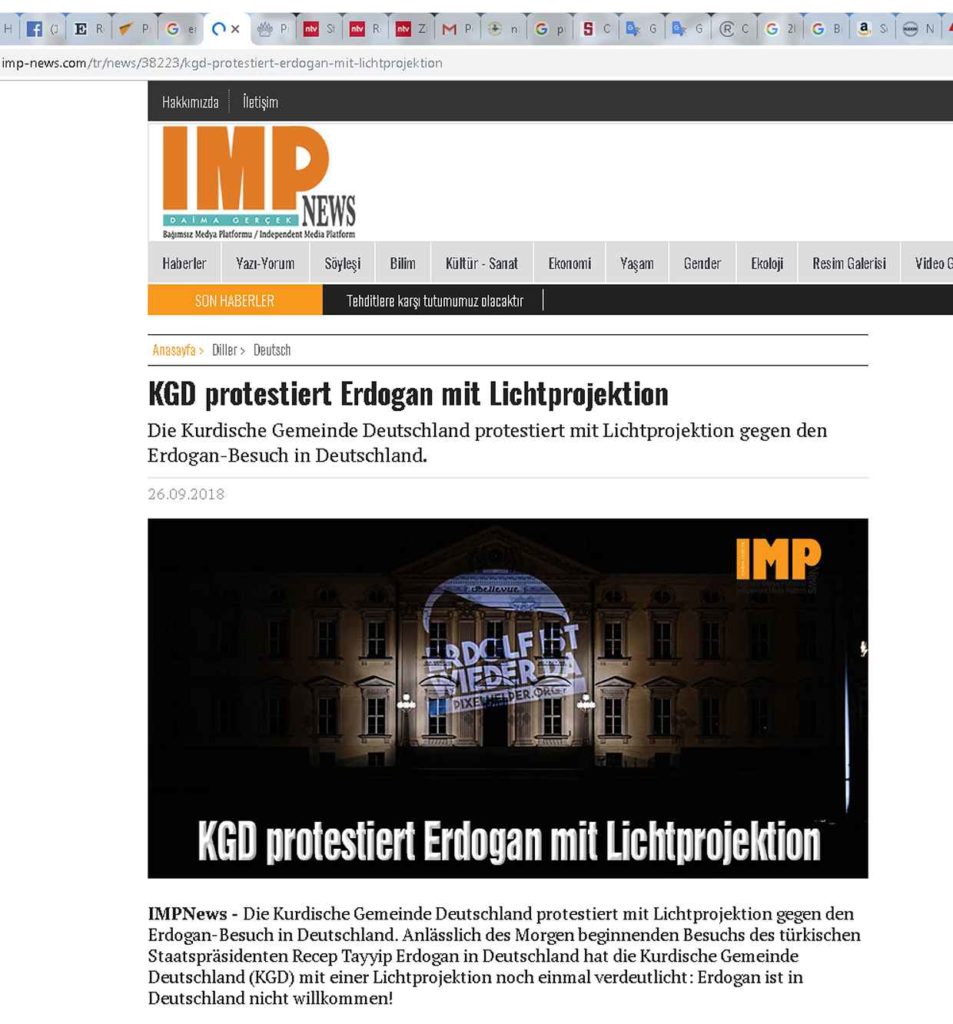 IMP News, with the Kurdish community, we realized light projections at Bellevue Castle.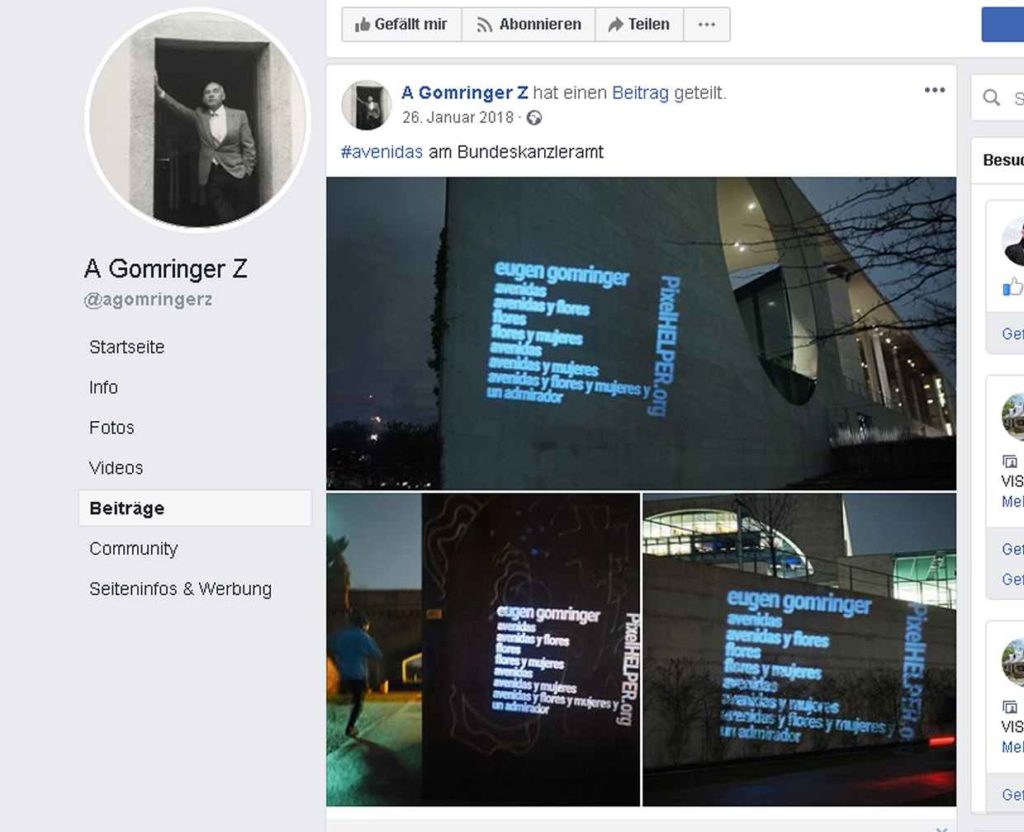 A. Gomringer published our projection on his page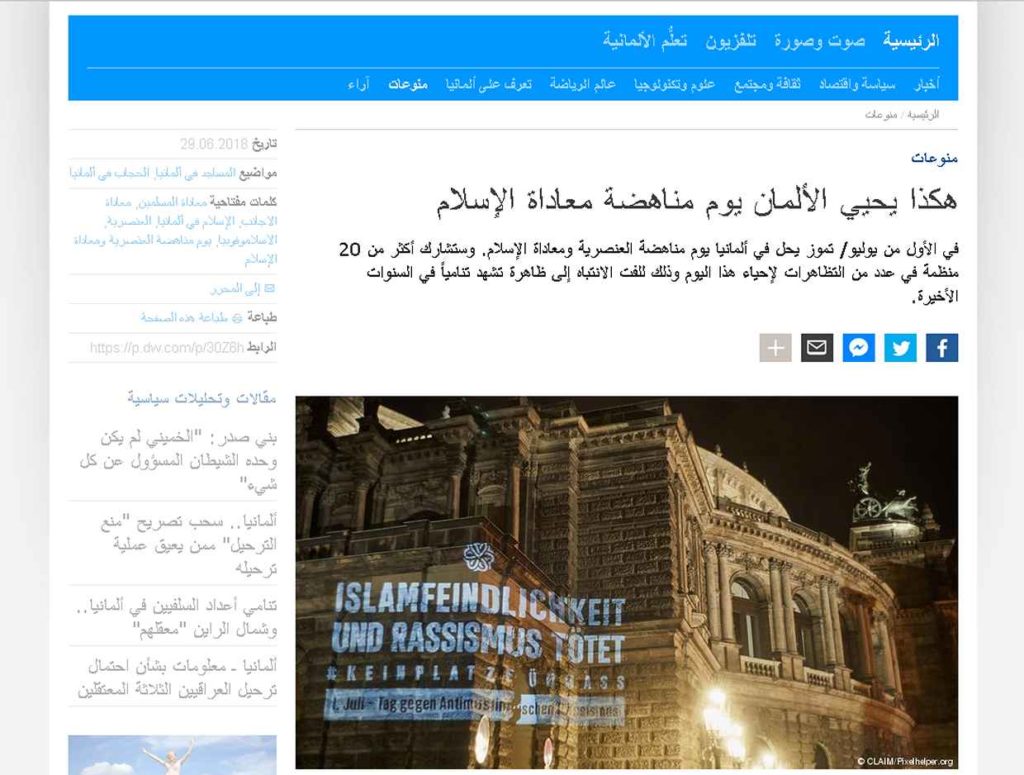 Deutsche Welle Arabic: Light projections for Mercator Foundation against Islamic racism


Meydan.TV light projection on the embassy of Azerbaijan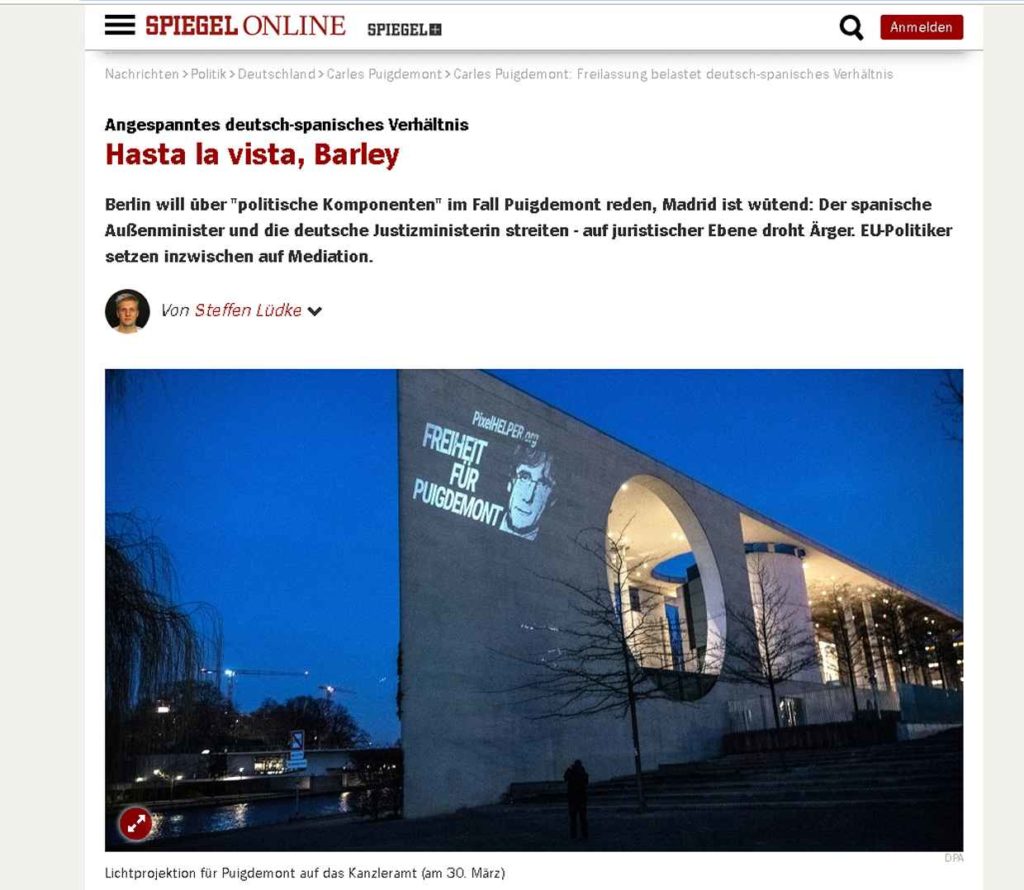 Spiegel Online: Light projections for the release of Charles Puigdemont

2017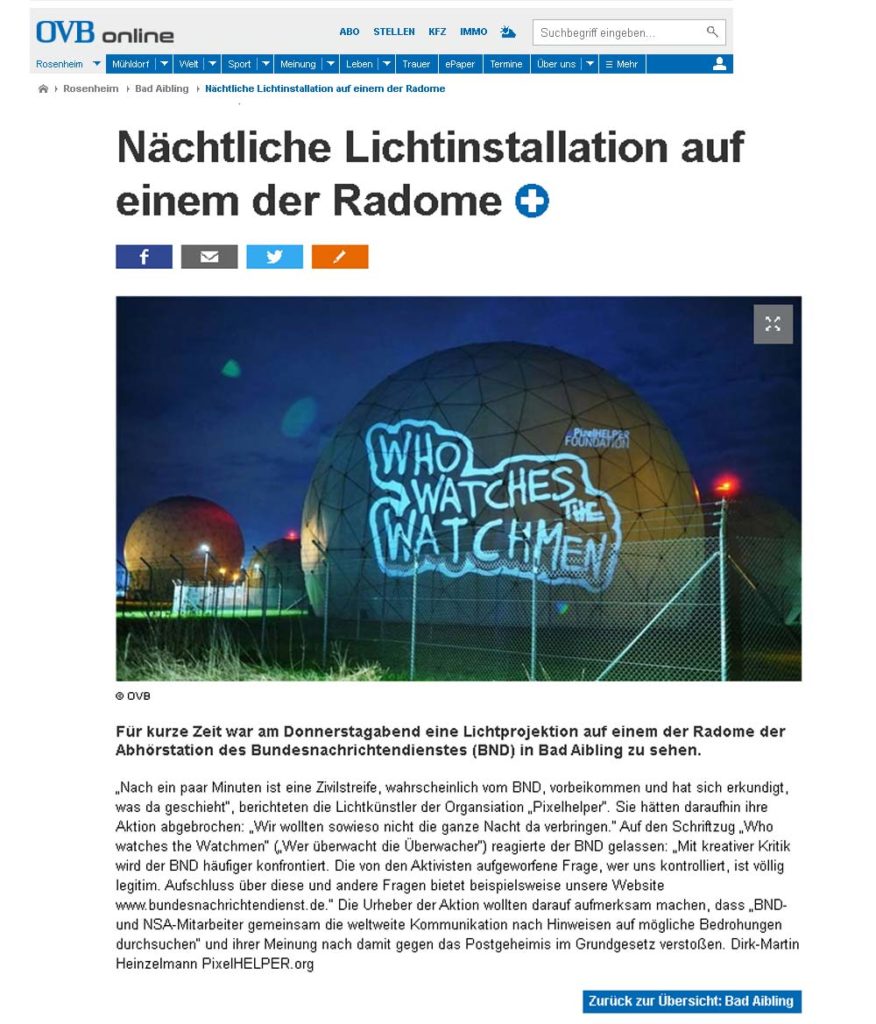 OVB Online: Light Projections at the Federal Intelligence Service in Bad Aibling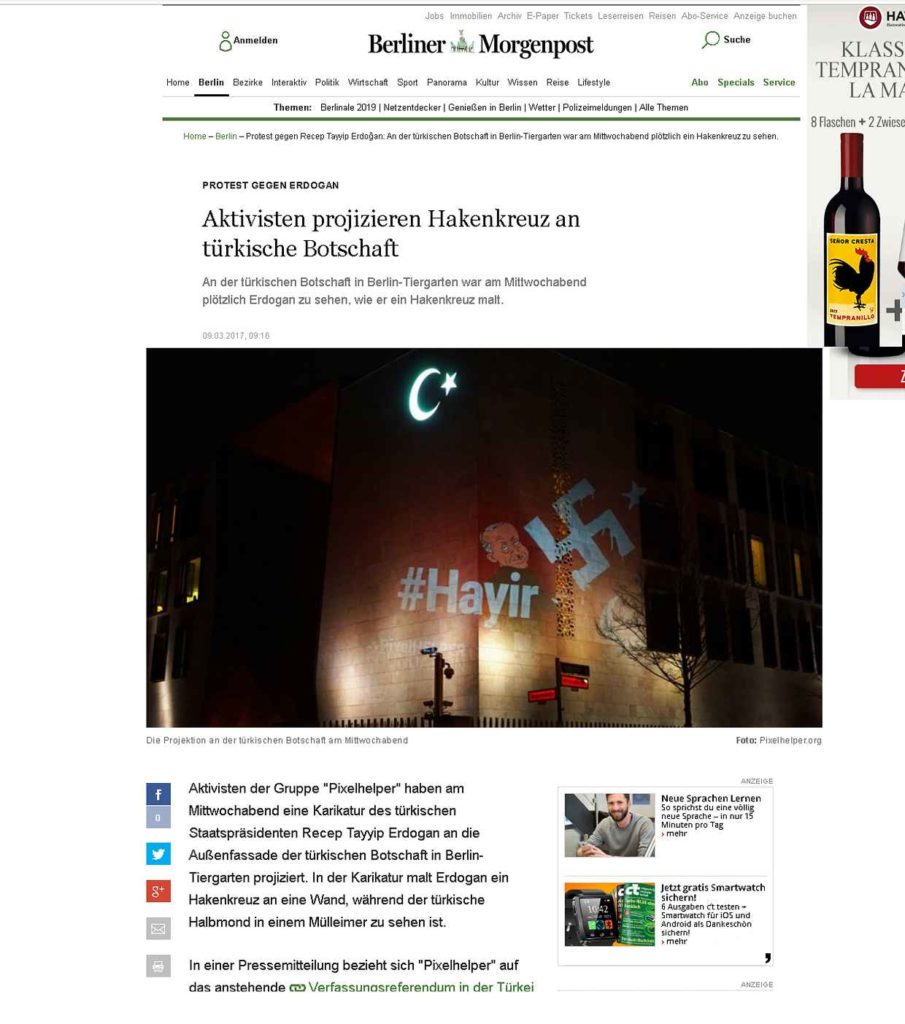 Berliner Morgenpost: Action against the undemocratic election in Turkey


Bildzeitung: Light projection at Turkish embassy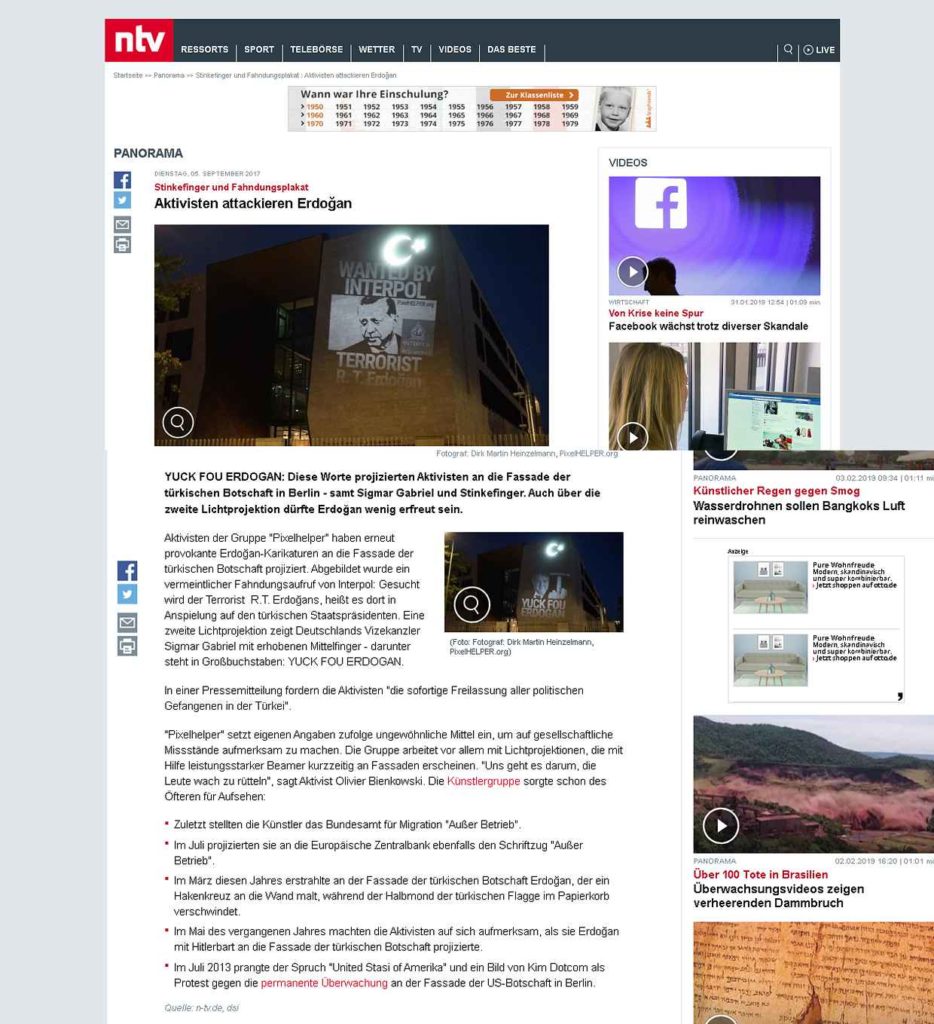 ntv: Light projection against the illegal use of the Red Notice by Turkey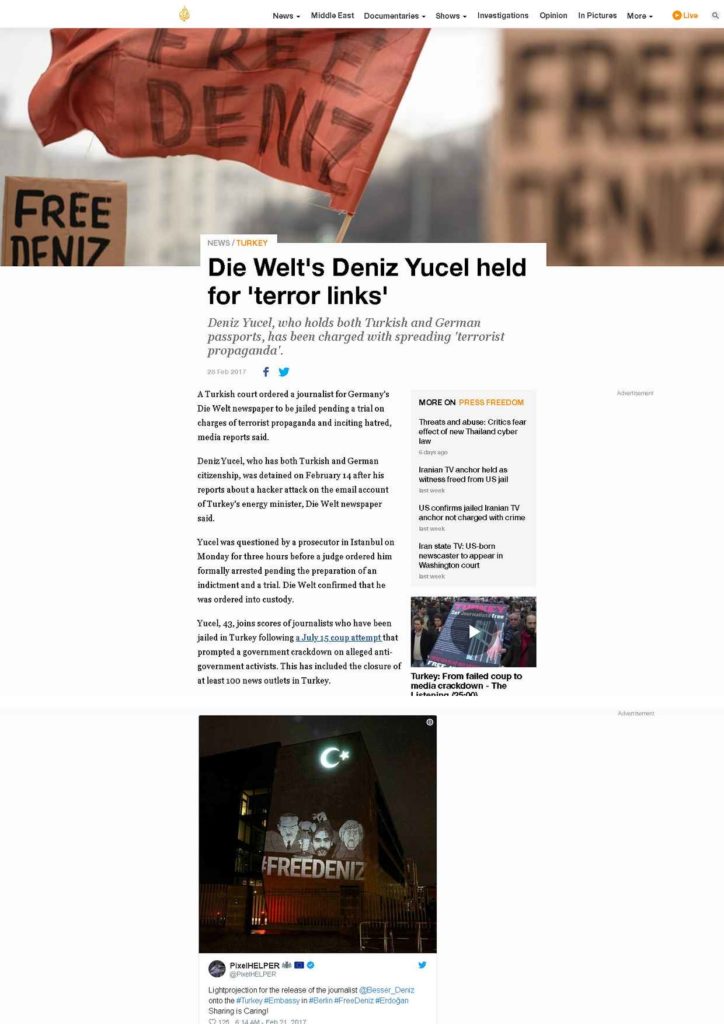 Light projection for the release of Deniz Yücel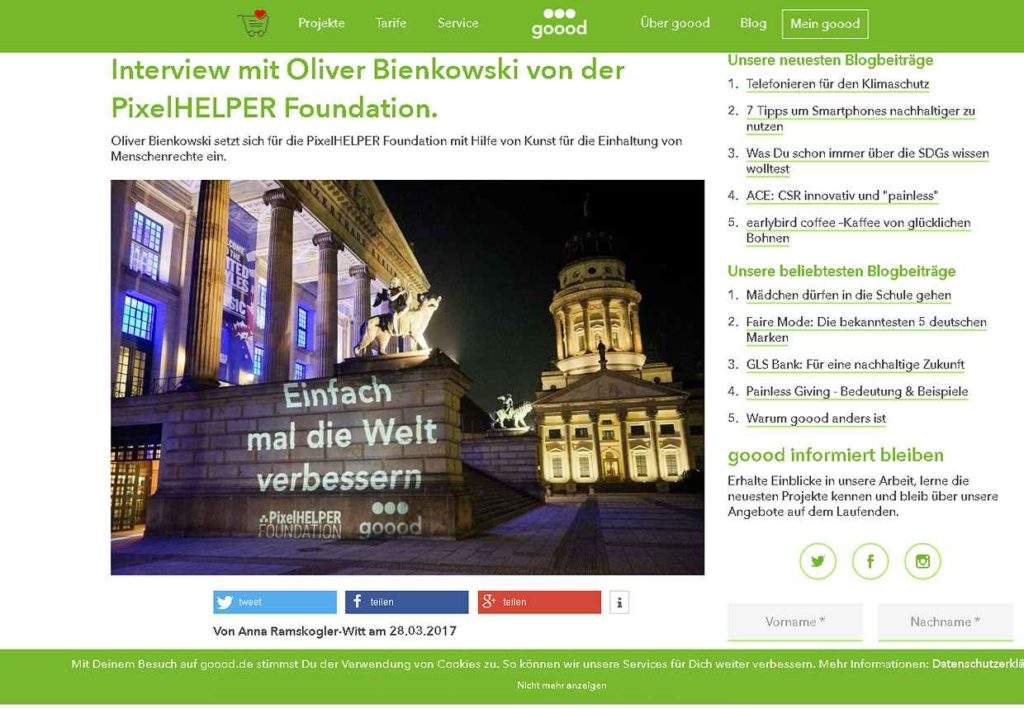 Goood: Just improve the world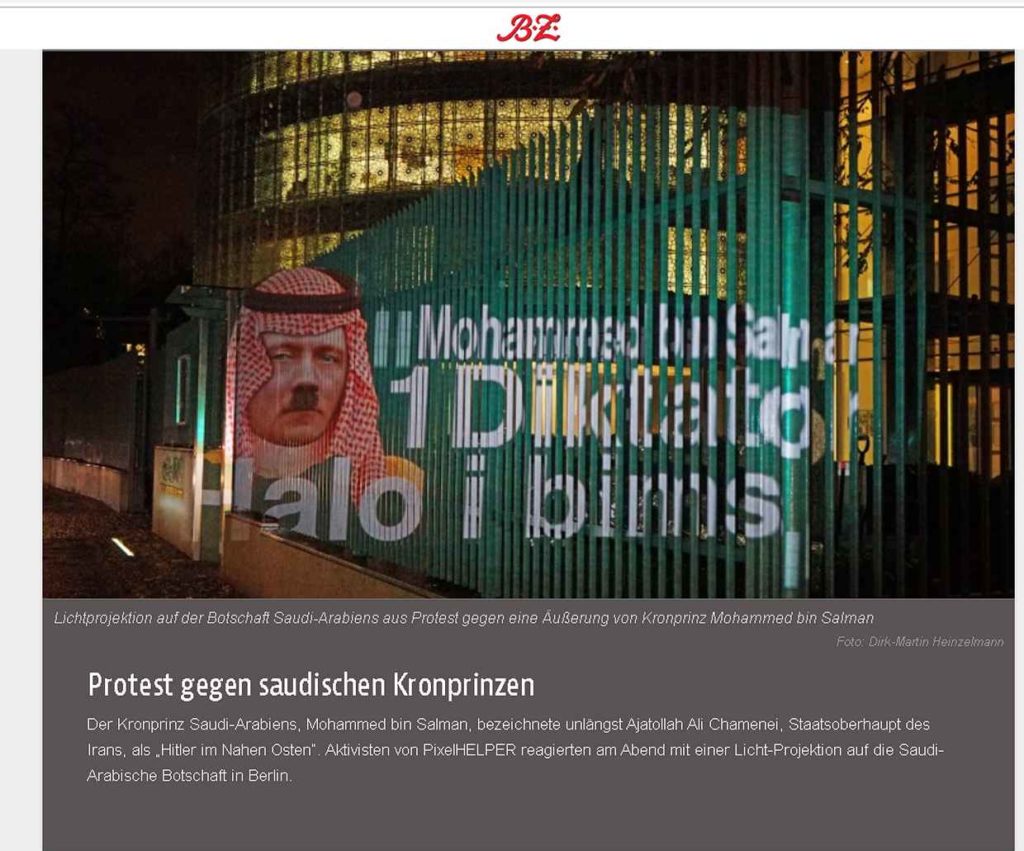 Berliner Zeitung: Protest against Saudi Crown Prince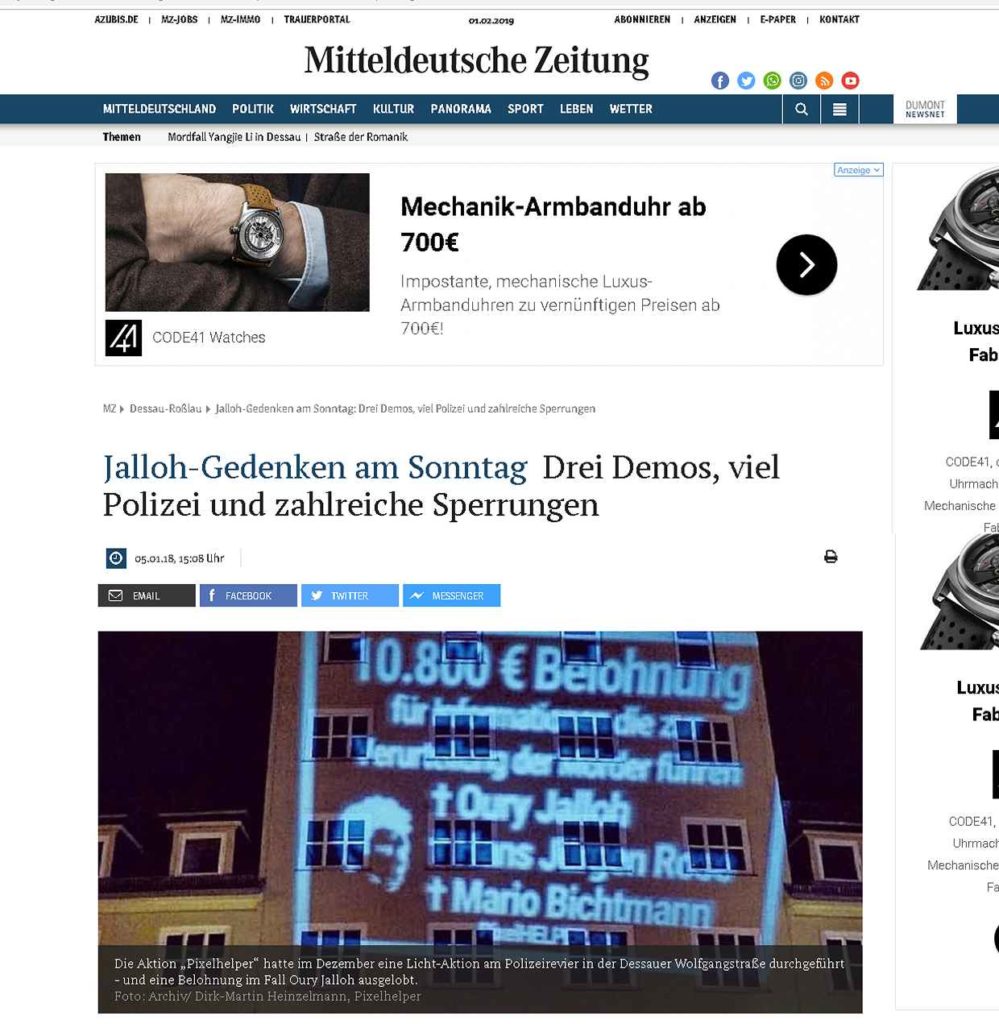 Light projection police station for Oury Jalloh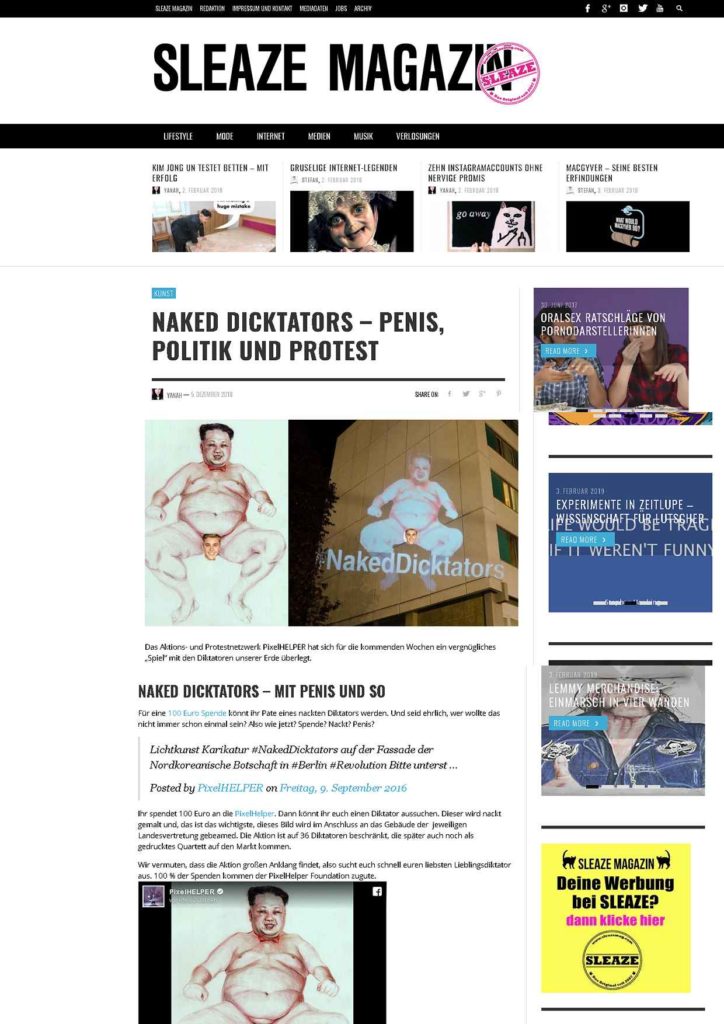 Sleaze Magazine: Light projection to the Embassy of North Korea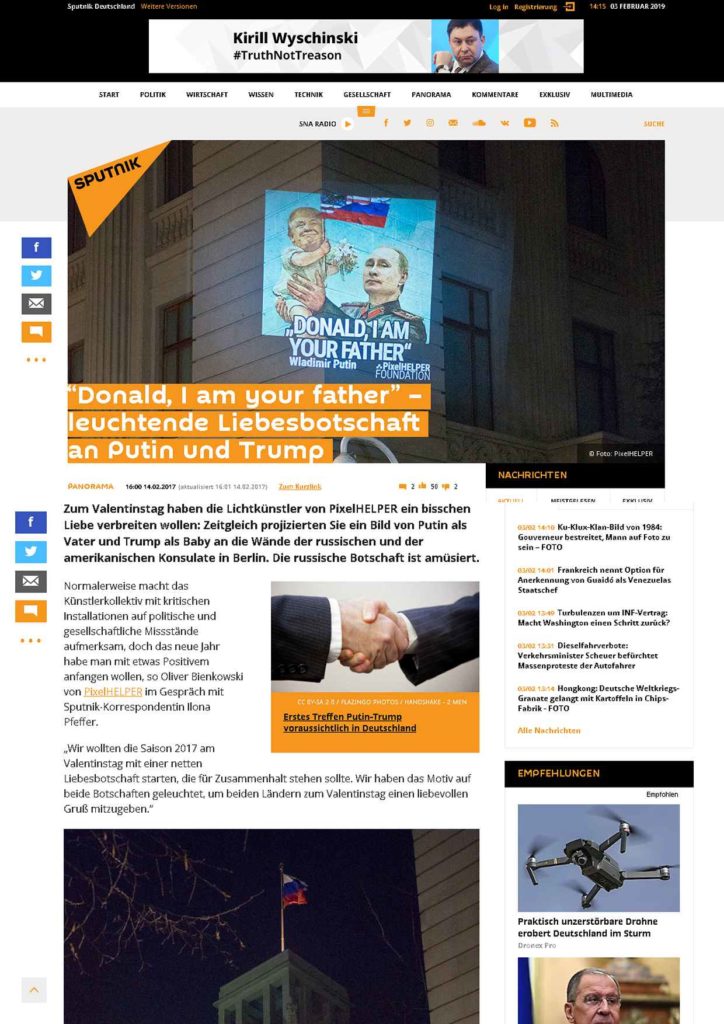 Sputnik: Light projection on messages from Russia and the USA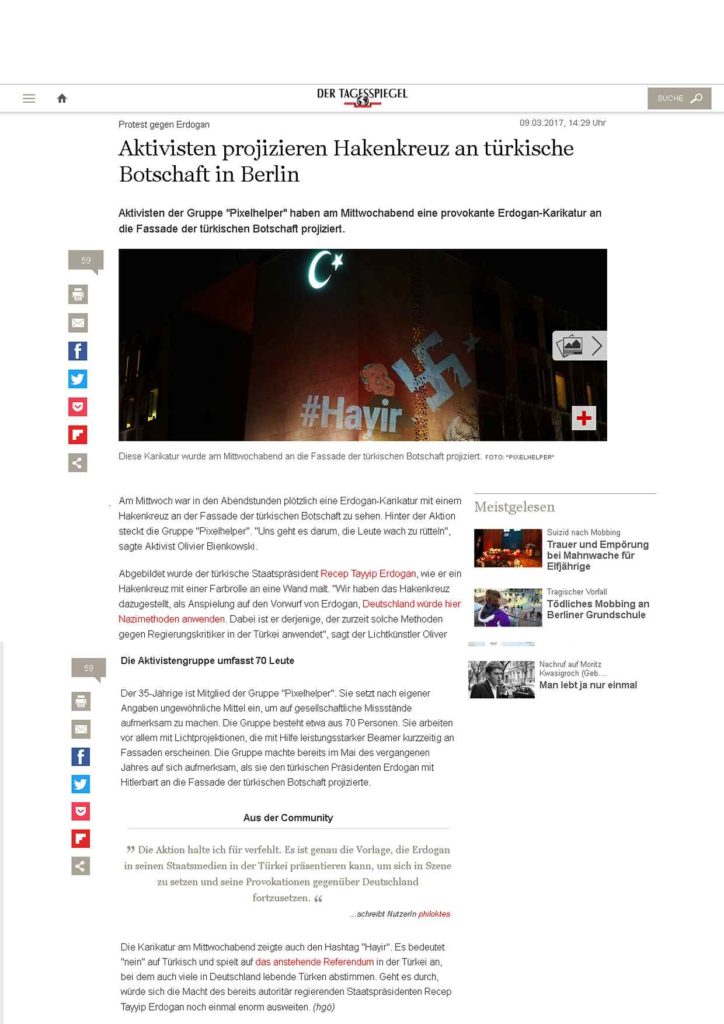 Tagesspiegel: Light projection for election in Turkey
2016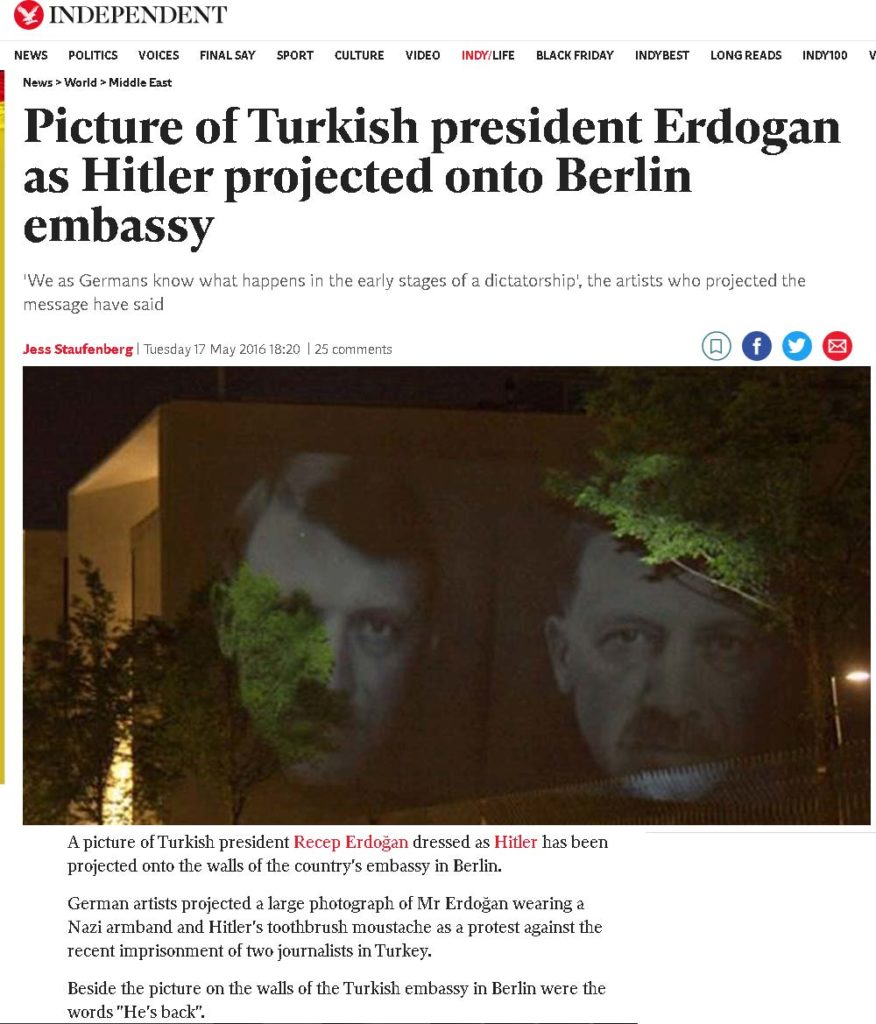 Independent UK: Light projection on Turkish embassy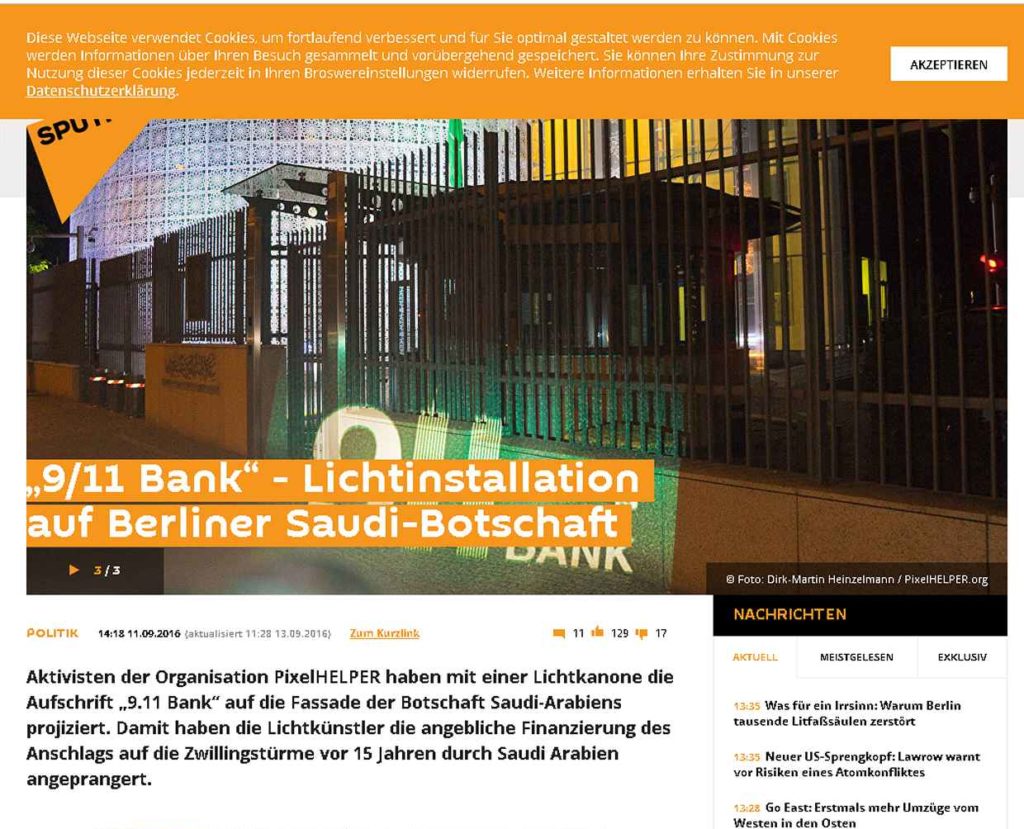 Sputnik: 9 / 11 Bank shines on Embassy of Saudi Arabia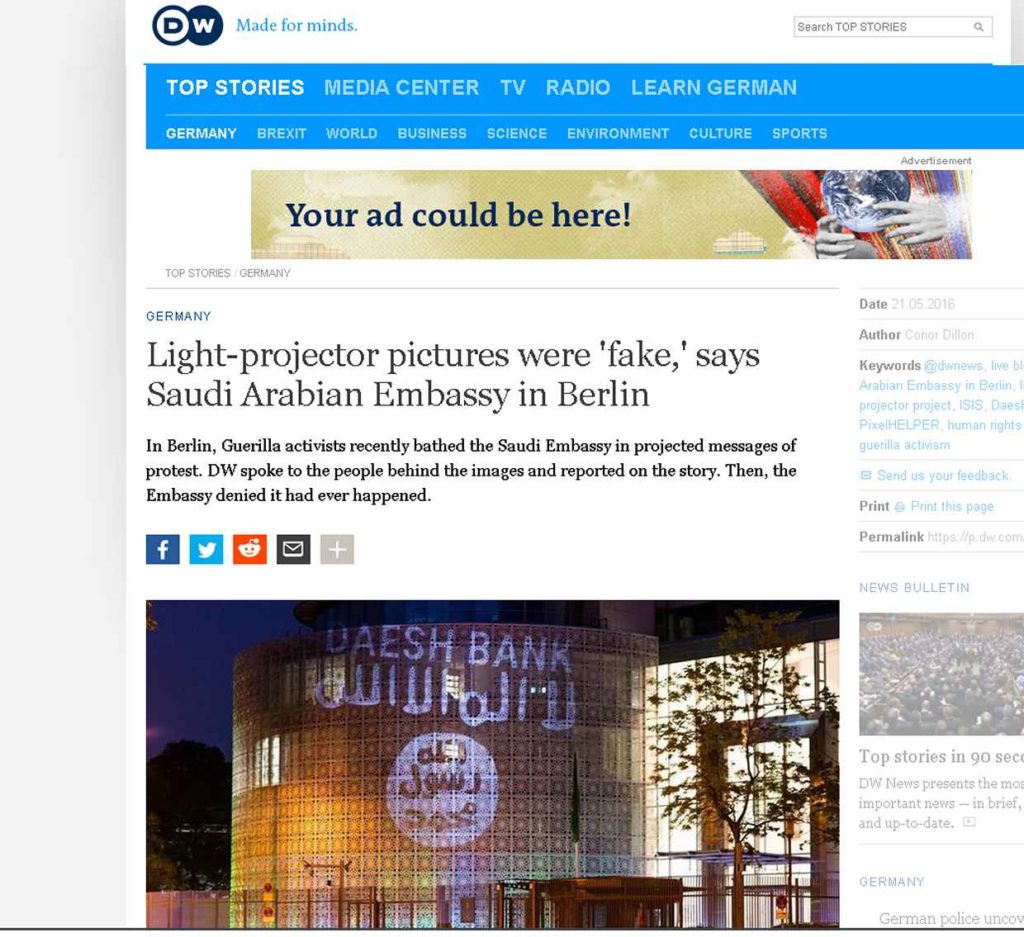 Deutsche Welle: Light projection to the Saudi embassy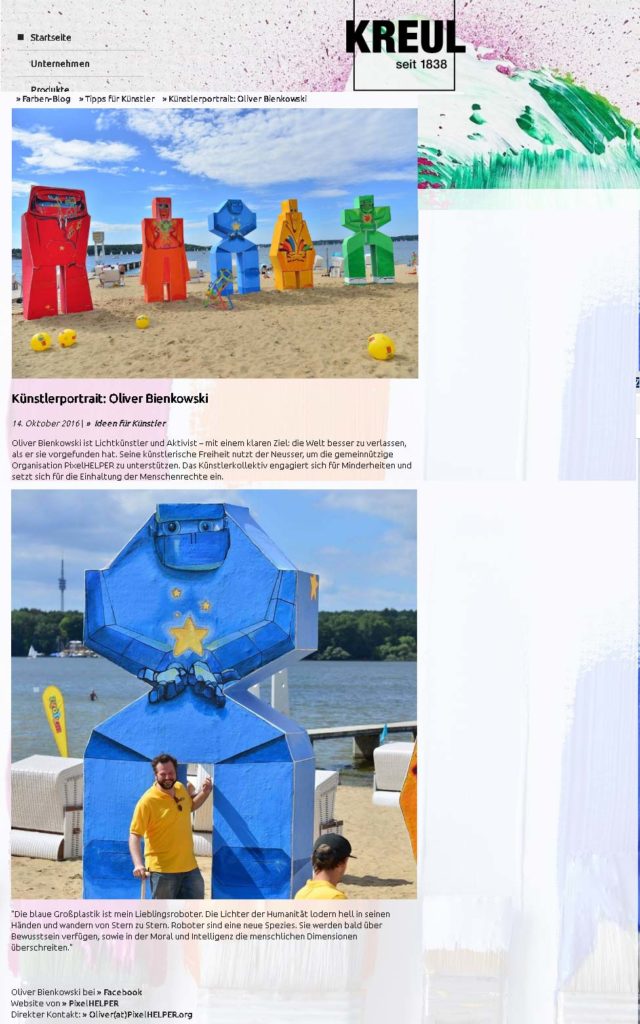 Farben Kreul: Artist portrait about Oliver Bienkowski from PixelHELPER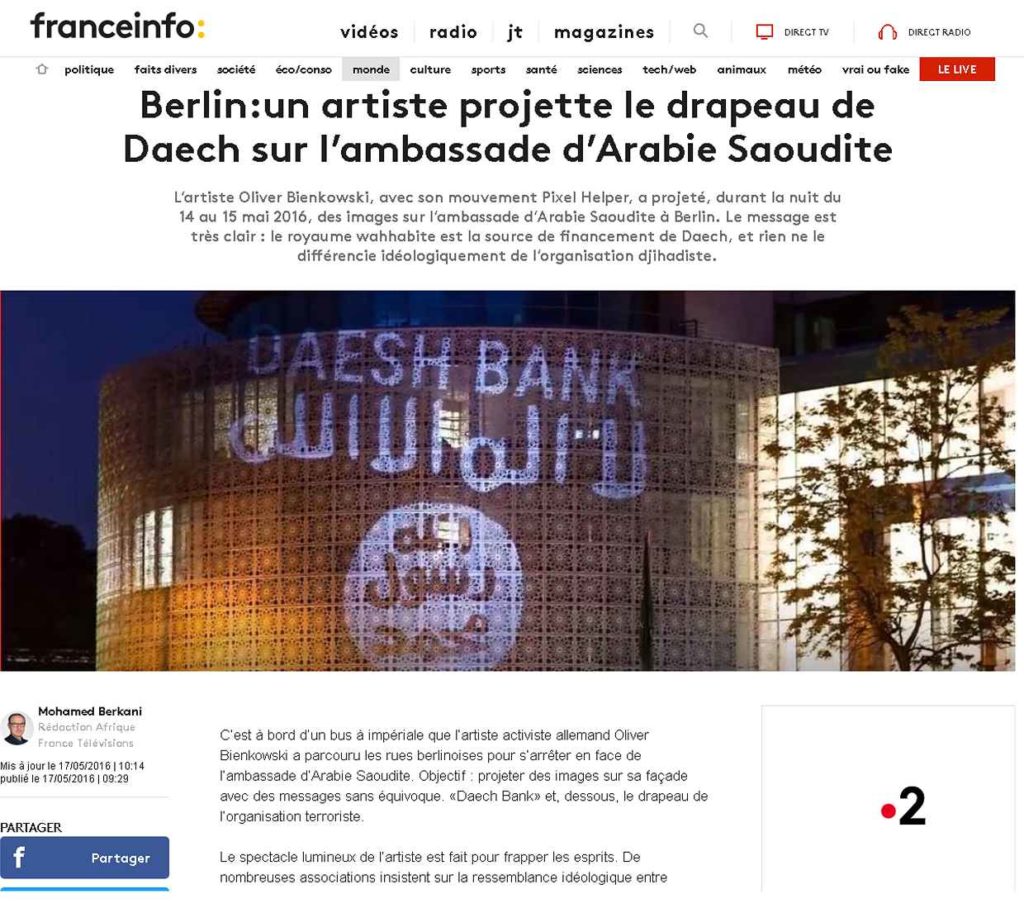 franceinfo + afp: Light projection Daesh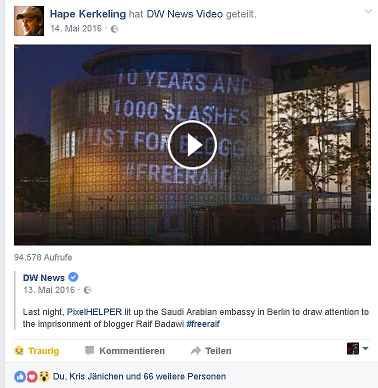 Hape Kerkeling shares the light projection by PixelHELPER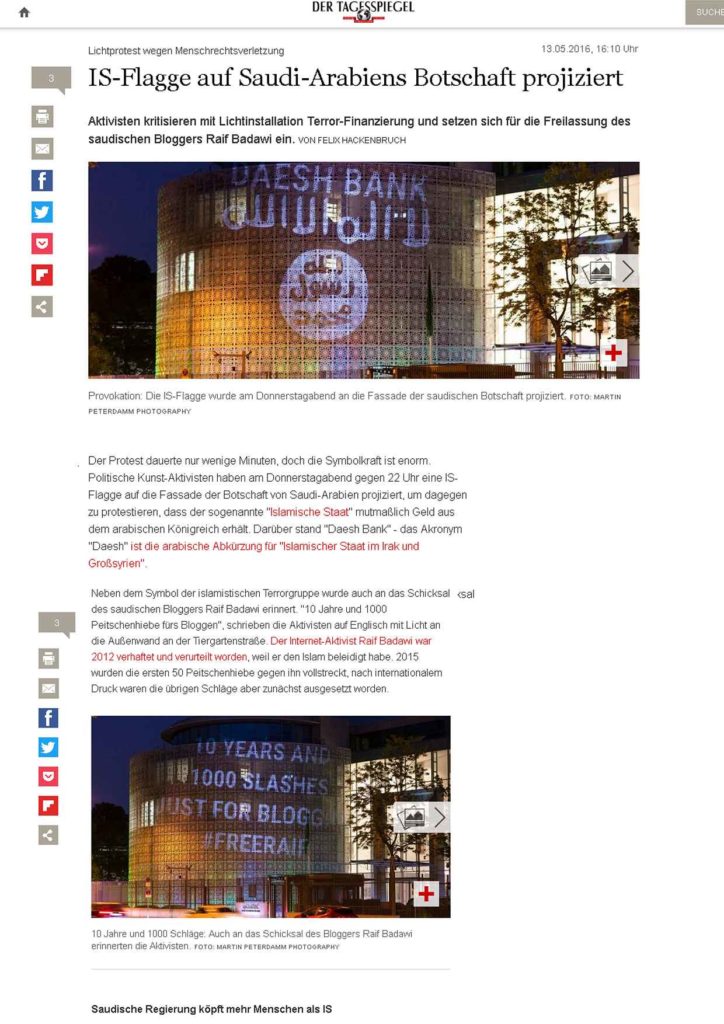 Daily Mirror: Daesh Bank at Saudi Embassy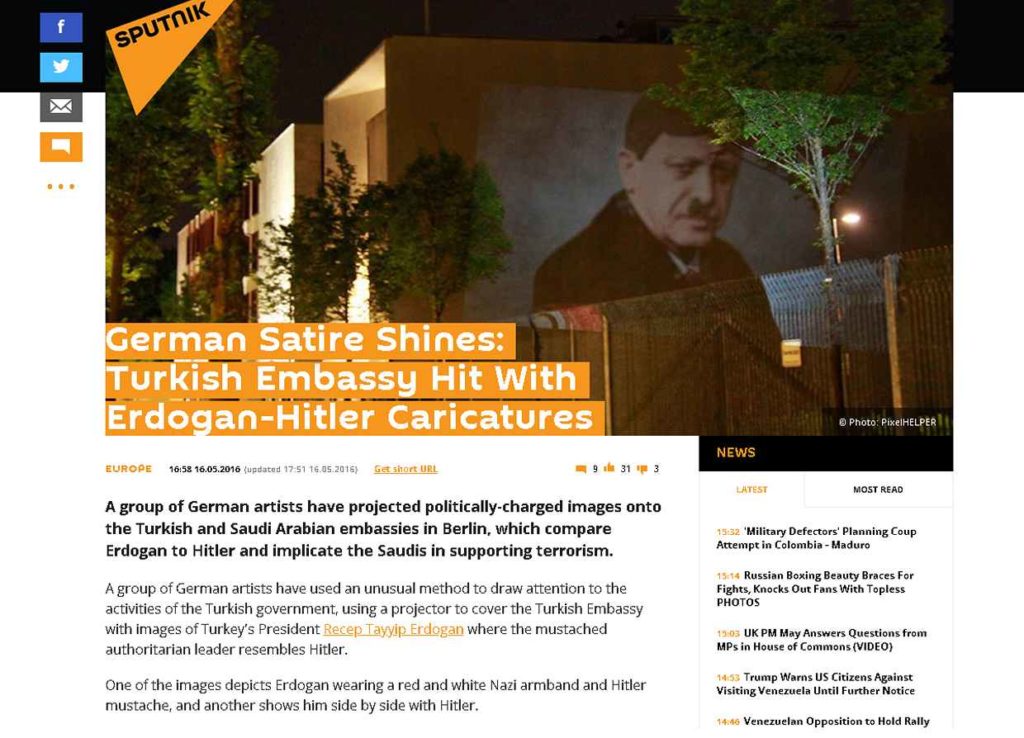 Sputnik: Erdogan with Hitler's beard and armlet with half moon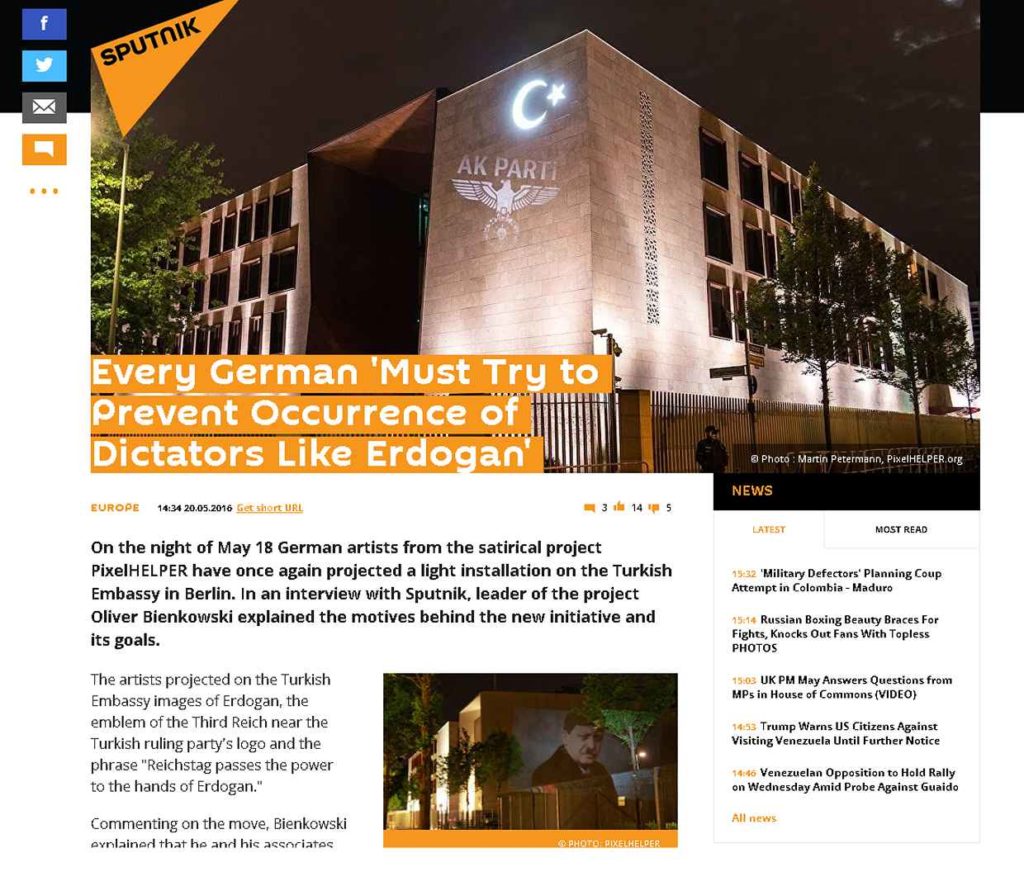 Sputnik - light projection on the Turkish embassy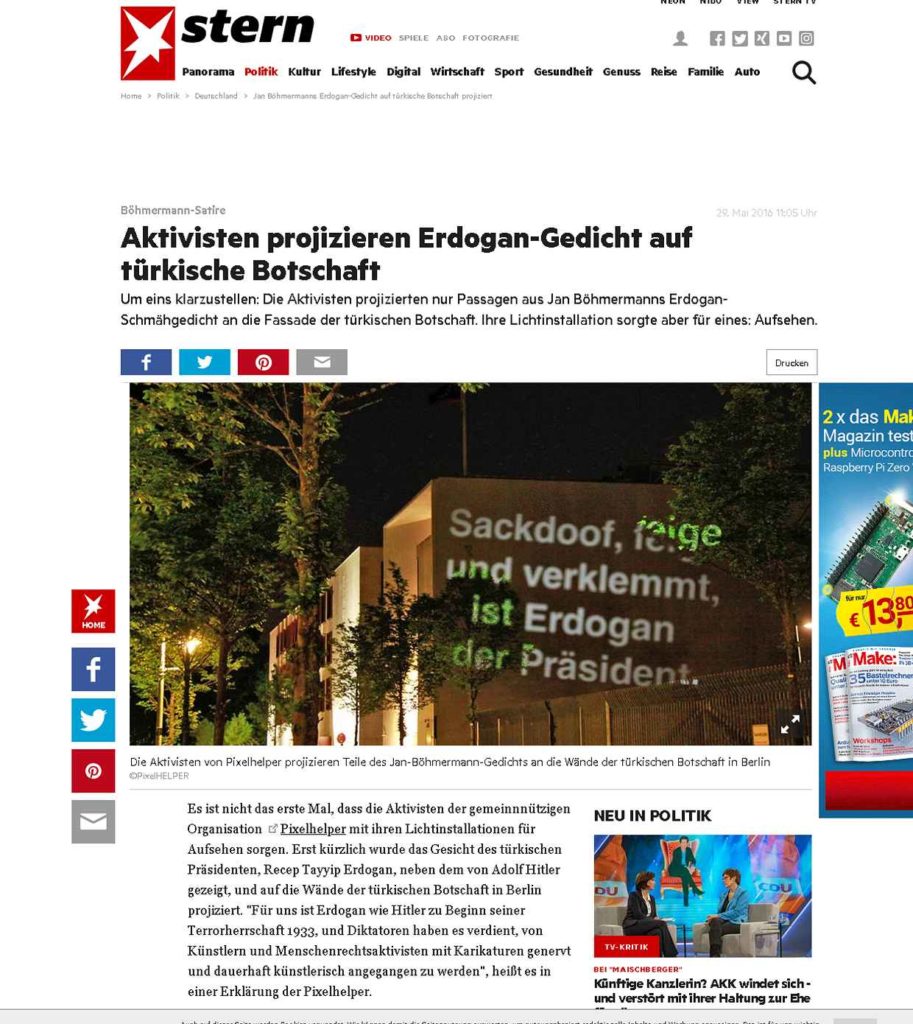 Stern, activists project Erdogan's poem on the Turkish Embassy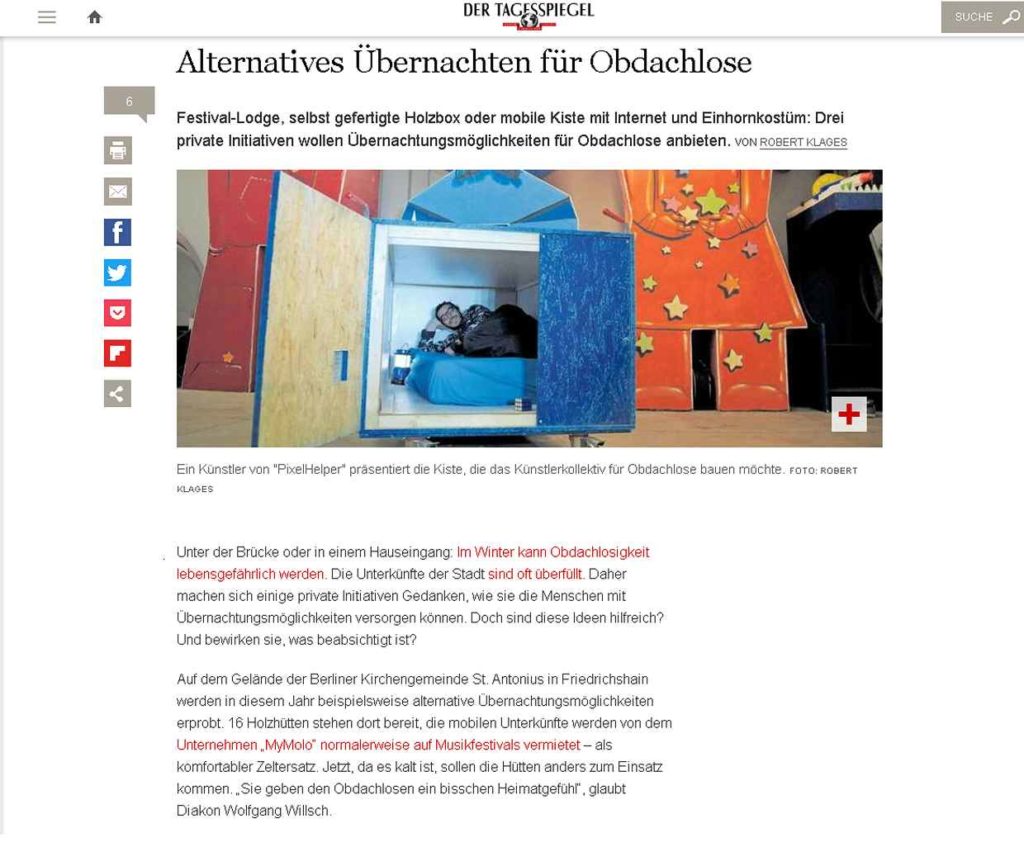 Tagesspiegel, PixelHELPER sleeping boxes for the homeless
2015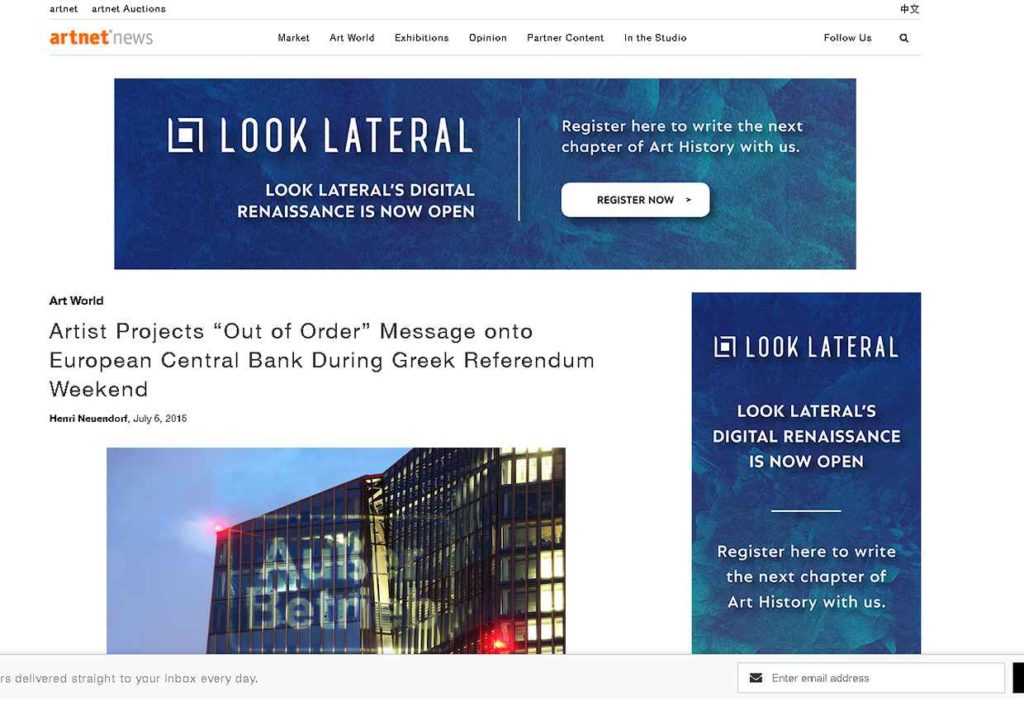 Artnet is one of the world's largest art platforms.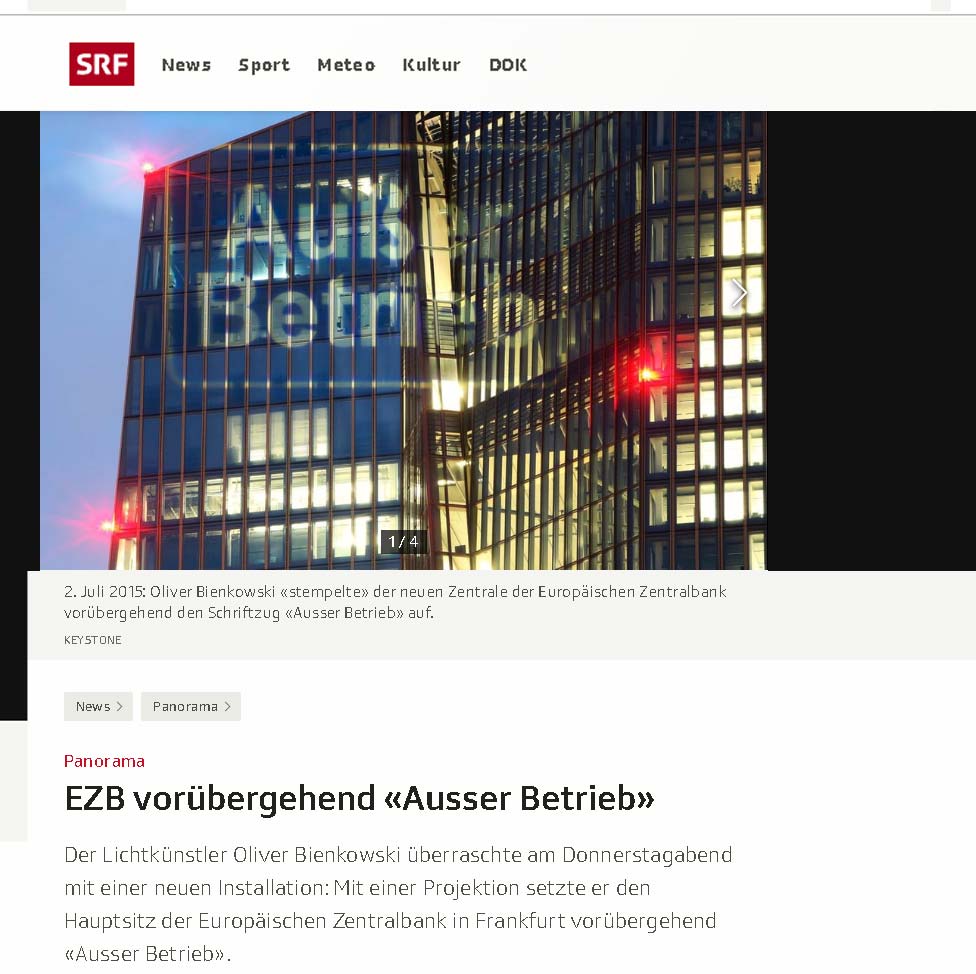 Swiss Broadcasting: ECB out of service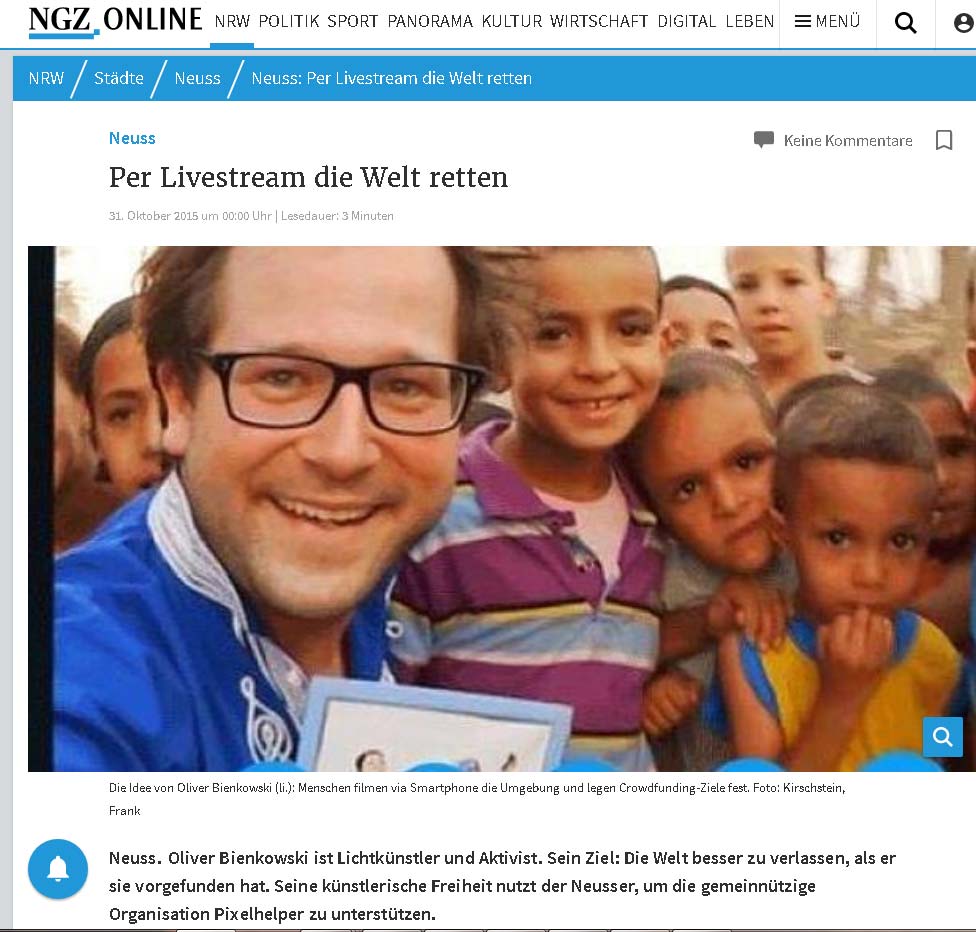 Light projection in the Neuss Grevenbroicher Zeitung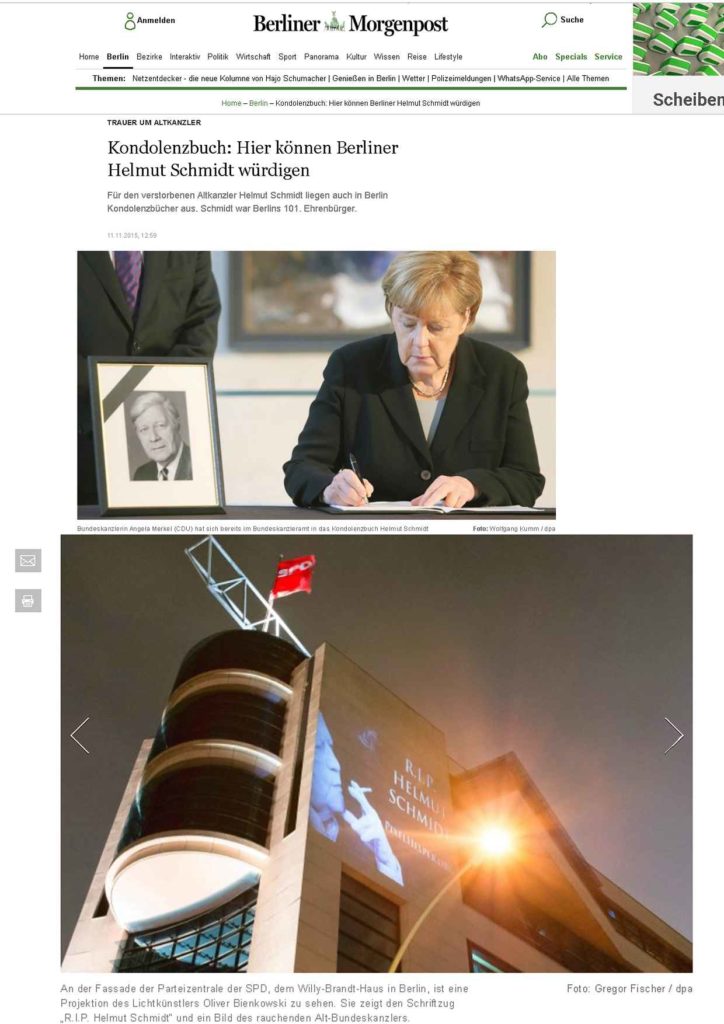 Berliner Morgenpost: On the night of death we projected for Helmut Schmidt to the SPD headquarters.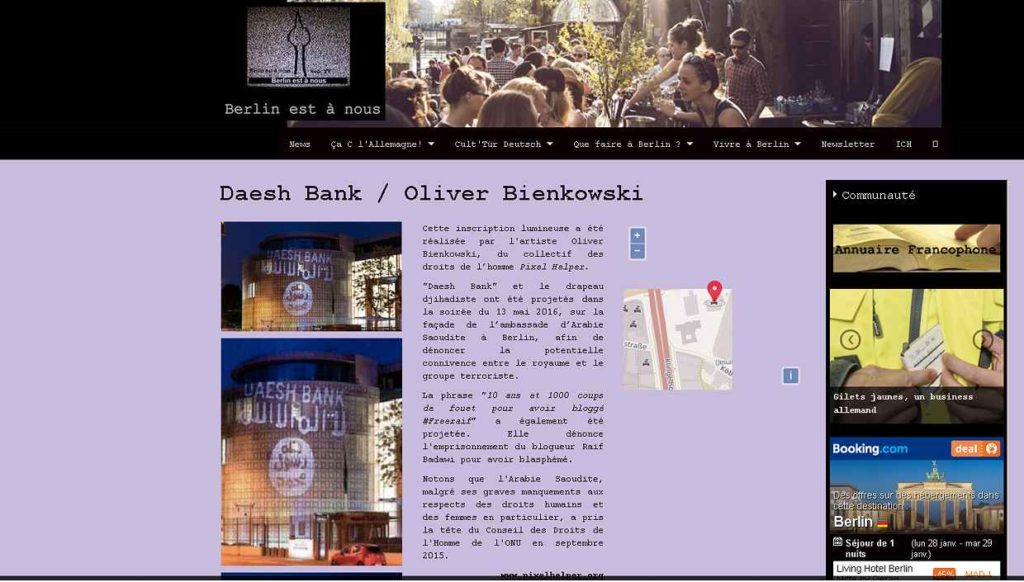 Berlin est a nous: Light projection Daesh Bank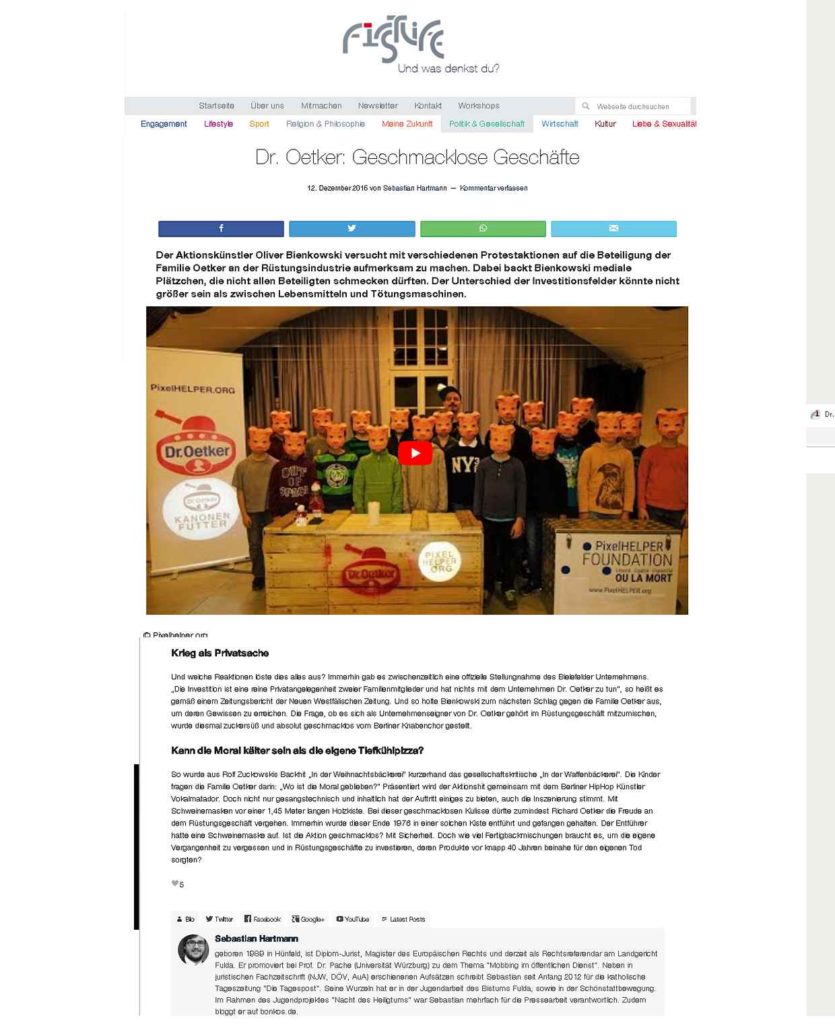 Firstlife: Dr. Oetker Tasteless shops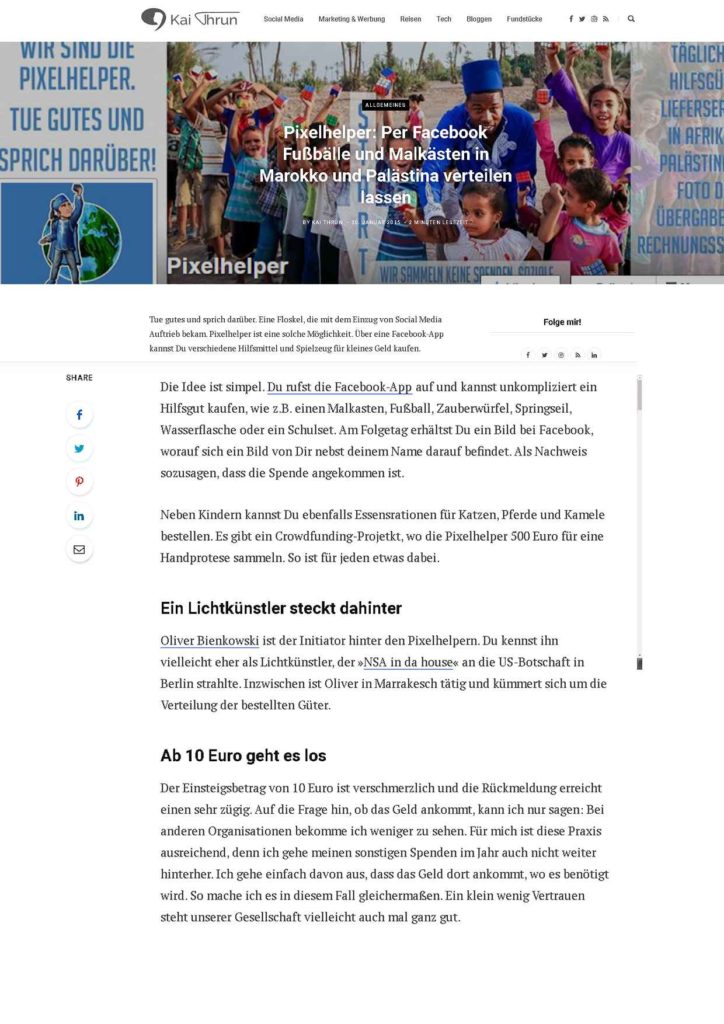 Kai Thrun: blogger about livestream swarm help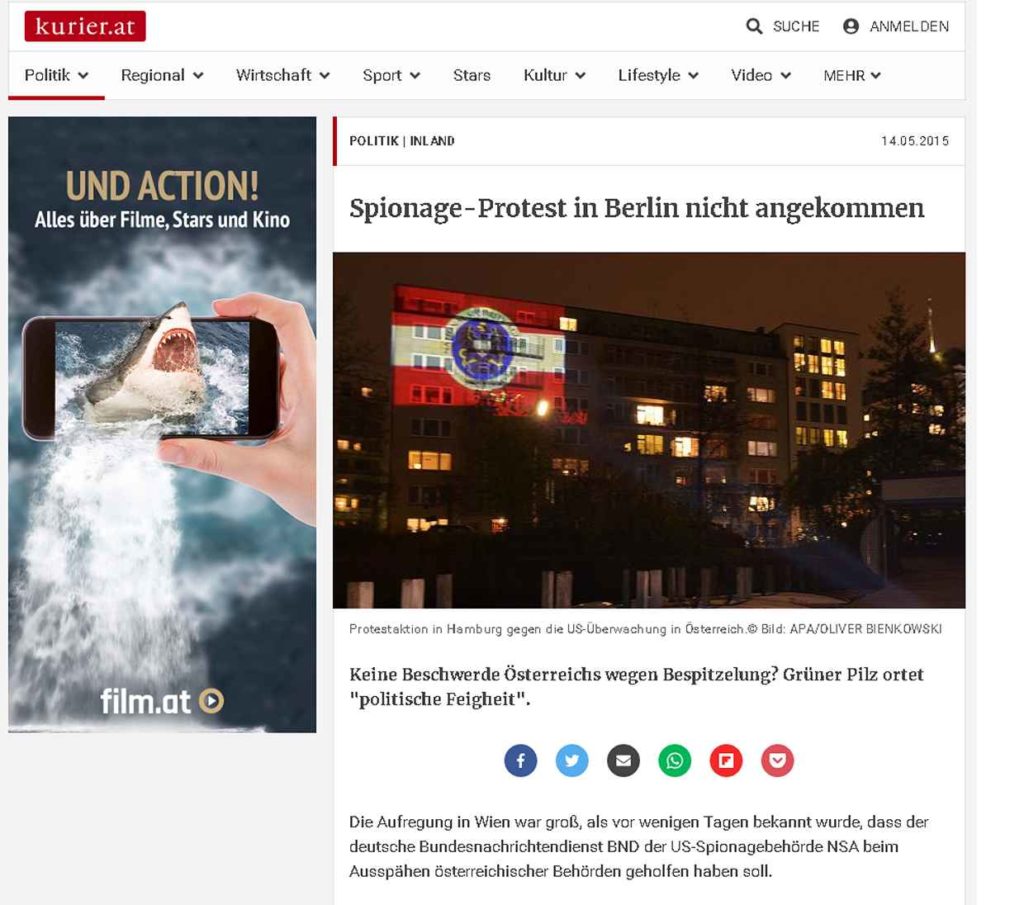 Kurier Austria: Light projection at US Embassy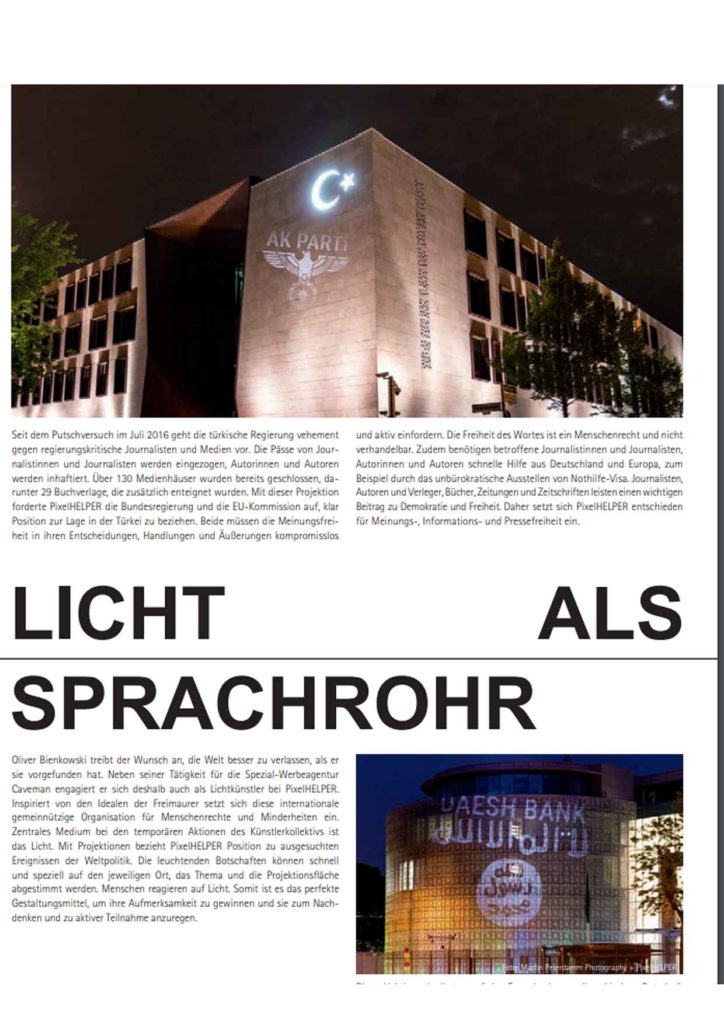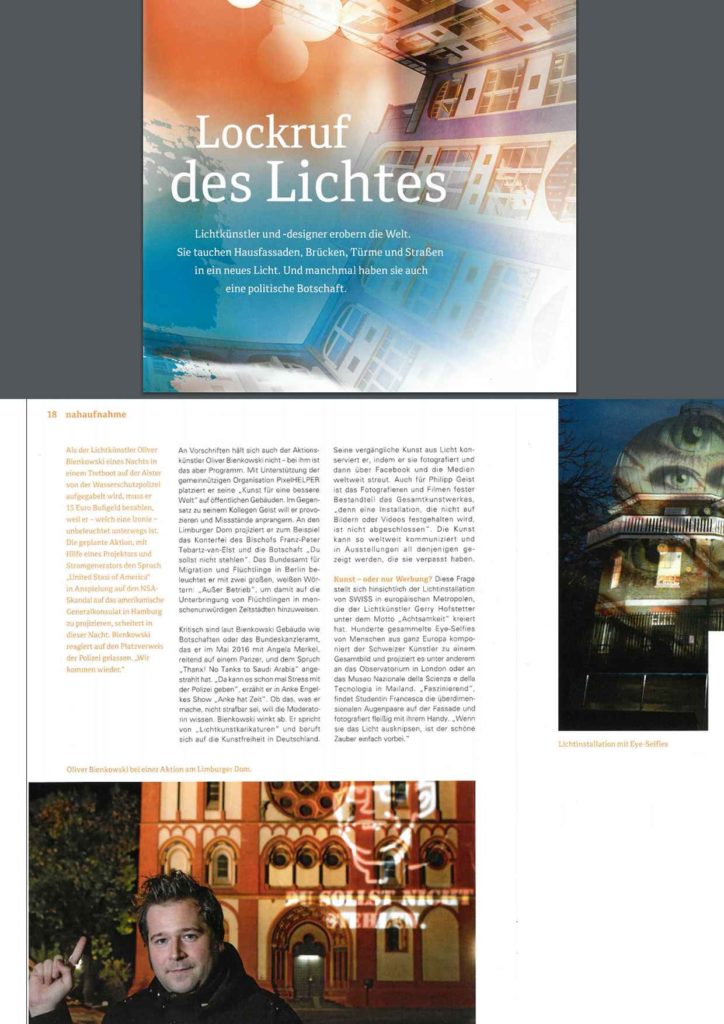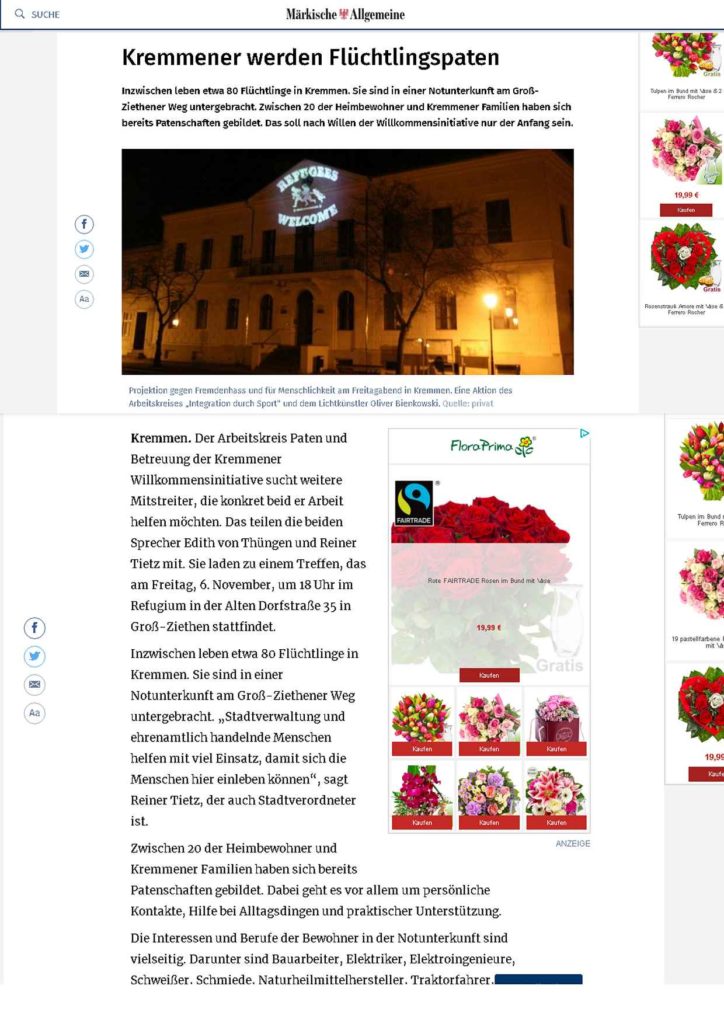 Märkische Allgemeine über PixelHELPER: Refugees Welcome in Nauen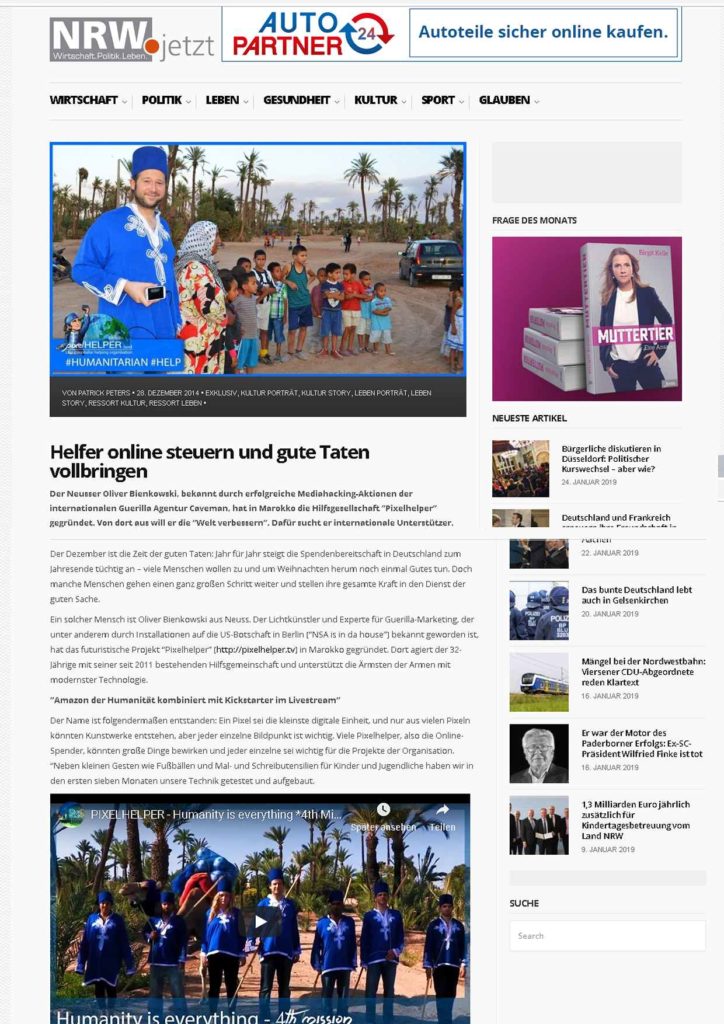 NRW Now: Manage helpers online and accomplish good days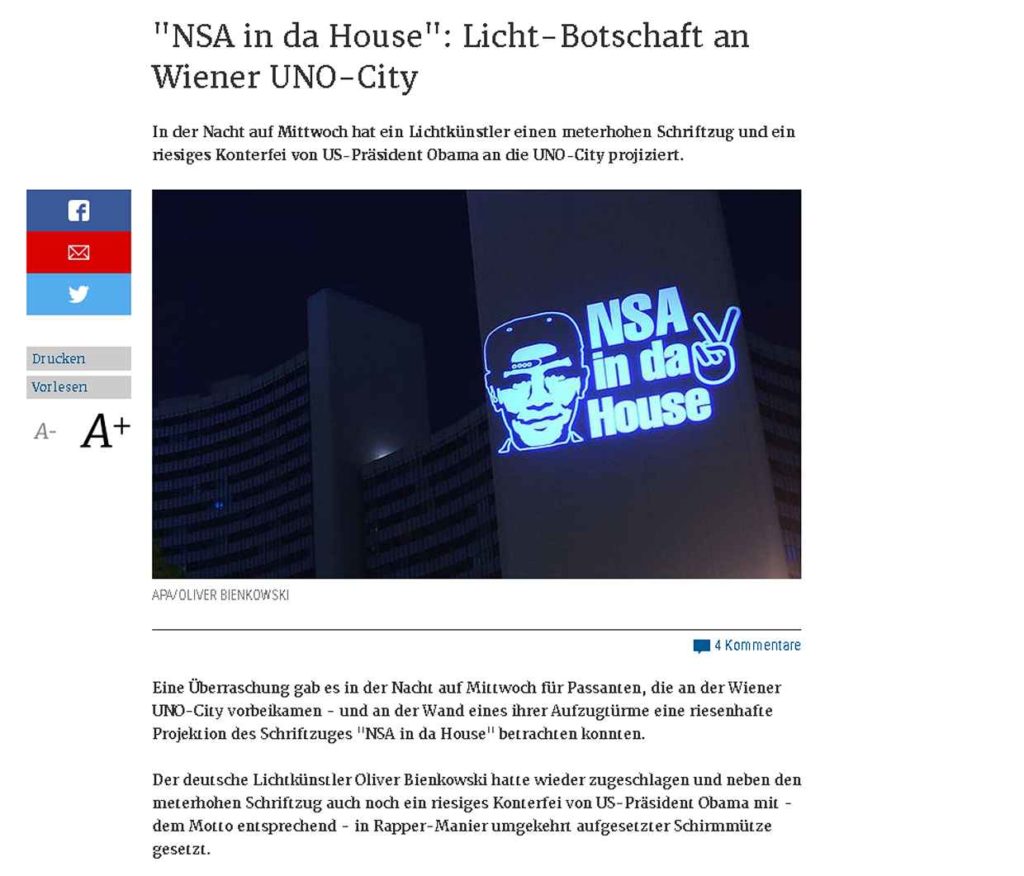 APA: NSA in da House at Vienna UNO City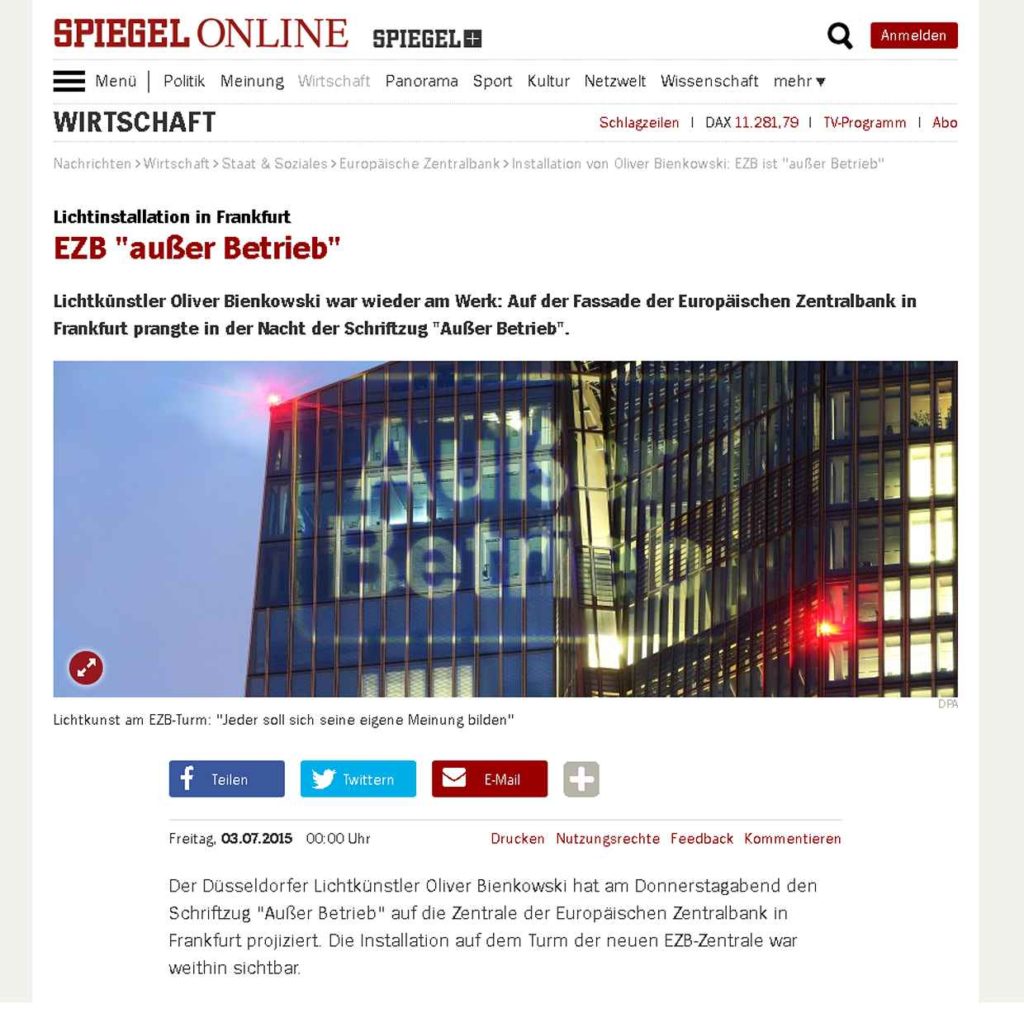 Spiegel Online: ECB out of action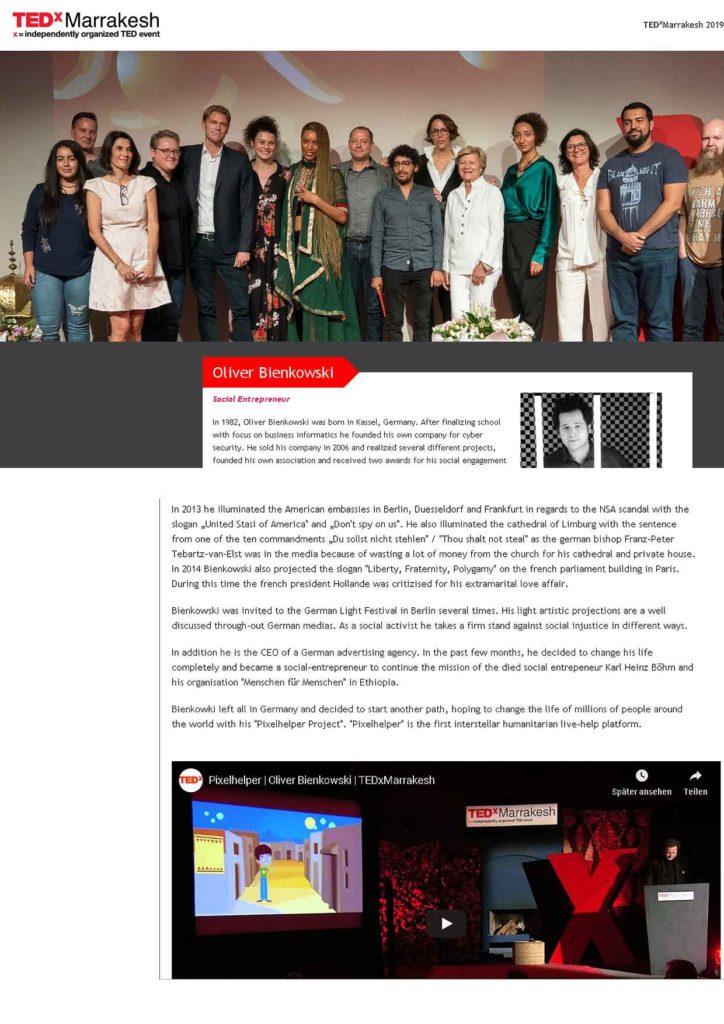 TedX Talk in Marrakech by PixelHELPER Oliver Bienkowski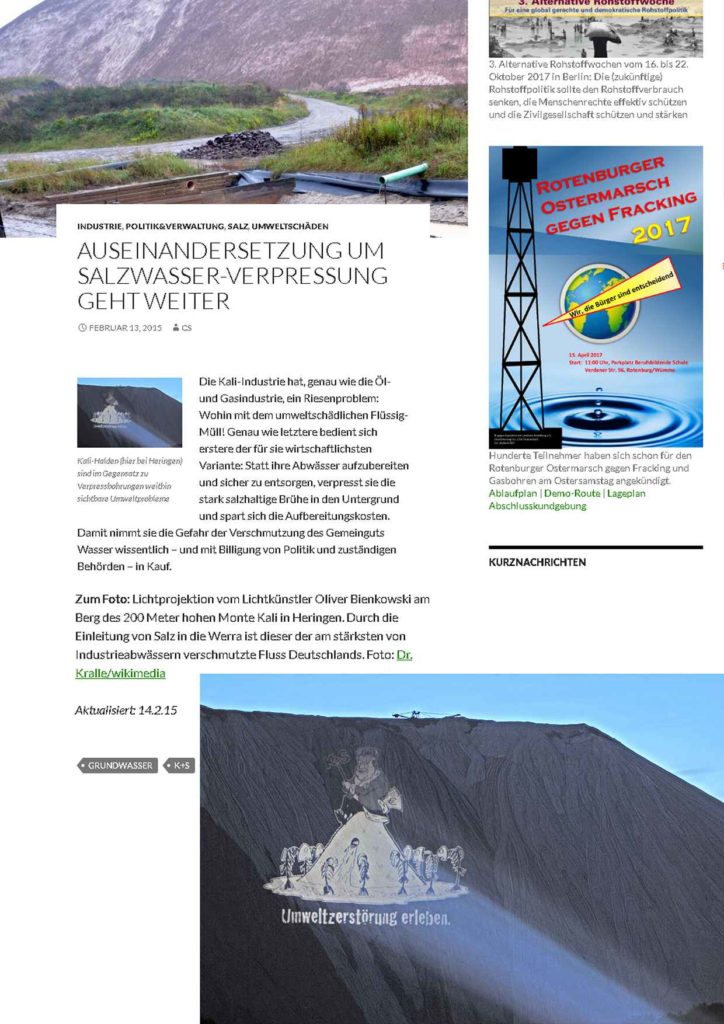 Environment news: light projection against potash salt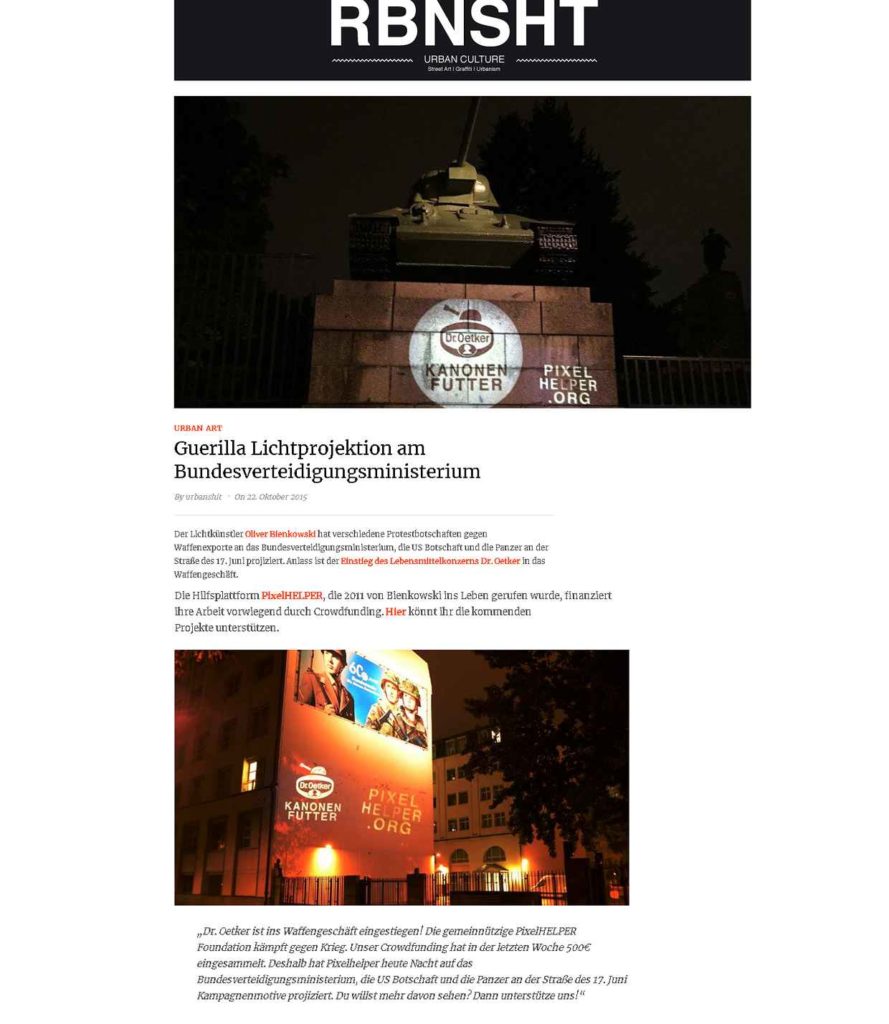 Urbanshit: Light projections against weapons investments by Dr. Ing. Oetker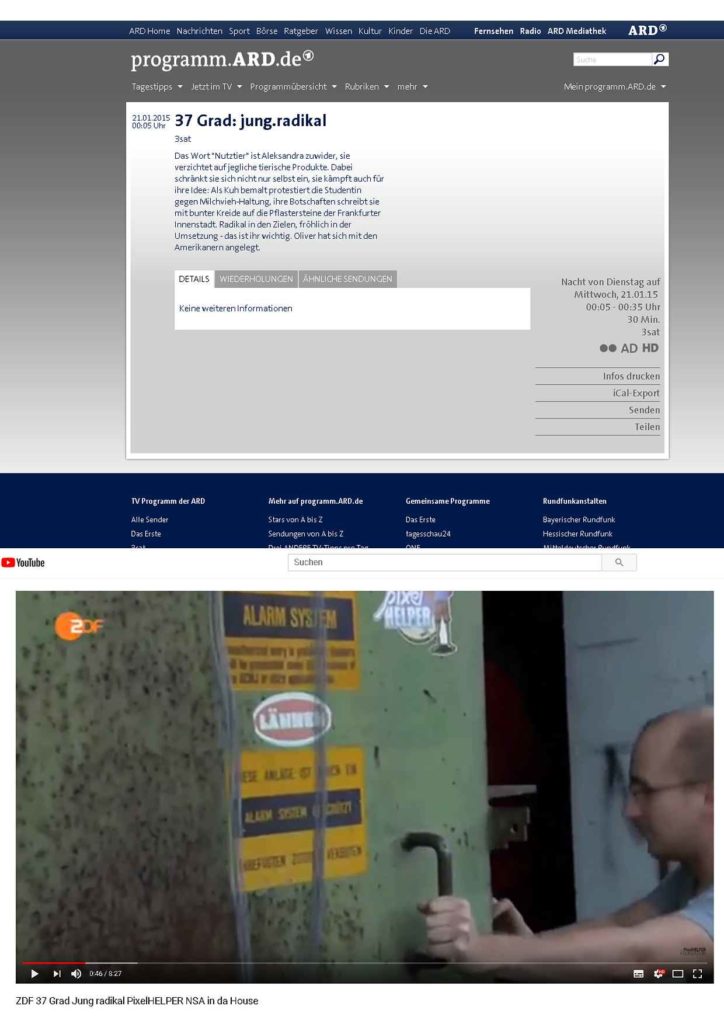 Report by 37 ° ZDF about PixelHELPER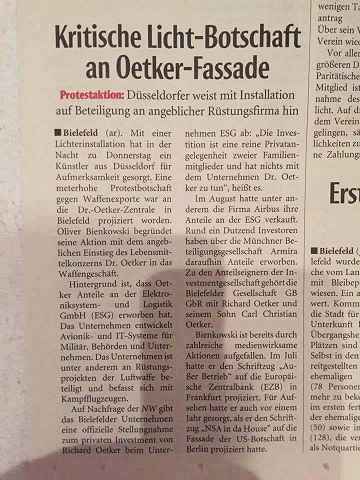 Bielefeld News
2014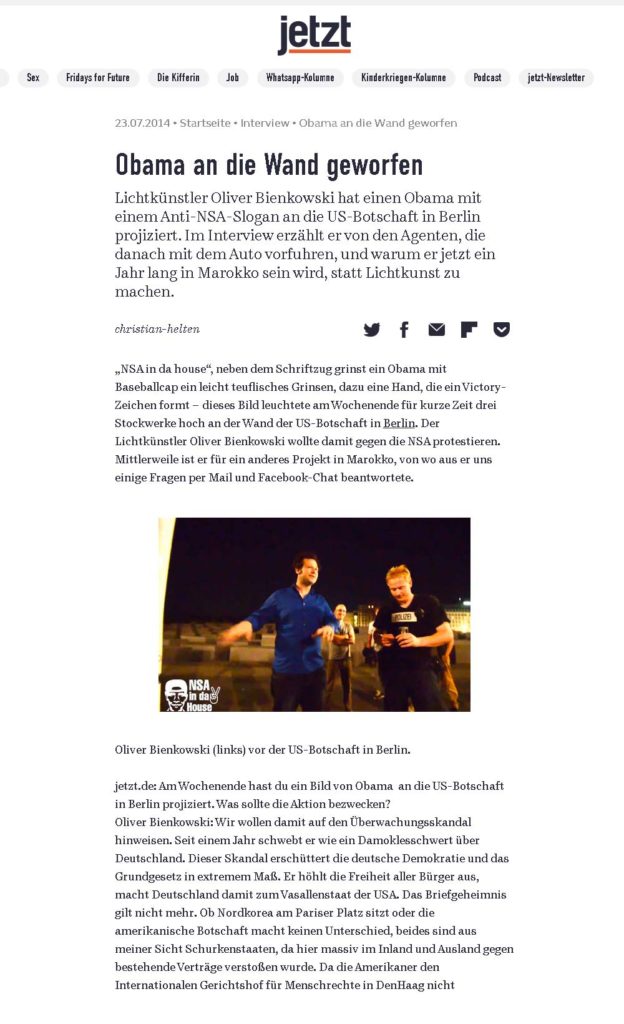 Now: Light projection on the US Embassy against wiretapping scandal

TheVerge: Light projection against the NSA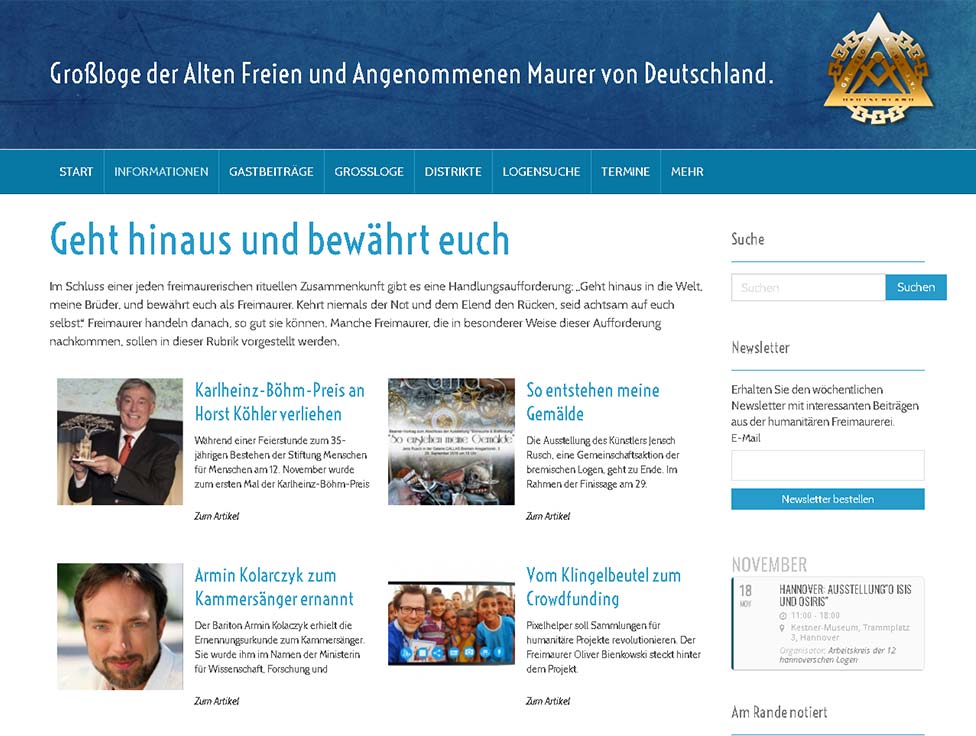 Go out and prove yourself: From the bell bag to crowdfunding
2013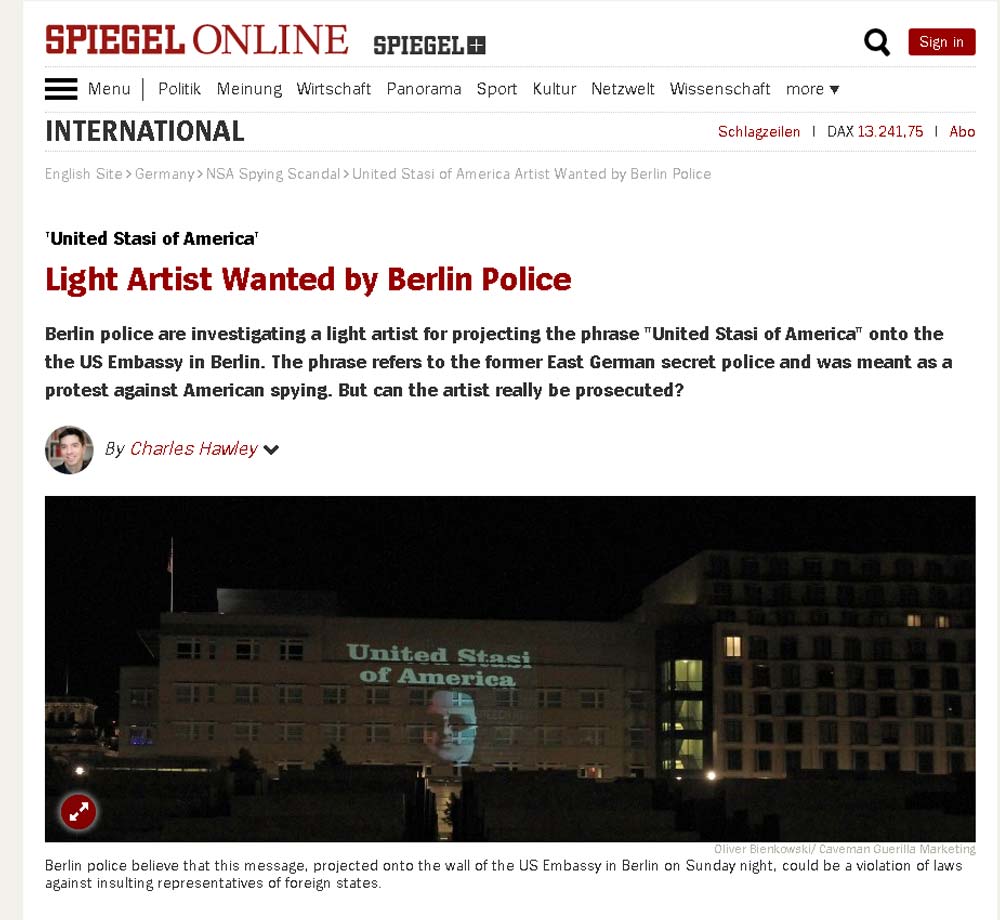 Spiegel Online International: Light projection for Kim Dotcom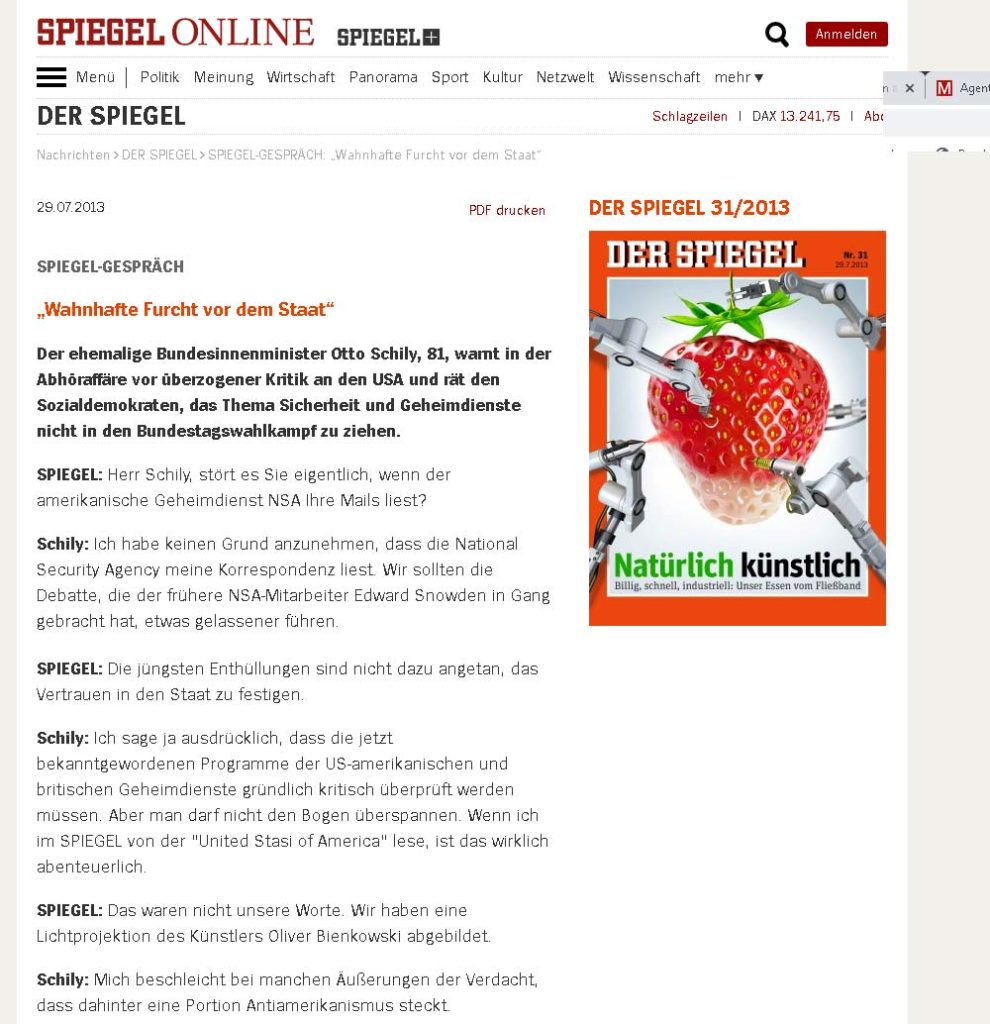 Founder of PixelHELPER in SPIEGEL

Reuters report on PixelHELPER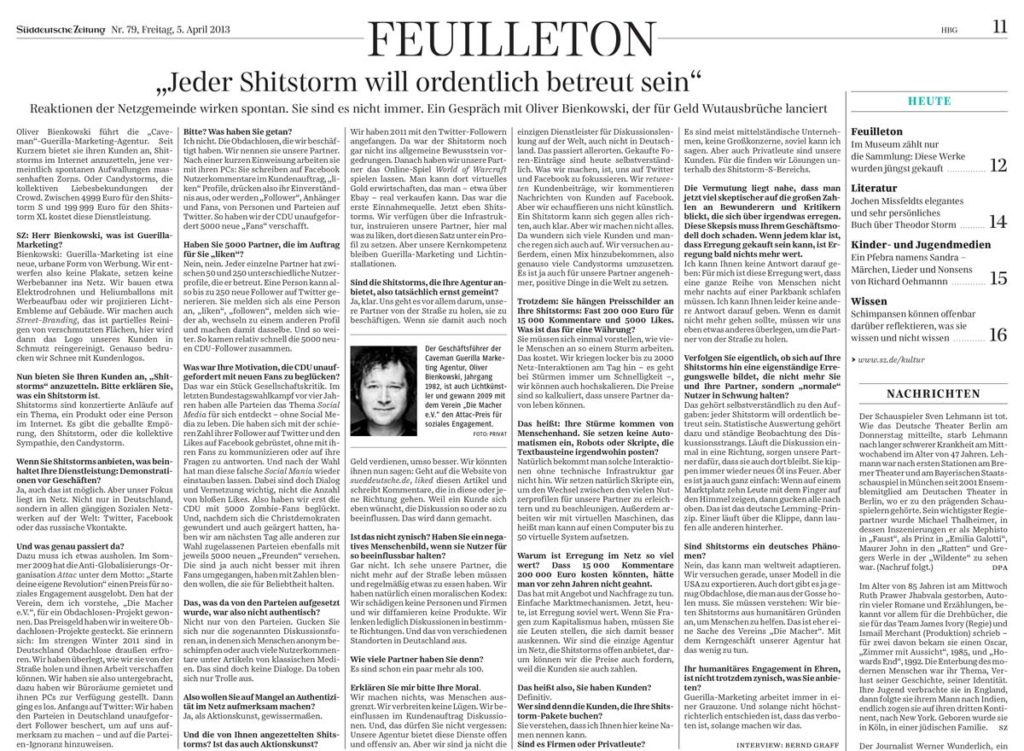 Sueddeutsche, Feuilleton mediahacking for the homeless
2012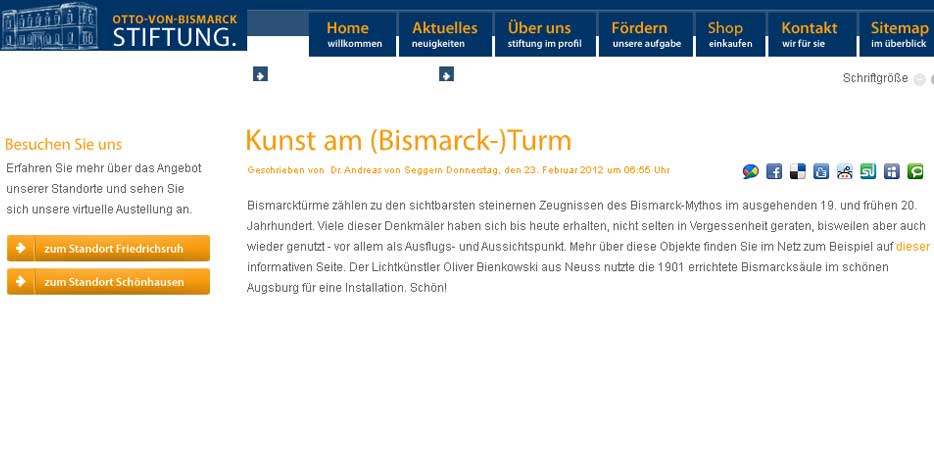 Light installations with the Bismarck Foundation on Bismarck towers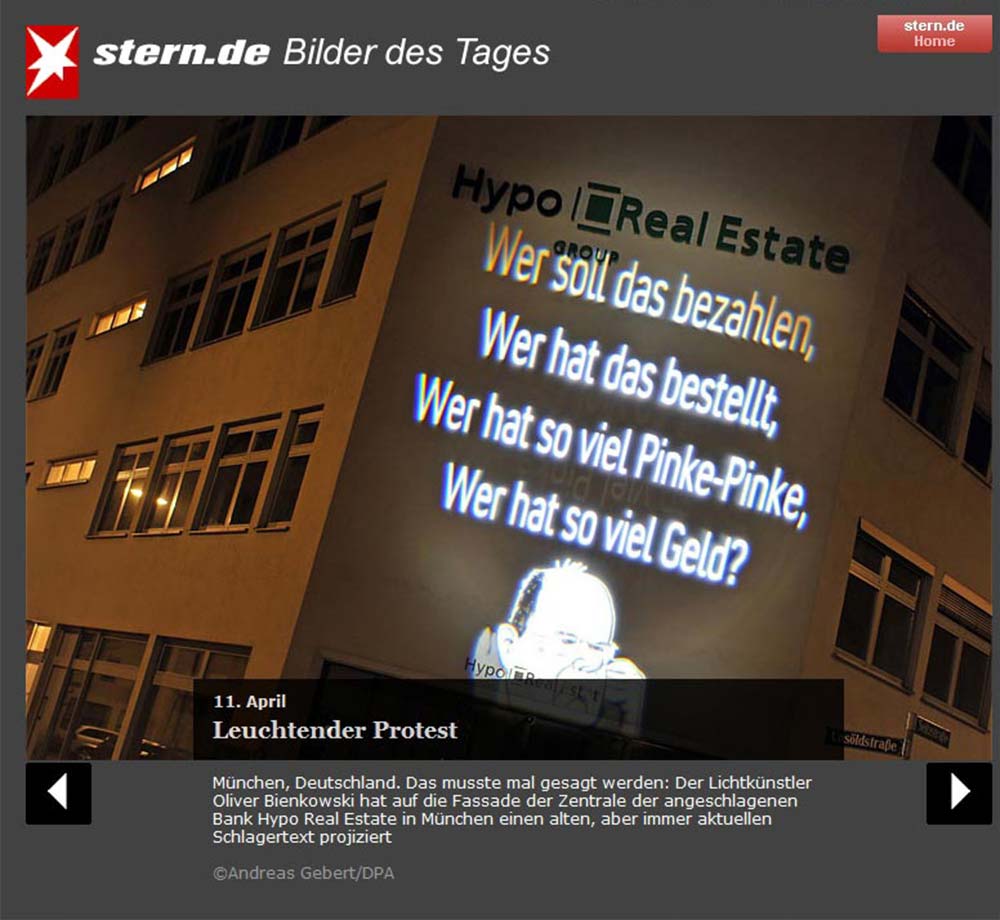 Stern: Light installation on the Hypo Real Estate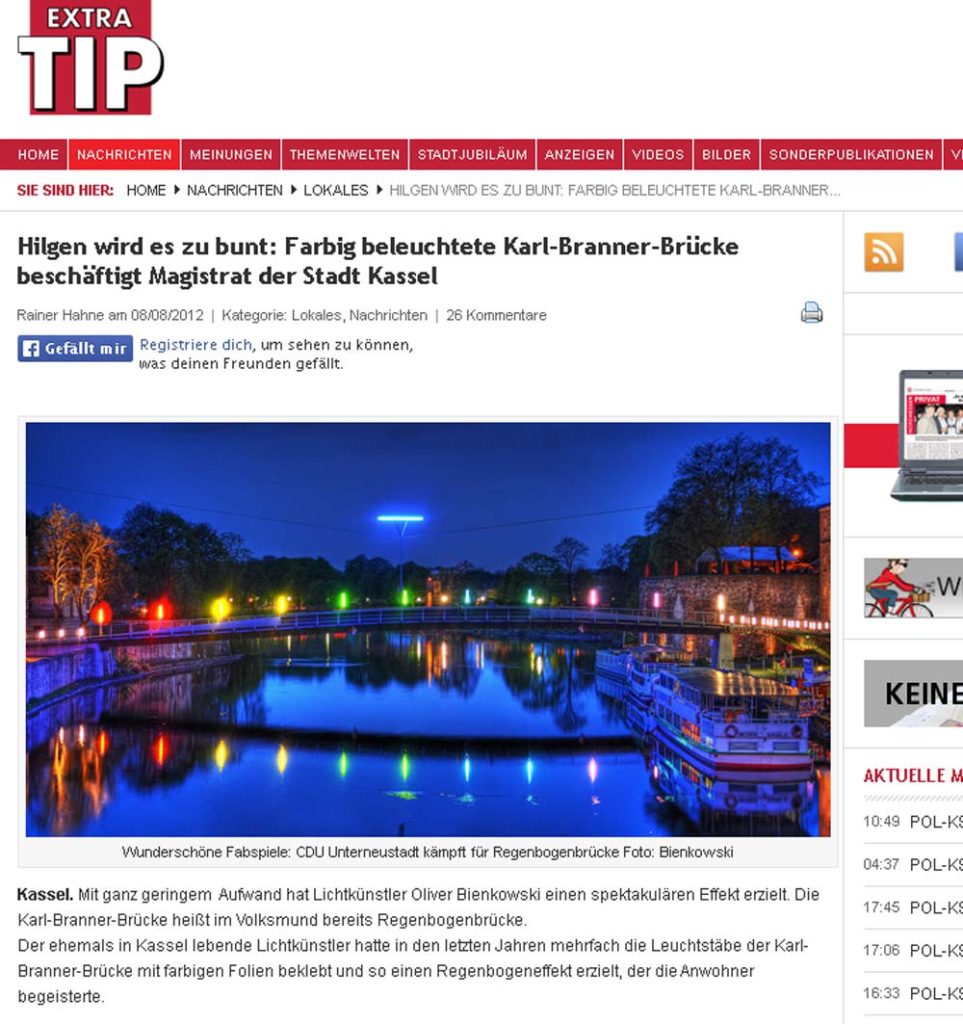 Extratip, Rainbow Bridge Kassel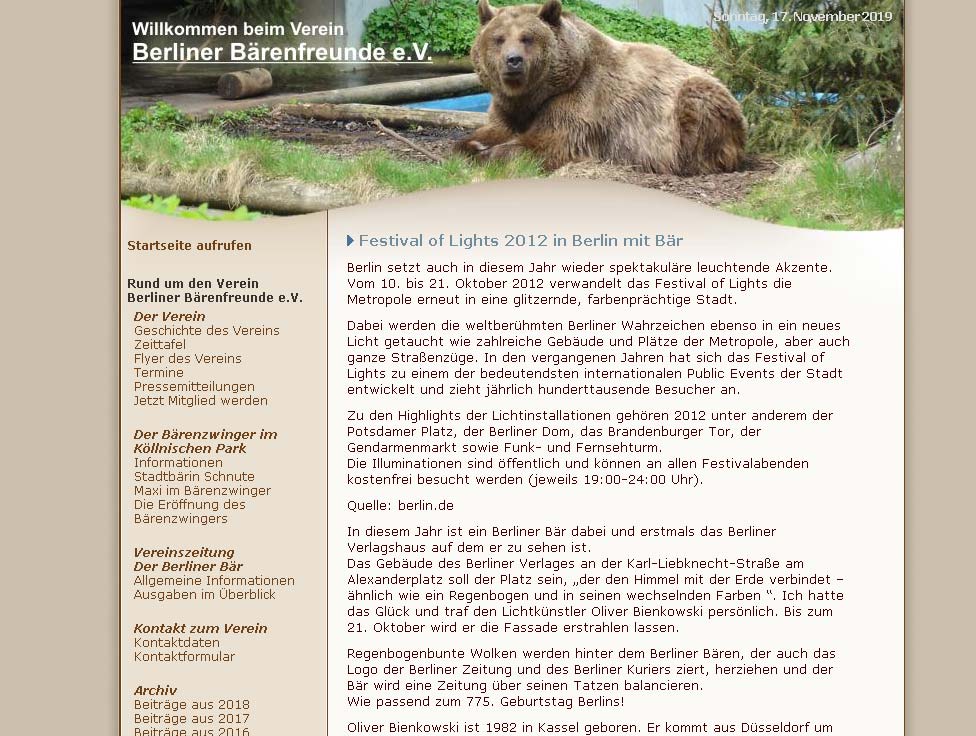 2011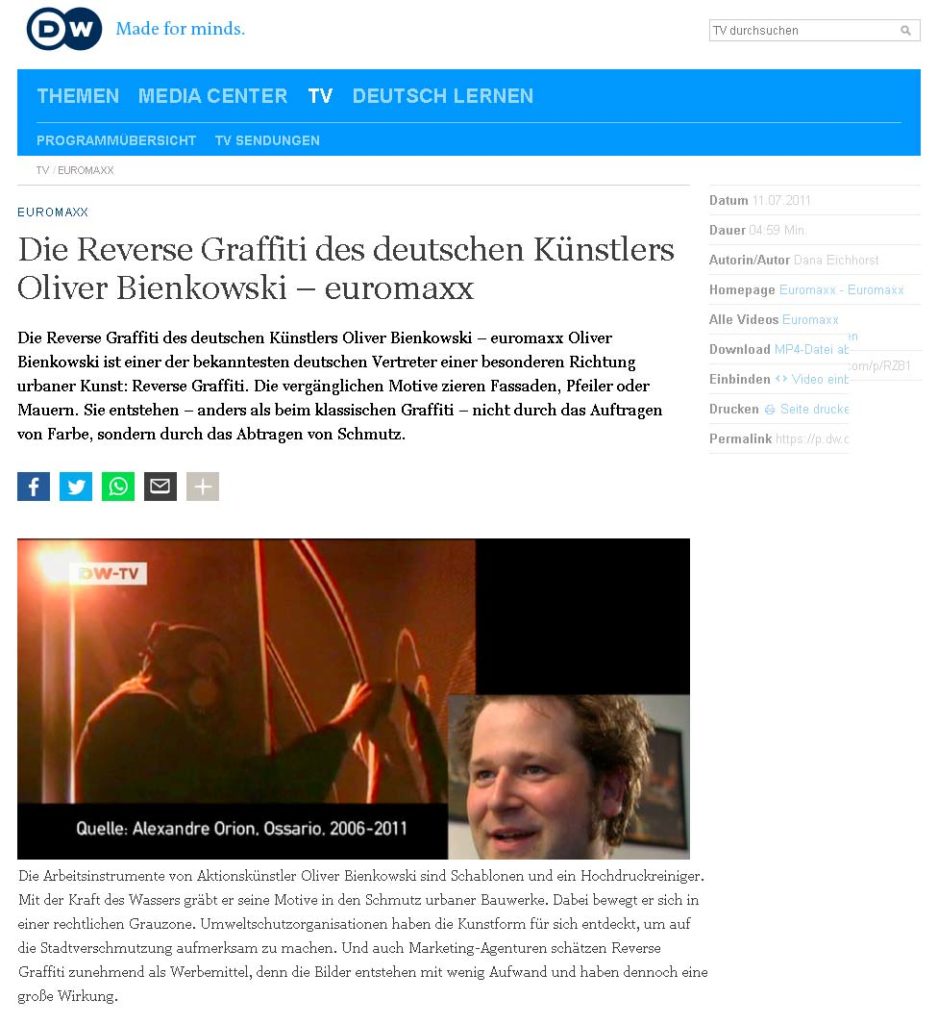 Deutsche Welle on reverse graffiti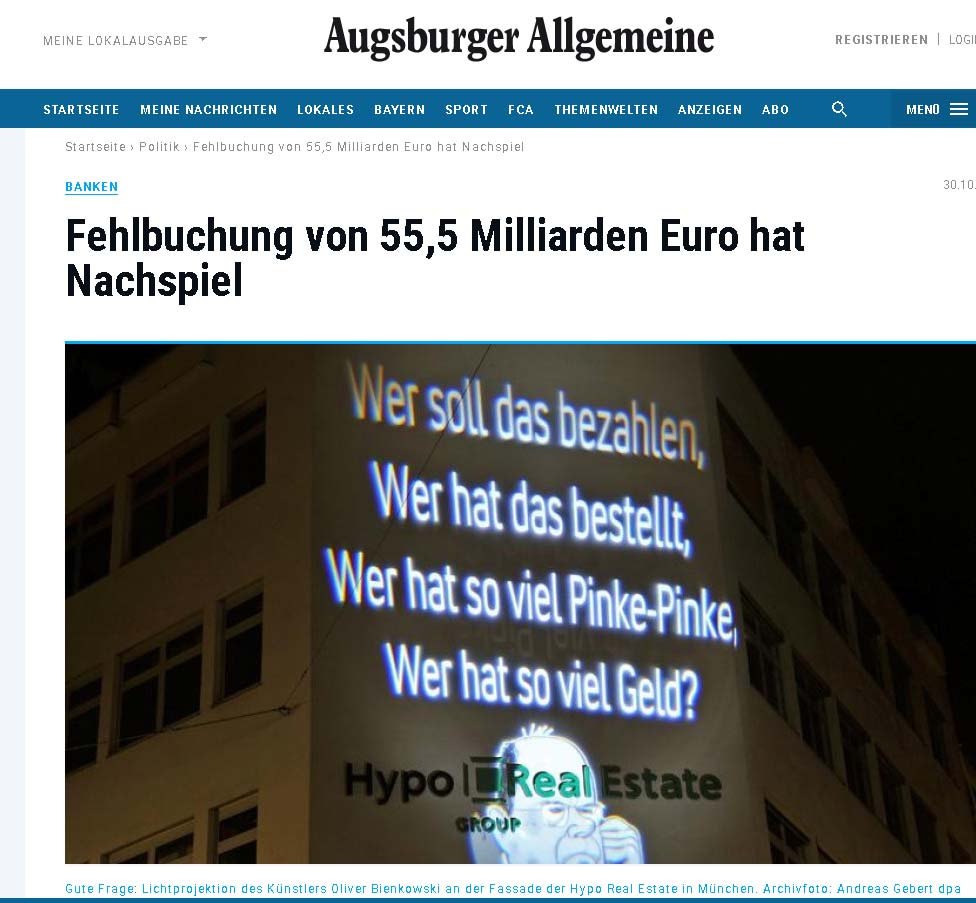 Augsburger Allgemeine über Hypo Real Estate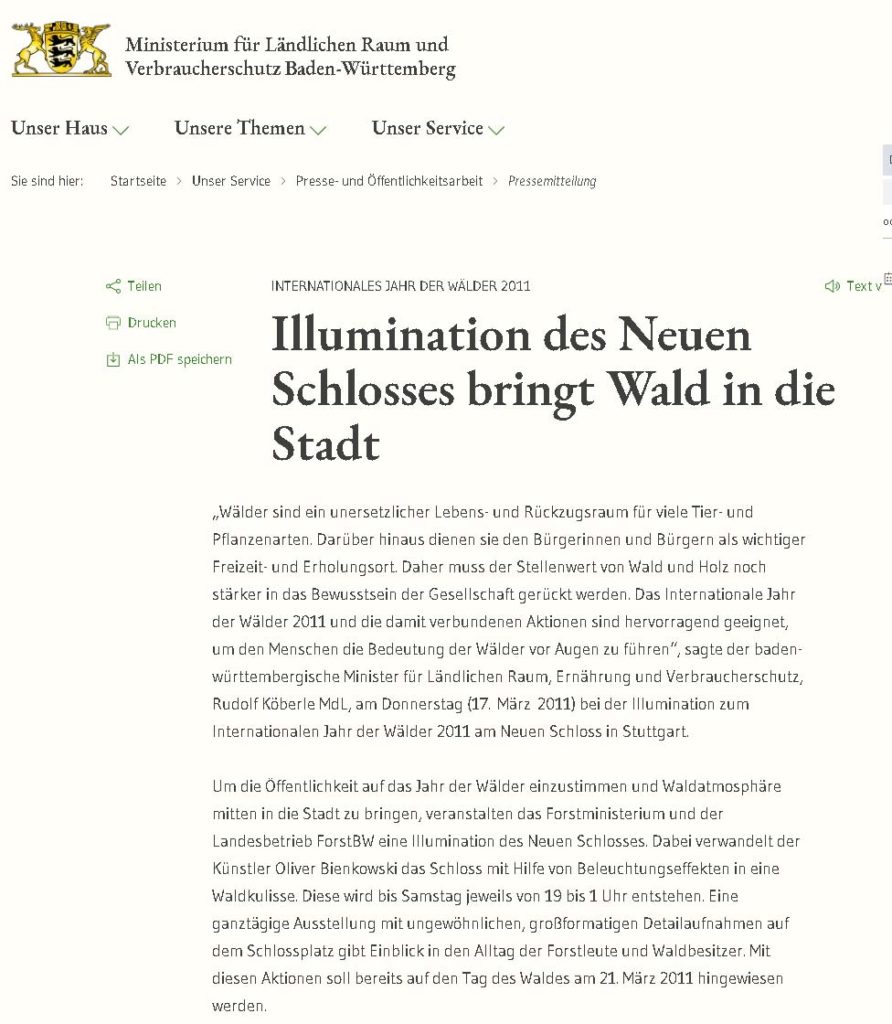 Cooperation with the Ministry for Rural Areas in BW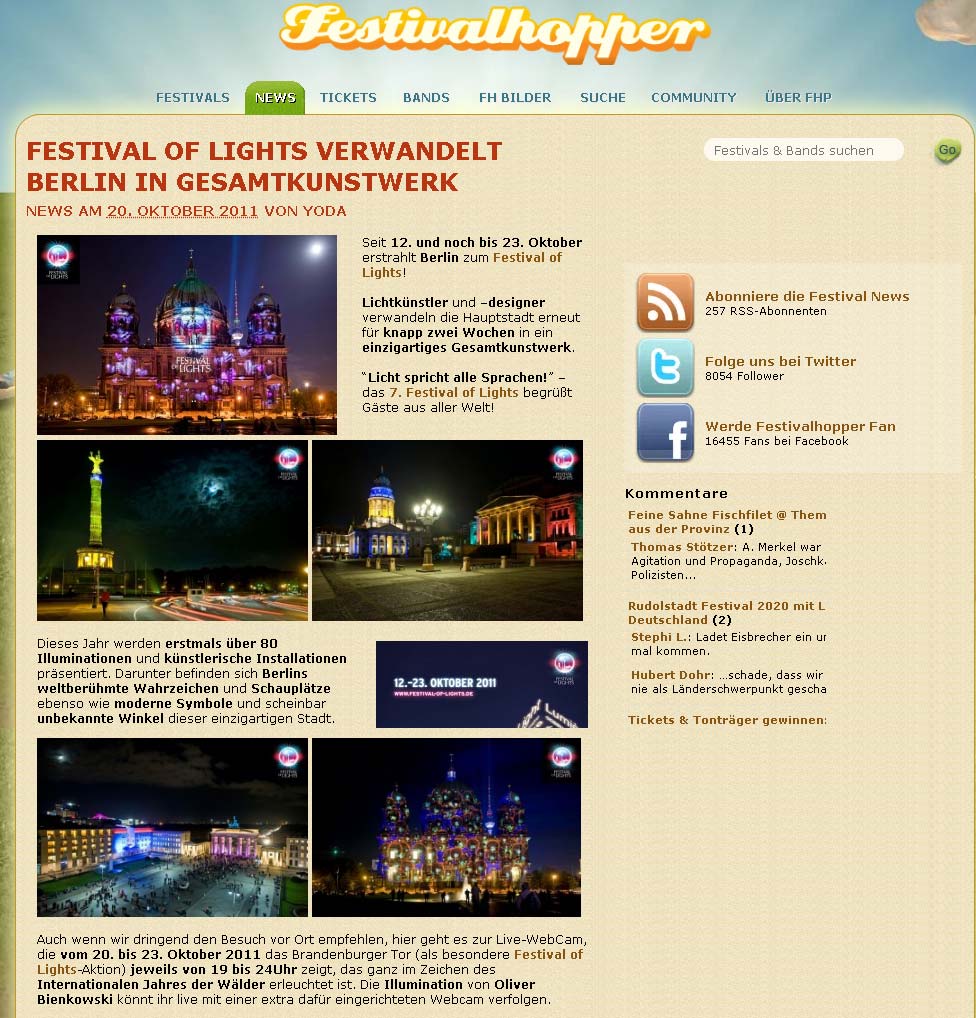 Light installation at the Festival of Lights
2010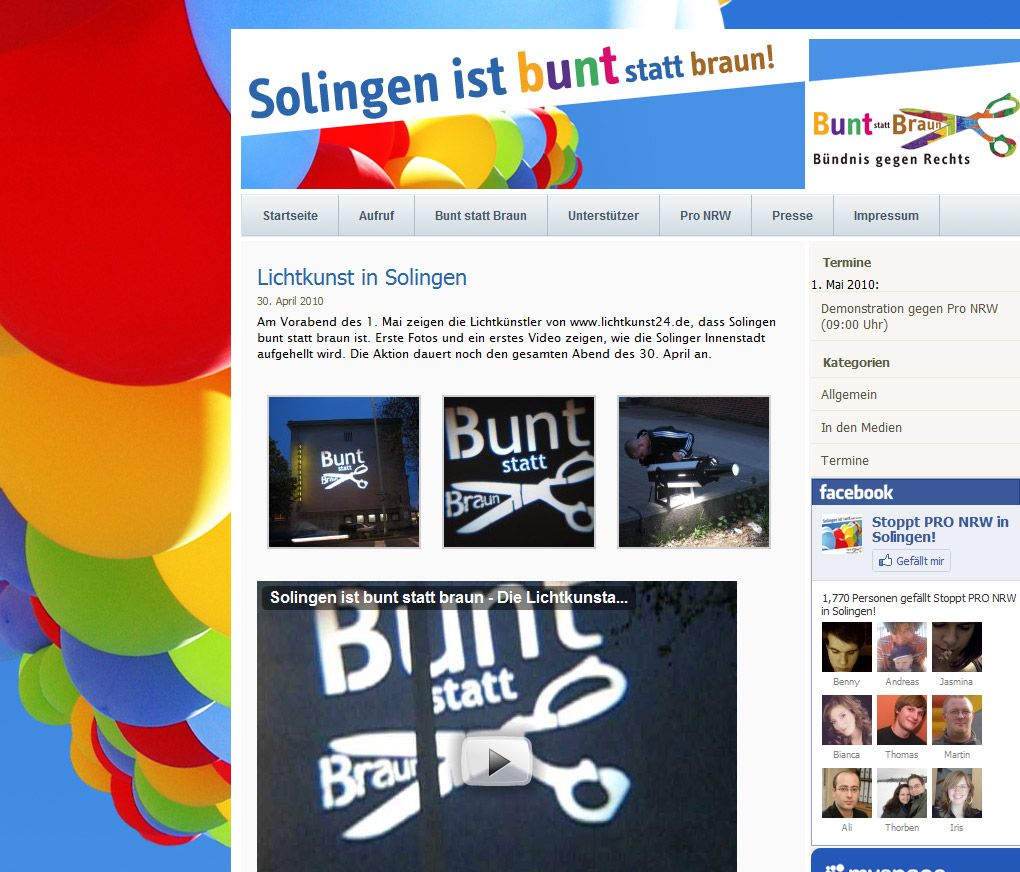 Colorful instead of brown, light projections against right-wing radicalism
2009
The founder of PixelHELPER International won the attac award "Start your own revolution" in 2009. The focus is on projects for artistic freedom, human rights and against anti-Semitism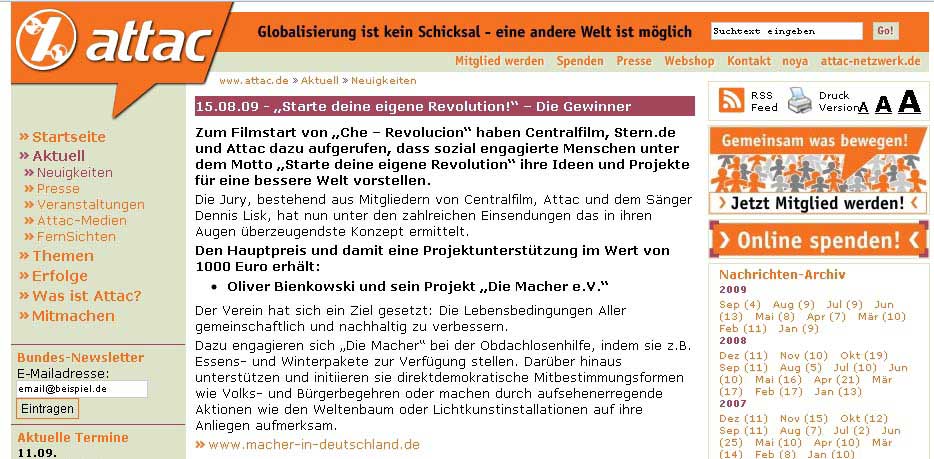 attac: "Start your own revolution" awards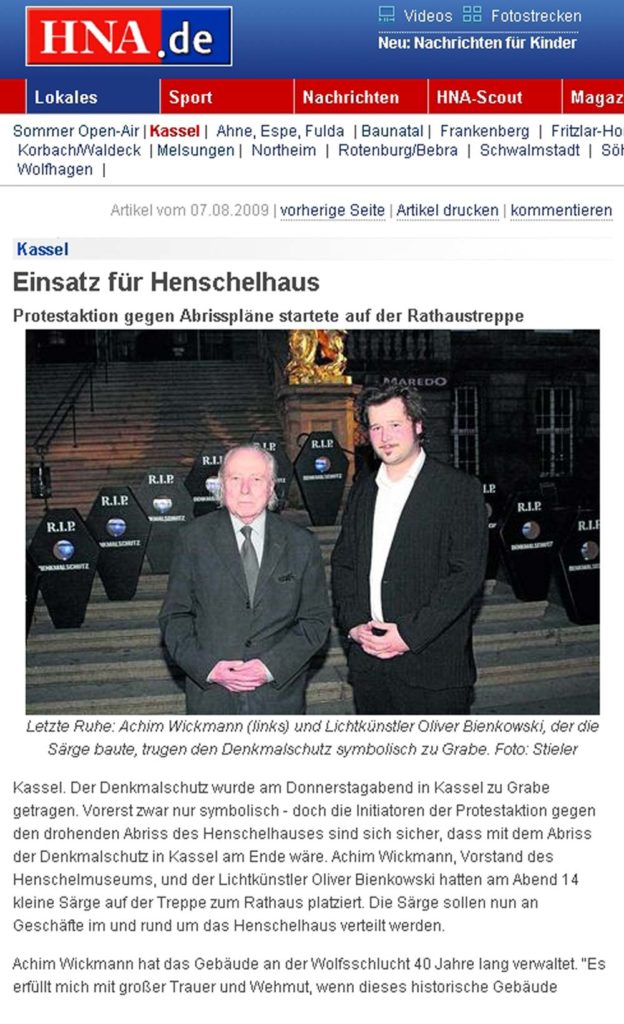 HNA Kassel: Coffins for monument protection
2008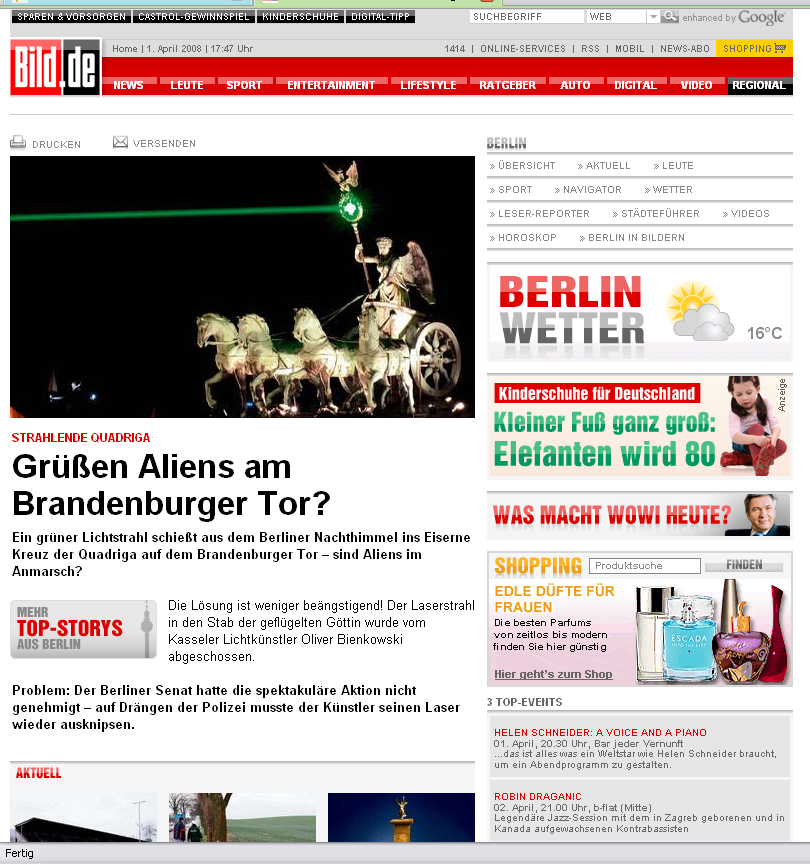 Light installation on Pariser Platz to the Brandenburg Gate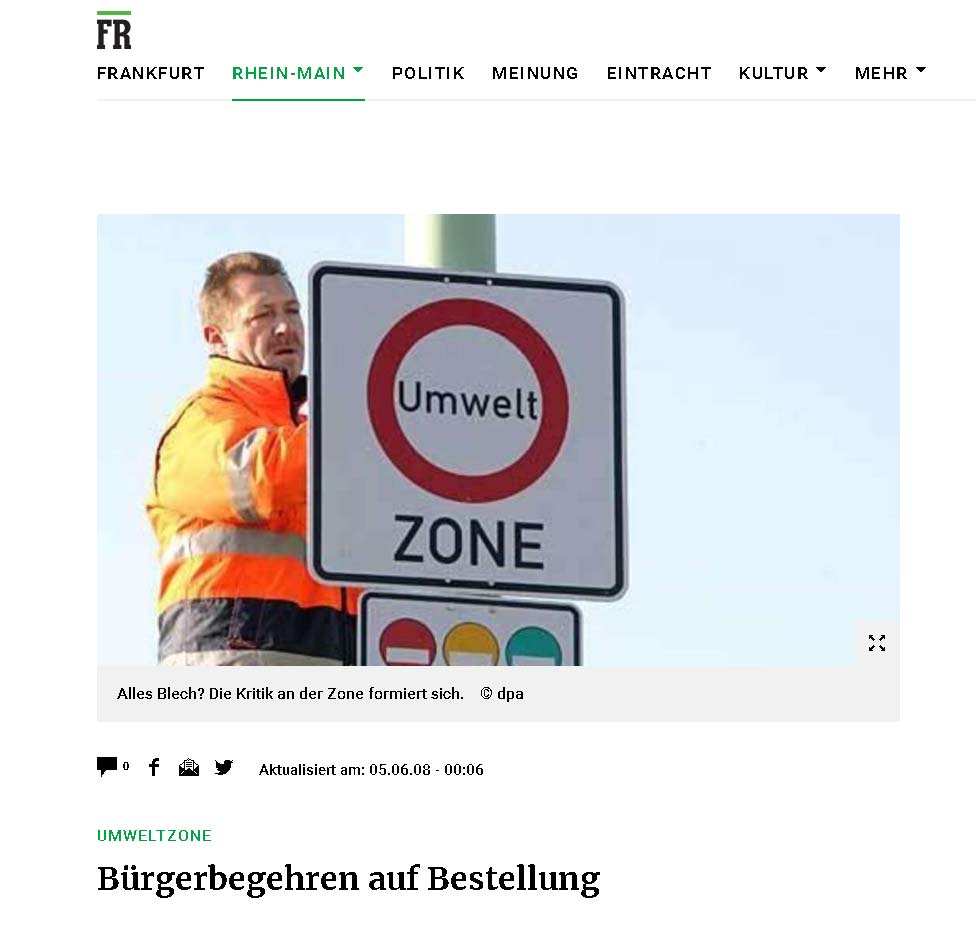 Frankfurter Rundschau: Citizens' requests on order
Stone of contention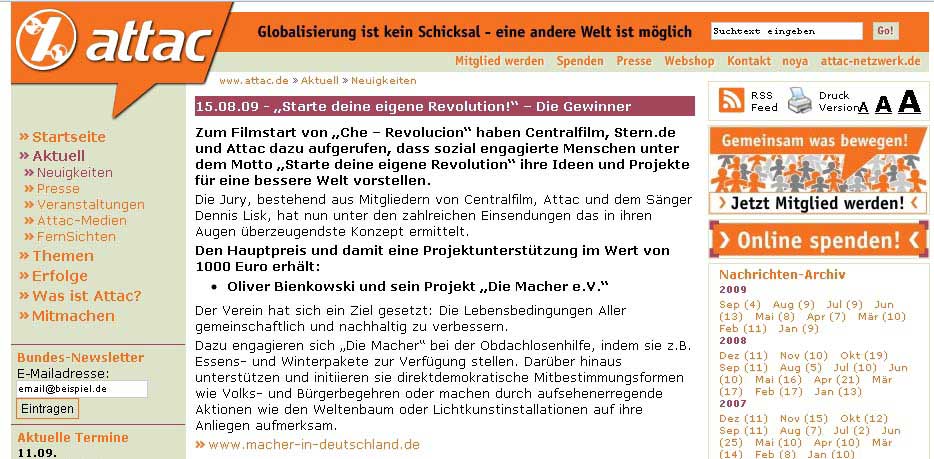 book entries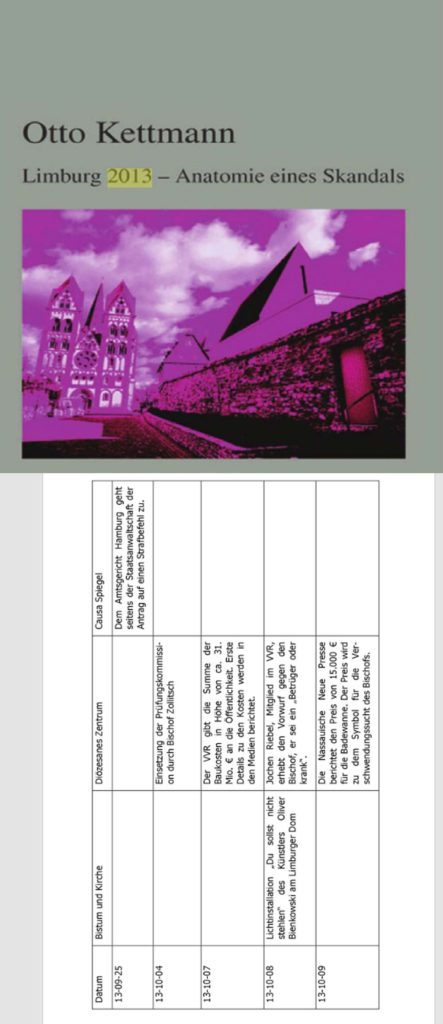 Otto Kettmann: Limburg 2013 Anatome of a scandal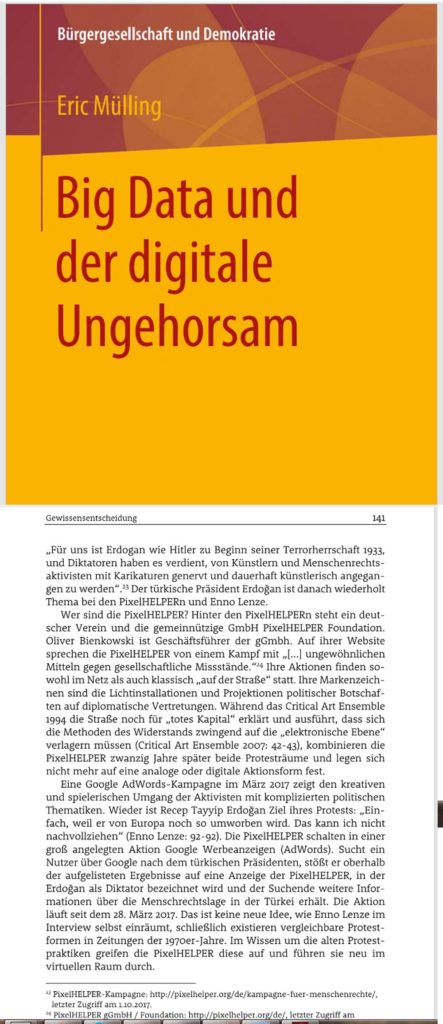 Eric Mülling: Big Data and Digital Disobedience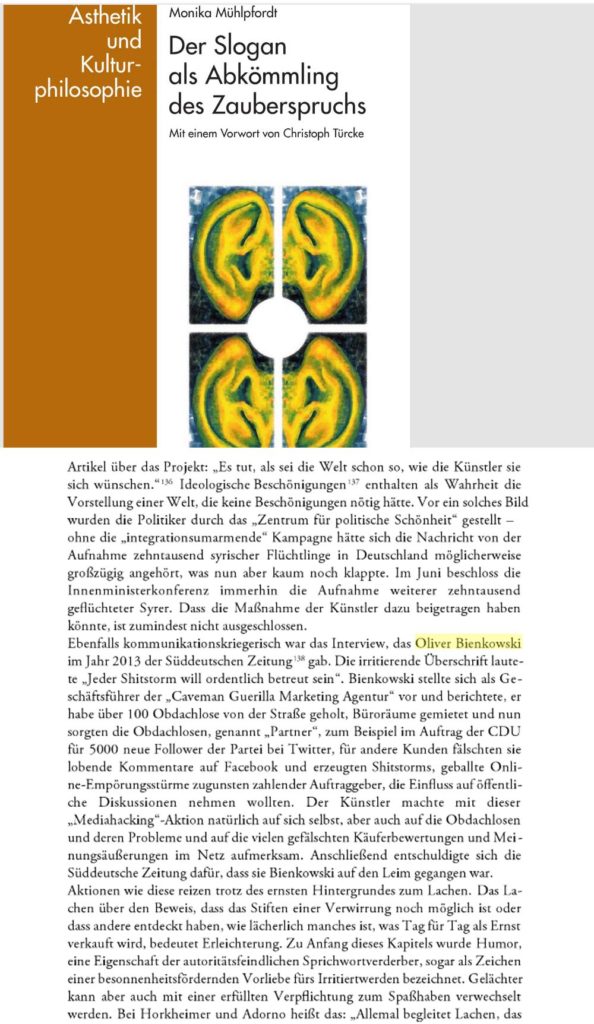 Monika Mühlpfordt - The slogan as a descendant of the magic spell
[advanced_iframe securitykey="2850230b9c3d025e1bd1b840e1acbf59859bfed4″ src="https://livepixel.awumedia.de/paypal" width="100%" height="300″]
Only those who think differently change the world
But our Wrath is understandable, considering what we suffered. What did ours have to do? grandparents Picking tea for the Bigwigs in Ceylon?
What have ours Parents on the Cotton fields slaughtered for the Indians, and the poor Saxons in the Copper and Coltan mines near Dresden, just so that the Congolese 30 electrical appliances per household to have.
And the Cocoa and Coffee plantations in the Palatinate! Generations of Palatine have their own Health ruined for those nasty ones African corporations. And the Somali fishing fleets that have fished our North Sea emptyThat's why many had to go now East Frisian pirates .
Almost all our elephants shot her, for your Chess pieces and piano keys, Now you come with their jeeps and make safari and look the last elephants in the Bavarian Forest on. That's tough.
And back when the Herero attacked Germany, and this one Genocide committed against the Swabians, That also works after. Something like that, you just do not knock yourself out of clothes, It still hurts after 100 yearsYou do not recover that fast.
We're standing here to our knees corrosive chemicals, so you can in Bangladesh for 7 Euro Jeans can.
How many of our girls have we lost in the Diamond mines in Bielefeld, so that Bonzes in Sierra Leone can sing "Diamonds are the girls best friend ", Now they are also coming over the Mediterranean and they still want it live in our gyms.
Yes, what else? What else should we do for you? At some point, it's overAt some point we can not do more! At some point, there will not be more!
Our Heart is far, but our possibilities are finite.t as a form of social self-assurance in the spirit of the Enlightenment. Our campaigns highlight the possibilities of art as the fifth power in the state. Accordingly, art is not a mirror that one holds up to reality, but rather a hammer with which one designs it, combats it, and thus enables people to gradually return to a normal life.